Metalsmith with a Mission
Local metalsmith Stephanie Donaldson makes original distinctive jewelry inspired by the beach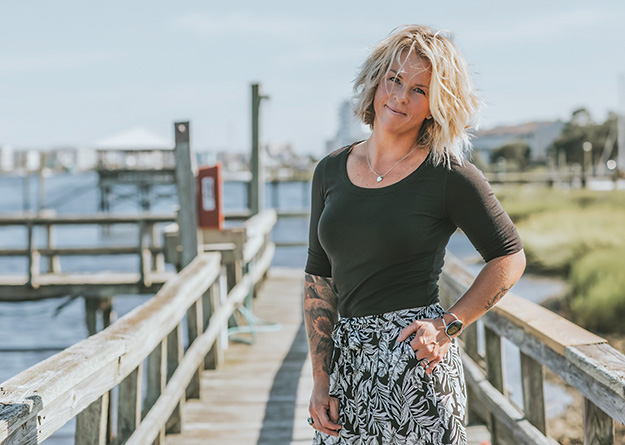 When STEPHANIE DONALDSON started making bracelets two years ago to fund her family's mission trip to Nicaragua, little did she know it would launch her into a whole new career.
The founder of KOKUA JEWELRY discovered her life's work, as well as her way of helping others.
Donaldson not only makes distinctive, original jewelry her customers love, she also donates part of her profits to nonprofit organizations here and abroad.
"I feel like God gave me a gift, and I'm able to share it with other people," Donaldson says. "Hopefully, by doing what I do I can make a difference."
Though Donaldson has always loved drawing, painting, and acrylics, for years her artistic side took a back seat to motherhood. Then, the bracelets reignited Donaldson's passion, and, with her children grown, she delved into her new art form. She had no background in jewelry making, but that was only a small obstacle.
With the help of YouTube videos, Donaldson taught herself silversmithing and the many other skills she needed to perfect her craft.
In 2017, she opened her studio.
Though Donaldson's business is just a little over a year old, it's growing fast and has already gained a reputation for beautiful, unique jewelry for women and men.
Drawing her inspiration from the sea, Donaldson makes necklaces, bracelets, rings, and earrings using sterling silver highlighted with gold; natural stones such as moonstones, turquoise, and chrysocolla; and shells. In addition to custom pieces, Donaldson replicates the jewelry shown on her website. However, because the natural stones have different colors and striations, no piece is exactly like another, she says.
Donaldson embraces every step of her craft, from concept to finished product, and she revels in those moments when her customers find that perfect necklace or bracelet.
"I love it when I make a piece of jewelry, and someone wears it and they're excited about it and they say, 'Oh, I love these. They are my favorite it,'" she says. "It makes my heart so full to know people are enjoying something I made."
Donaldson enjoys the creative process, but she admits her approach is somewhat haphazard. Sometimes her ideas work, and sometimes they don't. Donaldson might start with an idea, then must change it because she "messed it up."
"Sometimes I make a disaster," she laughs. "The great thing, and this kind of reflects life, is when we make a disaster of something it ends up turning into a different creation that is way more beautiful than where it was going originally."
Even so, Donaldson has days when things just don't work – when she gets frustrated and loses patience. Rather than trying to force the creative process, which she says never helps, Donaldson heads for the beach.
After surfing the waves, she's relaxed, recharged, and ready to give herself, once again, to her craft.
Like any business owner, Donaldson wants to make a profit. However, she also wants her business to be profitable so she can use it to make the world a better place.
"I want to keep the business where it's contributing to future mission trips or helping people in the community so that it's always giving back" she says. "When I make a piece of jewelry, I want to offer a piece of love, for people to know it was made with the intention of doing something for the greater good."
Because of that, Donaldson named her business Kokua, a Hawaiian word that means "to give help or aid without expecting something in return."
Donaldson's goal of helping others through her work was never an ideal to be achieved at some future, unknown date.
By giving a piece of jewelry for raffle or auction or by donating some of her profits, she's already supported a number of organizations, including the Cape Fear Surfrider Foundation, North Carolina Coastal Federation, Pits and Giggles Rescue, and Women's Heart Foundation. In the future, she hopes to be the primary fundraiser for a single foundation that helps local youth.