Meatless Me
November Men's Room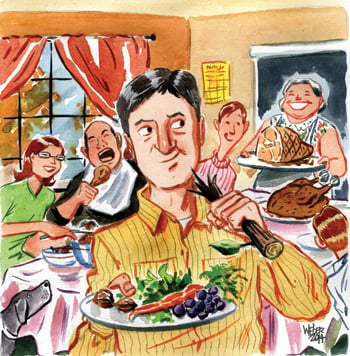 Tim Bass is coordinator of UNCW's bachelor of fine arts program in creative writing.
Igave up meat almost a year ago, and now the confounded holidays are coming again. In my family, that means five weeks of gluttonous consumption, a marathon meal that starts the day before Thanksgiving and doesn't ease up until our lipids level off after the Sugar Bowl.
My relatives don't eat unless there's meat. By family law, all plates must carry slabs of cooked animal. As my mother puts it, "Without meat, it's not a meal."
So they'll serve meat, a barnyard of it: turkey, roast beef, fried chicken, ham, pork barbecue, pork tenderloin, pork chops, bacon.
I'd probably make it as a vegetarian if I weren't my mother's son. Throughout her family and her community, she's considered a legendary Southern cook. She cuts whole chickens with the skill of an orthopedic surgeon. She seasons her vegetables with pork grease. She makes beef stew on a formula of about six parts beef to one part stew. Awhile back, she cooked one of her magnificent breakfast casseroles and adjusted the recipe for me. "I know you don't eat meat anymore," she said, "so instead of sausage, I used Canadian bacon."
Soon she'll start her annual quest for the perfect turkey – the yellowest skin for the lowest price per pound. Then, in the early hours of Thanksgiving Day, she'll slide the bird into her overworked oven and bake it for hours, timed to be falling off the bone when we sit down for an unfeathered feast.
A couple of days before Christmas, she and I will drive to my sister's house in east Tennessee. There, as tradition dictates, our first meal will include a couple of pounds of Sampson County barbecue that my mother will pack into a giant cooler, along with ham, steaks, a chicken or two, and an outsized turkey breast. Hauling that meat locker will cost us decent gas mileage over hundreds of miles, but it's all about keeping the carnivores happy.
I can't blame my family. They're just doing the natural thing, while I'm doing what they would call the weird thing. I'd long considered giving up meat, partly because I see what the livestock industry does to animals and the environment, and partly because I figured I'd simplify my life if I didn't buy and prepare meat. I adopted no refined philosophy, no strict orthodoxy. I still don't know what to do about fish.
The change came ridiculously easy, especially after I learned to sauté tofu. I do have to use a little chemistry: I had no idea that some proteins must be added to others to make them complete. And I must be flexible: at one fast-food place, neither the manager nor I could find a meatless sandwich on the menu. Finally I said, "Maybe a cheeseburger without the burger?" and he replied, "That's what I'm thinking."
Now I face my first holiday season without meat. While my relatives chow down on hog and bird, I'll graze like a free-range farm animal. I'll pile on field peas and corn, boiled potatoes, and butterbeans. I'll get full and stay fat and love my meat-eating family and be happy. I won't ask what they seasoned with fatback.
To view more of artist Mark Weber's work, go to www.markweberart.blogspot.com