May Spotlight
Area women making news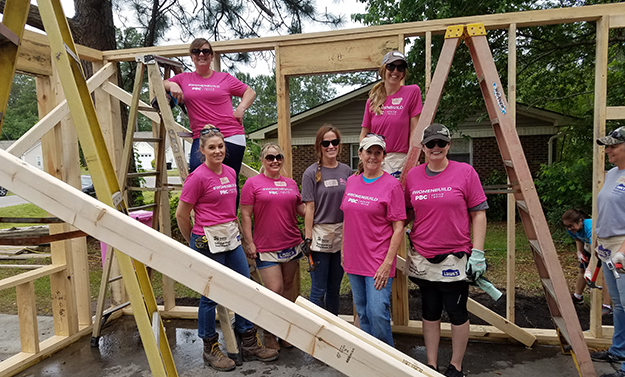 Habitat's Women Build Returns This Month
Coming off its successful reboot last year, the CAPE FEAR HABITAT WOMEN BUILD takes place May 4-11 and June 3-8.
Thirteen groups made up of area organizations and volunteers have been raising money and holding fundraising events leading up to the actual build days. That's up from ten sponsoring groups last year.
"Our goal with the Cape Fear Habitat Women Build is to build a home in partnership with a local hardworking family and provide access to an affordable mortgage," organizers say. "This home will be funded and constructed primarily by women and will provide a female-friendly worksite that empowers women to take leadership roles and learn new skills while building homes, community, and hope."
The build will be led by professional builders such as Beth Pancoe, president and founder of SDI Construction.
"Supporters can honor a strong woman during the first week of May by making a $50 donation in the name of someone they wish to honor, and a card will be sent to the honoree recognizing the gift made in their name," says Cape Fear Habitat for Humanity's Kerry Celestini. "A perfect Mother's Day present for the mom that has asked you to stop buying her gifts!"
Area Companies Pick up CEA Awards
Several women-led businesses were included in this year's Coastal Entrepreneur Awards.
The awards, a joint effort of the Greater Wilmington Business Journal and UNCW's Center for Innovation and Entrepreneurship, recognizes ten companies or nonprofits in various categories. Among this year's category winners are: COMPASS BRACELETS (Retail), owned by Samantha Dudley, that sells bracelets with unique tag numbers allowing wearers to track them as they are passed along; MYBEEHYVE (Internet-Related), founded by Jennifer Turnage and Megan Sumrell to serve as an online platform for contact management; and the Good Shepherd Center (Nonprofit), headed up by executive director Katrina Knight (above).
All of the category winners will be honored at a breakfast awards event May 22 7:30-10 a.m. at UNCW's Burney Center. The overall 2019 Coastal Entrepreneur of the Year also will be named at the event.
Info: coastalentrepreneur.com
Temple of Israel Installs Female Rabbi
EMILY LOSBEN-OSTROV has been installed as the first female rabbi for the TEMPLE OF ISRAEL, North Carolina's oldest Jewish house of worship. The installation ceremony, which formally recognizes the new rabbi as the spiritual leader of the temple, took place April 12.
Originally from Bucks County, Pennsylvania, Losben-Ostrov has served the Jewish community in many parts of the country – from New York to Missouri. Before coming to Wilmington, she was rabbi of Anshe Hesed in Erie, Pennsylvania, for three years.
She is also the founder of the Pesach Project for HUC-JIR, which has sent hundreds of rabbinical students on service trips to the former Soviet Union, and has held an annual healing service for two decades to raise awareness about AIDS.
Since coming to the Port City, Losben- Ostrov helped lead a community prayer vigil in the wake of the Pittsburg synagogue shooting in October and spoke at the local Women's March in January.
"She is the right spiritual leader," says Temple of Israel President RICHARD LERNER, "at the right time for our Temple of Israel family."
-Hannah Smith
CFCC Coach Wraps Up Record Season
CFCC's LADY SEA DEVILS women's basketball team finished third in the nation in the NJCAA DII Women's Basketball National Tournament this year. And, head coach LORI DRAKE was named DII District J Women's Basketball Coach of the Year.
Sixteen teams competed in the DII National Tournament, held March 19-23 in Harrison, Arkansas. Going into the tournament, CFCC was seeded No. 7 with a season record of 25-4.
In addition to their third-place national finish – the highest ranking won by any CFCC athletic team in the school's history – the Lady Sea Devils set three tournament records.
"I am beyond proud of what this squad has accomplished over the past two years but especially the growth going into this," Drake says.
Although nine of the ten players are leaving the CFCC program to continue their careers at four-year universities, Drake says she is optimistic.
"We are bringing back our lead point guard and key player, Ny Langley. She will have a strong freshman class coming in next season," Drake says. "We are excited about not only our freshmen but our transfers as well."
Drake joined CFCC in 2011 and built the women's basketball program from the ground up. After one year as assistant coach at High Point University in 2016, she returned to CFCC.
-Marianna Boucher
Want more WILMA? Sign up for our WILMA Weekly email and announcements at WILMAOnTheWeb.com.