May Spotlight
Spotlight on area women making news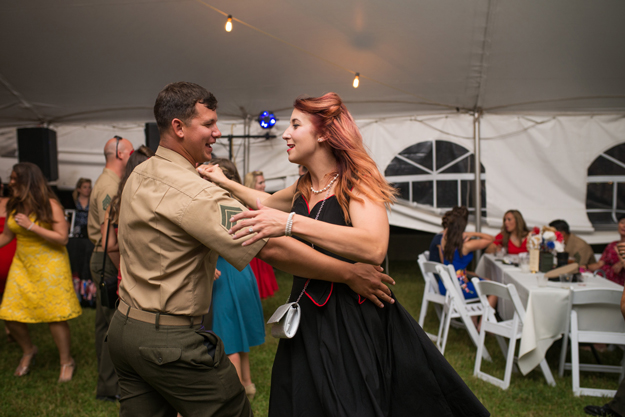 Don your 1940s best and dancing shoes for the fourth annual RAIDER BALL on May 27.
The event is organized by the nonprofit Raising Raiders, which serves families of Marine Corps Forces Special Operations Command members.
This year, the party, which is 6-11 p.m., moves to the Battleship North Carolina – rain last year drove it over to Battleship Park. Tickets are $65 to $80 and include cocktail drinks, dinner, and access to tour the ship.
"The Raider Ball is also time for Marine Raiders and the community to come together on Memorial Day weekend aboard the historic Battleship to pay homage to fallen WWII Raiders and Raiders of today," says Raising Raiders Co-founder Brittany Yost.
Info: raisingraiders.org
Designers Launch Nail Polish Line
Port City Design Group, an interior design firm, recently took the leap from wall color to nail color.
The Wilmington company this spring launched a nail color line, featuring polishes with a uniquely inspired palette.
"Empire is a color line that was motivated by PCDG's monthly design trends that we were publishing every month," owner DANIELLE BOISSE says. "We were inspired by color and then decided to come out with something that blended color with design and fashion."
They tapped a company with an eco-friendly and vegan polish made in the U.S. It worked with PCDG to brand its own private label line.
Boisse said soon after the launch that Empire so far was being sold in three boutique salons and online.
Brooks Is Designated 'Children's Champion'
LISA BROOKS, a nationally certified child therapist and forensic interviewer at The Carousel Center in Wilmington, received this year's Children's Champion award from Smart Start of New Hanover County.
In her work at the Carousel Center, Brooks (above center) facilitates child forensic interviews for children involved in reported cases of sexual or physical abuse or neglect. Her nominator for the award says she creates a safe space for children to share their experiences.
"During this time, Ms. Brooks is tasked with helping these child survivors do the hard work of healing, so that they can get back to the business or just being children," an award announcement says.
At the awards event, Smart Start officials also gave LEIGH ROBERTSON and ANNA LAIR their Starfish Public Advocacy Award for the duo's work in founding the Diaper Bank of the Lower Cape Fear, which collects diapers for families in need.
Conway To Speak In Wilmington
KELLYANNE CONWAY, counselor to President Donald Trump, is scheduled to visit Wilmington in June for the state GOP convention, party officials recently announced.
Conway, a highly visible and at-times controversial member of Trump's team in the White House, served as his campaign manager in the presidential election last year.
Conway, who is from New Jersey, is slated to speak at the NCGOP Convention's Saturday Lunch on June 3. Tickets for the lunch are $70. The convention, which runs June 2-4, takes place at the Wilmington Convention Center, 515 Nutt Street.
Another speaker with ties to the president also is slated to appear.
State Republican officials announced that Lara Trump, a native of Wilmington and Trump's daughter-in-law, also will speak at the June 3 lunch.
Info: convention.nc.gop