March Spotlight
Area women making news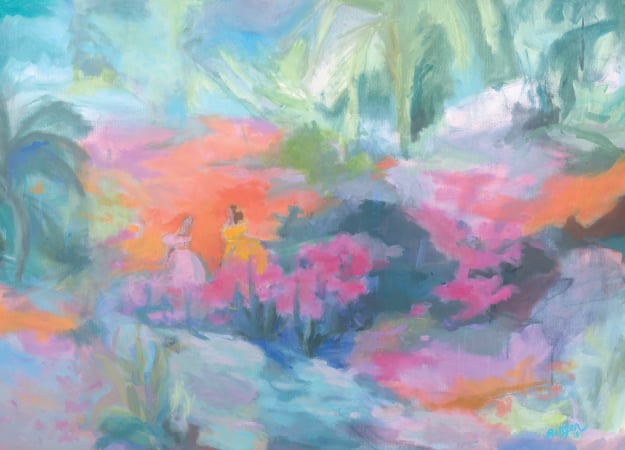 DeLeeuw creates Azalea Fest piece
Local painter BERGEN DELEEUW is behind the official artwork for this year's North Carolina Azalea Festival. Her piece entitled "Wrapped in Blooms" was unveiled January 19, and will be used to promote the upcoming festival in April.
DeLeeuw, who paints in a studio at her home in Hampstead and is part of The Milspo Project group that supports military spouse entrepreneurs, says she found inspiration for "Wrapped in Blooms" while running one morning after Hurricane Florence. A tree that was stripped of its leaves had burst into full bloom despite weathering the storm. DeLeeuw was moved by this image of beauty after trauma.
"I wanted to capture the joy, rebirth, and wrapping of love I feel here while celebrating how the Azalea Festival brings the community together in such a beautiful way," she says.
View more of Deleeuw's work at bergenlauren.com. Prints of the painting are available for $50 from the Azalea Festival ticket office, which also is carrying tote bags featuring the image for $15, with a portion of the proceeds going to The Milspo Project.
Thompson Receives AFP Scholarship
The ASSOCIATION FOR FUNDRAISING PROFESSIONALS' local chapter gave LOGAN WHITE THOMPSON its 2019 Chamberlain Scholarship.
The scholarship covers registration costs for Thompson, executive director of WELCOME HOME ANGEL, to attend AFP's international conference in San Antonio, Texas, later this month.
"The board of AFP Cape Fear Region is delighted to support another professional committed to our field who brings value and a code of ethics to raising funds," says BETHANY LEIGHTON, president of the AFP chapter.
Welcome Home Angel is a local charity that provides structural and aesthetic renovations in the homes of children with illnesses, disabilities, or injuries that severely impact their lives.
"I am thrilled to receive this scholarship and look forward to networking and learning from other fundraising professionals at AFP ICON 2019 in San Antonio," Thompson says. "I appreciate the opportunity to deepen my knowledge and share what I learn with fellow AFP Cape Fear Region members."
Sutton Named to Sports Hall of Fame
RUBY ZELL SUTTON, a teacher and sports coach whose career in New Hanover County schools spanned fifty-two years, is one of four who will be inducted this year to the GREATER WILMINGTON SPORTS HALL OF FAME.
She moved to Wilmington in 1965 to teach P.E. at Williston Senior High School. She also taught at Noble Junior High School and D.C. Virgo. In 1977, Sutton began working at Laney High School and did so until her retirement in 2018.
During her forty-one years at Laney, Sutton coached softball, basketball, cheerleading, and boys and girls tennis and volleyball.
"This is a great honor. I worked so hard, but this is something I never expected," Sutton says about the Greater Wilmington Sports Hall of Fame induction. "Honestly, I never expected any of it, but this is a big one in the bucket."
Also to be inducted this year at a May 5 event are racquetball player STEVE DAYVAULT, retired high school baseball coach LINWOOD HEDGEPETH, and former pro basketball player and coach KEVIN WHITTED.
Writer Headlines Hibiscus Fundraiser
IRIN CARMON, co-author of Notorious RBG: The Life and Times of Ruth Bader Ginsburg, is the featured speaker at Planned Parenthood South Atlantic's annual Hibiscus event.
The dinner, 7-9 p.m. March 20, is at the Wilmington Convention Center.
Carmon wrote the biography about the Supreme Court justice with Shana Knizhnik, and it spent three months on The New York Times' best-seller list.
Carmon also a senior correspondent for New York magazine and a CNN contributor
In 2017, she worked with reporter Amy Brittain to break the news in The Washington Post of sexual harassment and assault allegations against Charlie Rose.
She has previously worked as a national reporter at MSNBC and NBC News and as a staff writer at Salon and Jezebel.
The upcoming Wilmington event, dubbed Hibiscus 2019: This is Health, is a fundraiser for Planned Parenthood.
Also at the event, former board members CELESTE ROBERSON SMITH and PAM MCMAHON will receive the group's Margaret Sanger Lifetime Achievement Awards.
There is not a ticket cost, but organizers ask attendees to consider a donation of $100 or more at the event. Info: hibiscus.ppsat.org
Want more WILMA? Sign up for our WILMA Weekly email and announcements at WILMAOnTheWeb.com.