Making Airwaves
Rachel Lewis Hilburn keeps public in public radio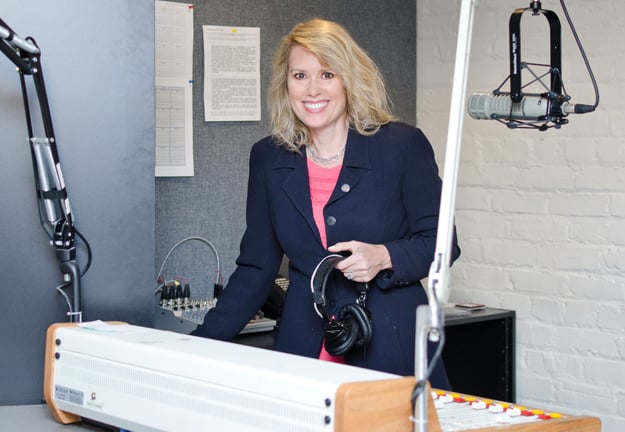 When entering the foyer of WHQR, it's easy to be taken aback by the setting. The walls are punctuated with artwork, resembling a gallery space rather than a lobby. Providing information and a source of artistic expression are important at the public radio station, and News Director RACHEL LEWIS HILBURN is evidence of that.
"This is a community radio station that reaches into all aspects of the community," she says. "There are classical music aficionados and theater people and film people who come in; and writers and painters. It was that kind of vibrancy that made me want to be apart of this."
The news director spent her former days in Los Angeles, crunching numbers as a financial advisor for Morgan Stanley. The position was a significant departure from her education at the University of North Carolina School of the Arts, where she majored in theater. While she was a natural at her financial job, something was missing. Something beckoned her to Wilmington, where she worked briefly in the late '90s as a part-time classical music host for WHQR.
In 2003, she returned to the Port City and realized her lack of satisfaction with her career.
"What you do everyday can't just be fueling the intellect," Hilburn says. "All of the other parts of the human have to be fueled too, like the heart and the soul and the feeling of community."
Hilburn changed directions and turned to news media. She started at WWAY's news department, where she climbed the ranks and became a senior producer. She then parlayed her news skills towards contributing to the Island Report – a weekly e-newsletter and monthly print publication for the residents of Bald Head Island, where she lived. She also participated in local theater – a passion she couldn't ignore, regardless of her occupation.
By 2011, she joined the WHQR staff as a back-up host. She was named the news director in 2012. Founded by opera enthusiasts, WHQR has not only focused on community issues but the arts, as well. It was the perfect compromise for Hilburn.
Program Manager Bob Workmon says she was a perfect fit for the nonprofit station.
"She is one of the hinges in which the door swings to the community," he says. "She considers it part of the mission of the station and her news department to be a conduit for civil discourse in this community, for the exchange of ideas and for shining truth where truth is sometimes hard to see."
Hilburn's vision is in line with the public-supported station that's celebrating its 30th anniversary this year. WHQR plans to celebrate the occasion with a birthday bash at Cape Fear Community College's Union Station on October 25. The station will also launch its newest talk show,
Coastline, slated to air on June 24. The program will foster community discussion about local issues, something that's near and dear to Hilburn's heart.
"It's one of the reasons why WHQR is really important to me," Hilburn says. "It's not a job; it's about people, and it's about this place that we all live. We share this place."
To view more of photographer Katherie Clark's work, go to www.katherineclarkphotography.com.