Maker Space
This year's MADE winners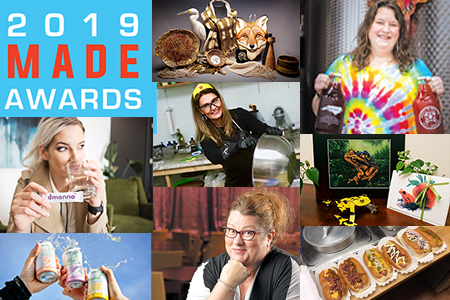 Every year, WILMA's sister publication, the Greater Wilmington Business Journal, holds a MADE competition to highlight area makers, manufacturers, exporters, artisans, designers, small businesses, and the businesses that support them. Out of the fourteen MADE winners this year, eight are owned or co-owned by women.
Dmanna –
Exporter Category
Year Founded: 2018
Top official: Sara Rose Harcus, founder
Number of employees: 7
SARA ROSE HARCUS started Dmanna, a company offering a urinary tract infection prevention product, through merging her chemistry degree from University of North Carolina Wilmington and her years of dealing with UTIs.
"During that time when I started researching, there just happened to be a recent clinical study on D-mannose where researchers concluded that taking D-mannose daily resulted in a significantly decreased risk of UTIs for the female subjects in the study," Harcus says.
Soon after, Harcus started using D-mannose but was frustrated with the available products.
"My only option was to buy this bag of white powder and take it with me everywhere I went," Harcus says. "Here I am trying to scoop this medicine, take a baby spoon, and dump it in a water bottle, and I'm getting white powder all over me."
Those issues were the main motivation behind the company's product, a kit with thirty-five single doses of D-mannose. Harcus, with the help of her husband, Josh, has grown the company, which now exports its products to countries such as Mexico and educates individuals on the subject.
"We launched our pilot products that we developed here in Wilmington with one of the local innovation designers here and got off the ground and just started publishing educational content, publishing guides, and then handing out the products as samples and getting customers," Harcus says.
CandyCo INC/Signa Scents –
Manufacturer Category
Year Founded: 2010
Top official: Candy Padgett, CEO/president
Number of employees: 3
CandyCo INC/Signa Scents started in a home kitchen, where CEO and president CANDY PADGETT grew the company that now makes more than 20,000 products a year and ships all over the country.
Signa Scents' products, including organic and vegan body products, were developed out of a need Padgett had for alternative products that could address skin issues and needs.
Candy & Company Boutique, the other division of the company, is a retail store that carries leather bags, home décor jewelry, and Signa Scents Items, among other items.
"We have opened up our wholesale side this year, as our new and fresh website just launched today, with the possibility for retailers to place their orders online, nationwide," Padgett says. "We have trademarked several of our products and have several others in the process now."
Signa Scents now has over a hundred products ranging from scrubs, perfumes, deodorants, and some best-selling products that can help treat skin conditions.
Padgett hopes to open another boutique in the Wilmington area.
"Our only flagship store is currently in downtown Southport, inside of our very successful boutique," she says. "We had a location in Wilmington first for six years in Lumina Station, and we will be looking to reopen another free-standing location in the future."
Tama Tea –
Food & Beverage Category
Year founded: 2015
Top officials: Kelly Struble, Wells Struble & Rocco Quaranto, co-founders
Number of employees: 20
The three founders of Tama Tea are all University of North Carolina at Wilmington graduates who wanted to open a café with a fun and inviting atmosphere for everyday tea fans. With two café locations – one in Wilmington and one in Raleigh – the company has expanded its product line and launched a sparkling tea line with three different flavors.
"Our Sparkling Tea line was created based on customer feedback and demand in the cafe. During our research and development phase in our Wilmington location, we received amazing feedback on the product," Rocco Quaranto says.
Owners hope to open more café locations and continue to distribute their canned sparkling tea.
Louie's Hot Dogs –
Food & Beverage Category
Year founded: 1989
Top official: Mary Garner, owner/operator
Number of employees: 4
For more than thirty years, Louie's Hot Dogs has been serving downtown Wilmington, featuring its menu of all-beef hot dogs, vegetarian smart dogs, mild and spicy sausages, and Jack Daniel's Pulled Pork BBQ, among other items.
"I buy everything local, no deliveries from outsources. I make my own special coleslaw, cut fresh Vidalia onions daily, have fresh split-top buns delivered twice per week from a bakery in North Carolina," owner MARY GARNER says.
The restaurant, which has four employees and serves about 60,000 hot dogs a year, also donates to charities and to help the homeless.
Panacea Brewing Co –
Food & Beverage Category
Year founded: 2016
Top official: Robin & Artie Hill, co-owners
Number of employees: 7
Panacea Brewing Company has been making and serving kombucha, a fermented tea drink, in the Wilmington area for three years.
The co-owners began making kombucha after they found out it is a drink they both enjoyed.
"My husband already was more into the beer and wine side of things, and I focused on probiotic ferment. And so, when we both discovered kombucha, it was kind of love at first sip," says ROBIN HILL, co-owner of Panacea Brewing.
Wanting to leave their corporate jobs behind, they decided to open the business.
"We had wanted to be entrepreneurs but hadn't been able to get over the fear, and it just finally felt like a good entry point," she says. "It was still scary, of course, but we just knew it was time to jump in."
Panacea Brewing recently launched its first Elevated line of alcoholic kombucha and plans on moving to the wholesale business with single-use bottles. The company also hopes to move to a bigger retail location to match its growth.
Robin Hill says people striving to open a business should put in the work.
"I think a lot of times, not only as women, I think all people struggle with fear and lack of self-confidence," she says. "It just takes lots of elbow grease and just keep on keeping on until you get it."
TheatreNOW Productions – 
Arts Category
Year founded: 2012
Top official: Alisa Harris, owner/producer
Number of employees: 4-26
ALISA HARRIS, the owner and show producer at TheatreNOW, acted in, directed, and produced theater shows throughout college, but her exposure to the stage began even before then.
"I've literally grown up on or backstage. My mother was an actress, and I followed in her footsteps performing regularly from about age five, six until present," Harris says. "I worked all facets of theater both on and offstage."
After performing in Wilmington at a couple of small dinner theater groups, Harris thought she would like to run a place where she could pay performers for their work, and the only model she thought would work was dinner theater.
Harris garnered her experience growing up with an acting mother and her dad who was a nightclub manager to open TheatreNOW.
"I didn't really find a space that worked perfectly for what I wanted to accomplish, so I found some affordable property and built my own custom," Harris says. "Wilmington didn't need another theater company, but it did need another intimate performing and rehearsal space."
Some original TheatreNOW-produced shows include Azalea Festival Queen, Southern Fried Bitch, and Memories, Molasses & More.
Port City Pottery –
Arts Category
Year founded: 2007
Top official: Pat Holleman, president
Port City Pottery & Fine Crafts is a cooperative gallery of Wilmington artists that features handmade items made from clay, wood, fiber, glass, jewelry, and mixed media, among others.
Artists who are part of the co-op demonstrate their work and techniques and teach for local groups.
Many of the art made is from recycled and locally sourced materials.
"During our almost twelve years in operation, we have grown substantially, providing the opportunity for our artists to have professionally successful, fulfilling lives," says LOUISE GIORDANO, an artist at the co-op. "We often demonstrate our work while in the gallery, encouraging value, appreciation, and support of the arts."
Frogs and Friends –
Arts Category
Year founded: 2018
Top official: Jessie Robertson
Number of employees: 1
JESSIE ROBERTSON, a student at Wilmington Early College High School, runs an Etsy shop featuring frog artwork. She started the shop, Frogs and Friends, to educate others about frogs and toads and encourage their conservation.
"I think it is vitally important that we preserve our beautiful natural treasures before they disappear," Robertson says.
Some of the items in the shop include prints with animal fact cards, greeting cards, and T-shirts.
"I view Frogs and Friends as a way for me to share my two passions – frogs and artwork – with those around me," Robertson says, "and to make a difference in my community and in frog populations worldwide."
Want more WILMA? Click here to sign up for our WILMA newsletters and announcements.