MADE Awards
Women of the 2018 MADE Awards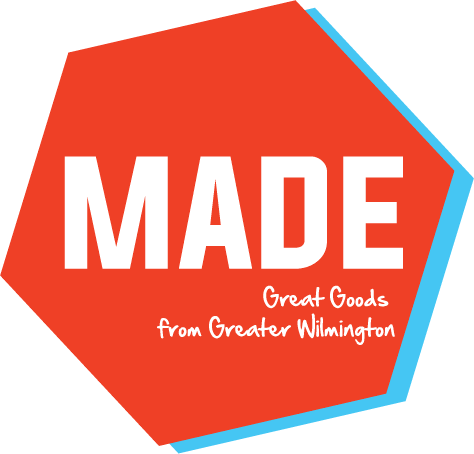 Here are the women running businesses who were named as winners of the 2018 MADE competition.
The contest, put on by WILMA's sister publication the Greater Wilmington Business Journal, seeks to recognize local product makers, artisans, designers, and manufacturers.
Judges weigh nominations from the public and awarded three winners in the categories of Arts, Functional Products, Food & Beverage, and Manufacturing. A Supporter Category winner also recognizes an organization helping companies make more goods in the area. The winners' products will be on display at the WilmingtonBiz Conference and Expo on April 5 at the Wilmington Convention Center (WilmingtonBizExpo.com for more info).
TAY HAM (Arts)
Year founded: 2014
Number of employees: 3
Taylor Hamilton, founder
From its North Fourth Street studio, TAY HAM makes greeting cards inspired by creative or inspirational people, nostalgia, and puns.
It all started in the living room of founder Taylor Hamilton, who still hand draws all of the illustrations and phrases, as she made cards for friends and family members.
"By year's end we graduated to renting a small 10×10 studio downtown on Market and Front Street, and now five years later have an HQ in the Brooklyn Arts District with three staff members."
The cards are sold internationally to over 500 independent stores.
SECOND SET DESIGNS LLC/TACHITS (Arts)
Year founded: 2016
Number of employees: 1
Christi Burton, owner and creator
The Tachits clip is used to secure cards to gifts to keep them from getting lost in the present pile.
An alternative to taping cards or tucking them underneath gift bows or in bags, the product comes in a variety of designs.
"Years ago when I came up with the idea for Tachits I knew it could be something big," says Burton, who moved to Wilmington from Atlanta. "I compiled ideas for the product and introduced it at the National Stationery Show in New York City."
At the trade show, Tachits was chosen as a Best New Products.
GOODNESS GRACIE GOURMET FOODS (Food & Beverage)
Year founded: 1996
Number of employees: 15
Sallie & Carter Price, owners
Goodness Gracie Gourmet Foods sells hand-crafted sweet and savory treats.
The business started in 1995 when founder Sallie Price, who at the time was working in catering, needed to whip up a dessert for an event. She found inspiration in one of her mother's recipes, and Goodness Gracie's Heavenly Toffee Cookie was born, and requests for more started.
It now has in its lineup of several other flavors of toffee cookies and four savory treats, such as Sinful Salted Pecans. The company's products are handmade in small batches.
It sells wholesale and has a retail website.
WRIGHTSVILLE BEACH BREWERY (Food & Beverage)
Year founded: 2016
Number of employees: 70
Amber & Jud Watkins, owners
Wrightsville Beach Brewery opened its doors in early 2017. The husband-and- wife team runs the nearly 10,000-square-foot brewery and restaurant at the corner of Greenville Avenue and Oleander Drive, with a menu that highlights local seafood.
Many of the beers brewed there also support local ingredients and organizations.
"We even made a Carolina Harvest Ale that is all North Carolina hops and grains."
Each month, the brewery donates 11 percent of proceeds from a revolving lineup of "give-back beers" to a different nonprofit partner from the area.
SURGILUM LLC (Functional Products)
Year founded: 2014
Number of employees: 6
Debbie Brown, principal and president, and Alan W. Brown, founder and CEO
A medical device (ophthalmic) design and manufacturing company, Surgilūm's target market are cataract, refractive, and corneal surgeons for now, but the company intends also to focus on retina and glaucoma specialists in the near future.
"Our i Light Speculum launches this year to broaden our product offering," company officials say. "The Photon Speculum (i Light) goals are to redefine eye illumination allowing previously unseen eye anatomy to become visible while eliminating retinal phototoxicity. After 60 years of standard glare illumination, we plan to make this new method of eye illumination the standard of care for all forms of eye surgery."
ECLIPSE ARTISAN BOUTIQUE (Supporter)
Year founded: 2013
Number of employees: 4
Mary Ann Masucci, co-owner
Eclipse, at 203 Racine Drive, is "an artisan boutique selling an eclectic mix of handmade, one-of-a kind
art, furniture, and home décor." Since 2013, it has grown from featuring about sixty local and regional artists to over 200 local, regional, and national artists.
"When the space became available, the owners of (adjacent) Blue Moon decided to transform the traditional gallery space into an eclectic and dynamic artisan boutique complementing and enhancing the success of the Blue Moon customer base with a unique sister business."
All of the 2018 MADE Winners
Arts: TAY HAM, Intracoastal Iron & Metalwork, LLC, Second Set Designs, LLC (Tachits)
Food & Beverage: Apple Annie's Bake Shop, Goodness Gracie Gourmet Foods, Wrightsville Beach Brewery
Functional Products: Flow Sciences, Surgilūm, Maverick American Spearfishing
Manufacturing: Manufacturing Methods, eland Industries inc., JCC Outdoor Products – Wilmington Grill
Supporter: Eclipse Artisan Boutique