MADE Awards
Ladies of the 2017 MADE Awards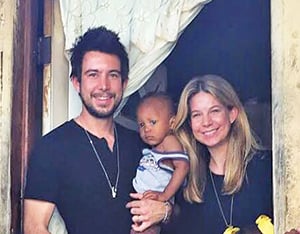 Meet the women business owners included among the winners of this year's MADE competition.
The contest, put on by WILMA's sister publication the Greater Wilmington Business Journal, seeks to recognize local product makers, artisans, designers, and manufacturers.
Judges awarded three winners in the categories of: Arts, Functional Products, Food & Beverage, Manufacturing, and Supporter. The winners' products will be on display at the WilmingtonBiz Expo on March 30 at the Wilmington Convention Center (WilmingtonBizExpo.com for more info).
HALF UNITED (Arts)
Year founded: 2009
Employees: 10
Top official: Carmin Black and Christian Black, co-founders
Company description: The accessory and apparel company founded by the sister-and-brother team puts its giveback business model front and center. "We're using fashion to fight hunger with the sale of each of our products giving seven meals to hungry children."
How has your product helped impact the region's economic development? "HALF UNITED is creating many of our products in the U.S., with many of them being made by hand in our local facility. We've also hosted numerous interns from UNCW and several of Wilmington's high schools in an effort to invest in the next generation of our community's leaders, business owners, and citizens. Additionally, our office is located around the corner from Brooklyn Arts district, and our team rents space, buys lunch, grabs coffee, and invests right back into the community we're calling home."
What are your future goals for the product? "We aim to grow our network of manufacturers in Wilmington. As a result of increased sales we forecast to employ 10+ hand-makers, alone, in 2017. We are working on a custom line of apparel and accessories that will launch this fall that will include T-shirts, hats, bandanas, pins, and more."
DEATH BY DESIGN (Functional Products)
Year founded: 2016
Employees: 4
Top official: Kimberly C. Paul, CEO
Company description: "Death by Design is an educational service that encourages people to talk about advance care planning and teaches individuals and their families to begin the conversation."
Company growth: "After launching the podcast on Jan. 12: (there have been) over 350 downloads, over 1,000 likes on Facebook, and over 100 shares on social media."
What are your future goals for the product? "The goals for Death by Design are to increase listeners to over 100,000 and to produce several tools (book and Legacy guide) for our local community as well as a national audience. Our goal is to normalize the death and dying conversation, increase advance care planning, as well as impact how and where individuals face end of life."
SUNSNAPZ (Functional Products)
Year founded: 2012
Employees: 2
Top official: Julia Jacobsen, founder and CEO
Company description: Sunsnapz manufactures UPF50+ sun-protective baby blankets and accessories. "Our patented design creates a clever must-have baby item for the active family."
How has your product helped impact the region's economic development? "We have worked exclusively with a manufacturer that is headquartered in Wilmington, and all our products are made in North Carolina. As a small, family-owned business, we have made it part of our mission to give back through contributions to local events and charitable organizations like AIM at Melanoma."
How did you originally come up with the concept for your product? "As new parents, we loved products that created a healthy environment for our child. We searched for a cover to shelter our little one from wind and sun, act as a nursing cover, and a soft swaddle blanket at the same time. Without one on the market, Sunsnapz was born."
Bitty & Beau's Coffee (Food & Beverage)
Year founded: 2016
Employees: 40
Top official: Amy Wright, president
Company description: Bitty & Beau's Coffee, located on New Centre Drive, employs workers with intellectual and developmental disabilities. "Human rights movement disguised as a coffee shop"
Company growth: "Our workforce has doubled, and our customer base has expanded to reach a worldwide audience. What began in a 500-square-foot space (in its original location on Wrightsville Avenue) has now multiplied into 5,000 square feet."
What are your future goals for the product? "There are many exciting developments in the works for the future expansion of Bitty & Beau's Coffee. Rachael Ray said she 'wants to see a Bitty & Beau's Coffee on every corner from coast to coast.' We plan to make that happen!"
Lunchbox Pickles (Food & Beverage)
Year founded: 2015
Employees: 4
Top official: Jules DeBord, owner
Company description: Lunchbox Pickles makes and sells a variety of gourmet pickles and condiments.
Company growth: The operation grew "from a small apartment kitchen to a full-sized kitchen producing over 25,000 jars of pickles last year – from one farmers market to 15 per week this upcoming season."
How has your product helped impact the region's economic development? "We source local produce from farmers in the area, employing local individuals, and selling 99 percent of our product in New Hanover, Brunswick, Pender, and Onslow counties."
Wilmington Brewing Company and Homebrew Supply (Food & Beverage)
Year founded: 2012
Employees: 11
Top official: Michelle and John Savard, founders and co-owners
Company description: The facility on South Kerr Avenue houses a brewery, a taproom, and a homebrew supply store. "Wilmington Brewing Company serves fresh local beer straight from the tank to the tap."
How did you originally come up with the concept for your product? "We started as a small homebrew shop in 2012. At that time, we saw a void here in the market for craft beer in Wilmington. We decided to go ahead and open the brewery, which was our dream from the beginning."
What are your future goals for the product? "We will continue to grow and produce quality, craft beer here in Wilmington and surrounding areas. We are currently getting ready to launch our canning program. Our plan is continued growth at our brewery and through distribution, along with new and exciting styles of beer including our West Coast-style IPAs and future barrel aged sours. We are honored to be part of such a thriving beer-loving community."
All of the 2017 MADE Winners
Arts: Dumay Gorham Designs, HALF UNITED, and Martin Custom Woodworking & Antique Restoration
Functional Products: Backslider Gear, Death by Design Podcast, and Sunsnapz
Food & Beverage: Bitty & Beau's Coffee, Lunchbox Pickles, and Wilmington Brewing Company and Homebrew Supply
Manufacturing: Bradford Products, Dry Corp, and P2P Rescue
Supporter Category: WebWorks89 (formerly Digitus89)