Let Them Eat Cake
What's trending for wedding cake touches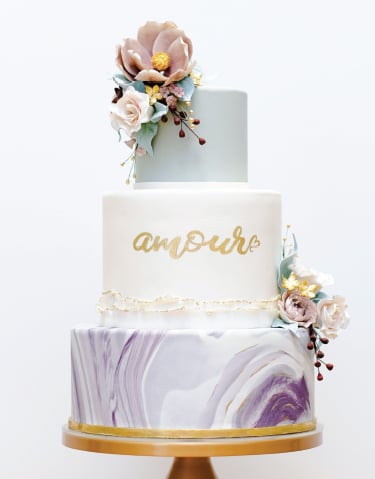 For many Wilmington-based wedding cake makers, their businesses often start as a passion that expands into creative and artistic offerings for couples seeking something elegant and flavorful.
Not all wedding cakes are the same, however. That can be seen in the works of three area women who create handmade flowers, go for a rustic seminaked style, and pull together creations that don't necessarily look like cake at all.
Fanciful Flowers
CINDY LAVERDIERE started her journey into baking at a young age, sitting in a high chair with a cupcake and a piping bag in hand as her mom prepared cakes. As a stay-at-home mom years later, Laverdiere started making cakes for other moms.
"By the following weekend, I had about three cakes and then the following weekend I had three more, and it just kept growing and growing and people said 'You should just make it a business,'" Laverdiere says.
Laverdiere opened  IMAGINARY CAKES in 2009 and hired  COURTNEY BUTLER to help with cake making in 2011, calling it "probably one of the best decisions I ever made."
Butler has been making cakes for eleven years, getting her start as a cake decorator at Harris Teeter and then moving on to more intricate cakes at Imaginary Cakes.
After a decade in the business, Laverdiere started getting arthritis in her hands and felt like she needed to do something else in her life. She decided to sell the business recently to Butler.
"I've set a standard in this town. I set a bar, and it's pretty high," Cindy Laverdiere says. "I know that Courtney could definitely continue making the cakes just as beautiful if not more beautiful."
Butler prefers working with couples who go the nontraditional route.
"I like when couples get a little wild with it," Courtney Butler says.
"You know my favorite wedding cake will always probably be the octopus one where it's just a wedding cake, but there's an octopus going through it and tentacles coming out, and it's funky. People don't expect that when they show up to a wedding."
Imaginary Cakes is known for is its handmade sugar and gumpaste flowers.
"We love it when they want to include sugar flowers because it definitely gives us another outlet to be artistic," Laverdiere says.
While Butler has taken over the business as of January, Laverdiere is still at the shop helping with the transition.
"It makes me nervous," Butler says about being a new owner. "I'm not as scared though because I know that Cindy has already built such a strong foundation for me to go off of."
Piece of (Groom's) Cake
From a bucket of oysters to a football stadium to a helicopter, ANNA ECHOLS, owner of ONE BELLE BAKERY, says groom's cakes are some of her all-time favorite projects.
"A groom's cake has the ability to be something the wedding cake traditionally can't," Anna Echols says. "It's an opportunity to have a really fun, memorable, and delicious centerpiece that doesn't need to be as formal."
Echols picked up baking and cake decorating while studying for a real estate license exam.
"I remember being in a grocery store and seeing a picture of a decorated cake on the front of a magazine and thinking 'I'm going to teach myself how to do that,' and that's exactly what I did," Echols recalls. "I went and bought books and tools from hobby stores and anytime that wasn't spent studying real estate was spent making cakes."
After getting her real estate license, Echols shifted paths and enrolled at Le Cordon Bleu Orlando, where she learned baking and pastry making in a fifteen-month program.
In 2013, Echols opened One Belle Bakery.
"I never could have imagined that it would grow to be what it is today," she says. "It went from a one-woman, cake-only show to a full retail bakery and a staff of thirteen in what feels like overnight."
Echols says she would not want to have a bakery anywhere other than Wilmington because it's full of people who love sweets and support and encourage creative culinary ventures.
"This industry is so much more than just flour, sugar, and eggs," Echols says. "While we are technically a food establishment, I consider all the creatives in Wilmington who make cakes on a weekly basis to be true artists."
Rustic Spin
At CREATIVE CAKE DESIGN, you'll find TAMMY HODGE experimenting with buttercream, her favorite medium to work with for decorating wedding cakes.
For Hodge, starting Creative Cake Design was a way to turn her passion into a business after getting laid off from Wachovia nine years ago.
Like Laverdiere, Hodge says she wanted to pursue her dreams and open a business after making cakes for friends and family.
"I was already doing it there for baby showers, wedding showers, and birthdays and stuff like that," Hodge says. "Anytime we were having a party, I was the one that would be like 'Oh, I can do the cake.'"
Hodge is a self-taught baker and decorator who watched tutorials on YouTube and Instagram to learn techniques and play with icing and fondant.
From the day it opened in October 2011, Creative Cake Design has seen vast growth.
"We went from having twenty-eight weddings that first year with maybe fifty orders, to just this past year I had over 635 orders," Hodge says. "I don't know if that sounds like a lot to people, but it's a lot for me because I'm the only baker and the only decorator and finisher."
While Hodge loves working with buttercream and color, she has noticed there is increased popularity in naked or semi-naked cakes (pictured below) for their subtle sweetness and look.
"Taste preference is one of the reasons that people will choose a semi-iced cake," Hodge says. "Another reason is they might be wanting something a little more natural or rustic, more modern. Those three words are usually the most popular."
To view more of photographer Kevin Kleitches work, go to kevintitusphoto.com
Want more WILMA? Click here to sign up for our WILMA newsletters and announcements.