June Spotlight
Area women making news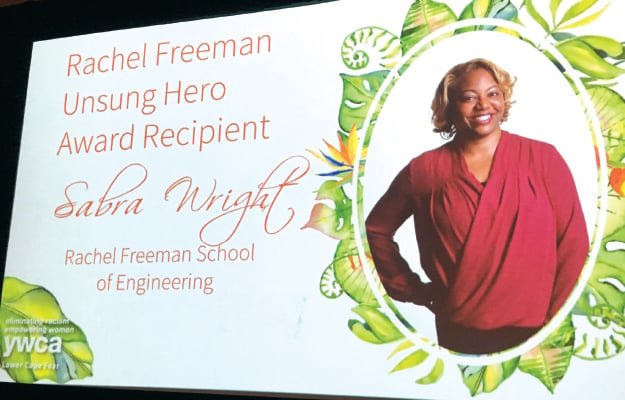 Women of Achievement Awards Given Out
The YWCA Lower Cape Fear held its thirty-fourth annual Women of Achievement Awards on May 7, handing out honors in nine categories as well as nods to several high school and college students.
This year's winners are: KATRINA KNIGHT, executive director of Good Shepherd Center (Advocacy & Social Justice Award); JACQUELINE OLIVE, filmmaker (Arts & Culture Award); CHRISTI FERRETTI, Pine Valley Market co-owner and chef (Business Award); SHERI SHAW, assistant dean for student success at UNCW (Education Award); CHRISTY SPIVEY, administrator for regional services at NHRMC (Health & Wellness Award); CORI DIXON, security business analyst for NHRMC (Public Service Award); SABRA WRIGHT, assistant principal of Rachel Freeman School of Engineering (Rachel Freeman Unsung Hero Award); MARISSA BRYANT, NHRMC's Health Equity outreach coordinator (Trailblazer Award); and LOUISE COGGINS, psychotherapist with Trinity Wellness Center (Lifetime Achievement Award).
A $1,500 Student Impact Grant went to UNCW student JESSICA AGUILAR, and New Hanover High School students SOPHIE FARRISS and JANAE YOUNG were honored in the Young Leader Scholarship Category, picking up $1,000 scholarships each.
Alejandra Y. Castillo, CEO of the YWCA USA, gave the keynote speech at the event, which also highlighted this year's seventy-one nominees.
Airport Names New Facilities Manager
WILMINGTON INTERNATIONAL AIRPORT officials promoted TAMIE KEEL to the role of facilities manager.
In the position, Keel is responsible for planning and coordinating facility maintenance and capital projects.
She joined the airport in 2015 and quickly advanced, officials say. Prior to her current role, Keel served as a shift supervisor, operations specialist, and public safety dispatcher.
"Hardships in life have taught me, when the only options are to sink or swim, I'm going to swim," Keel says. "I'm proud to be part of the ILM team as we 'coast' into the future with our terminal expansion."
The airport is in the midst of a major $60 million expansion project.
"(Tamie) anticipates what needs to be accomplished before being told and follows through accordingly to ensure success," says Deputy Airport Director Gary Broughton, pointing out Keel's various promotions with ILM. "Therefore, when the need for a facilities manager arose, the choice was easy, and Tamie was promoted to the position … True to form, she has not slowed down!"
Bank OZK Investment Benefits Womens Fund
The Carolina Small Business Development Fund got a boost to its outreach initiatives, thanks to a recent $20,000 investment from Bank OZK.
The money will help the fund identify aspiring female entrepreneurs who could benefit from coaching and access to flexible financing, officials say. Locally, the investment will support the work of COASTAL WOMEN'S VENTURES, a program office of Carolina Small Business Development Fund that partners with the YWCA Lower Cape Fear. The $20,000 from Bank OZK will fuel outreach by Coastal Women's Ventures, headed up by ACQUINETTA BEATTY, to promote small business ownership among women in Wilmington and beyond.
Carolina Small Business fosters economic development in underserved communities through access to capital, business services, and policy research.
"We are thrilled to have the support of Bank OZK for our work supporting small business owners, particularly women entrepreneurs," said Lenwood Long, the development fund's president and CEO. "This money will help us provide essential resources like business services to women-owned small businesses in the YWCA service area."
-Jenny Callison​

Disaster Prep Group Hires Director
The NEW HANOVER DISASTER COALITION, a group made up of representatives from local faith communities, nonprofits, businesses, and governmental agencies that formed in the wake of Hurricane Florence last year, has hired a director.
AUDREY HART now heads up the coalition, which is focused on long term hurricane recovery and disaster preparedness.
Hart's background is in case management and advocacy. She graduated from the University of North Carolina at Greensboro with a bachelor's degree in social work. Hart was nominated for the 2015 Pacesetter Award for Health and Human Services.
"This group has accomplished so much since it came together after Hurricane Florence, and I'm honored to serve the community and our partners in this role," Hart says. "Together, we will not only get back to where we were before Hurricane Florence but to a place more prepared and more resilient than before."
The coalition follows a Long Term Recovery Group model under national Voluntary Organizations Active in Disaster (VOAD) guidelines, officials say.
Coalition meetings, which are open to the public, take place the fourth Tuesday of every month at 2 p.m. at First Baptist Activities Center, 1939 Independence Boulevard.
Want more WILMA? Sign up for our WILMA Weekly email and announcements at WILMAOnTheWeb.com.
Comments
comments