July Take 5
Terry Espy is president of the Downtown Business Alliance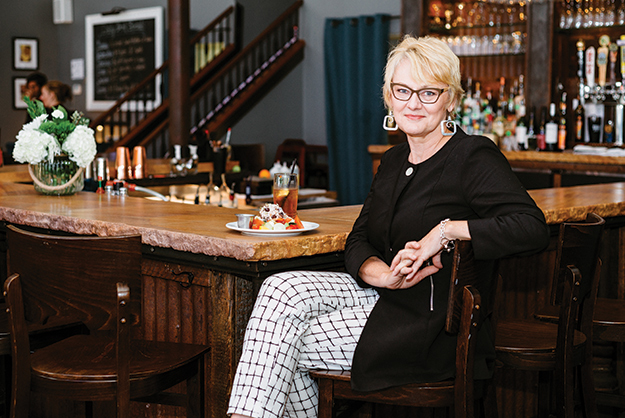 Ten years after moving to the Port City, TERRY ESPY, is a figure in Wilmington development. Espy, president and broker-in-charge of the MoMentum Group, is the president of the Downtown Business Alliance and has ownership stakes in two downtown restaurants, multiple Airbnb properties, and a 2015 CoStar Power Broker Award.
Her company will soon move into its new Front Street offices, and her fingers are all over the new Italian family-style restaurant due to open at the end of the summer in the Hotel Tarrymore property on Second and Dock. Basically, if someone's thinking about a new business venture downtown, Espy knows about it. Here, she shares a little about living and working in her adopted city.
WHAT'S YOUR FAVORITE SEASON IN WILMINGTON? "Spring after the pollen is washed away. Everything is new and clean – and not too hot!" WHAT'S THE BIGGEST CHALLENGE FACING DOWNTOWN DEVELOPMENT? "The biggest challenge has been and continues to be that institutional lenders are still not taking Wilmington seriously. Even when feasibility studies confirm the need for specific types of projects, lenders are still not willing to risk a 'tertiary' market – they will gamble on Raleigh, Charlotte instead." OCEAN OR RIVER? "Tough one. I lived at Governors Landing for several years, and the river was my backyard with those amazing sunsets. What a perfect place to live and work. I save the ocean for when I need to completely relax and veg out with a great book." FAVORITE AUTHOR? "Pat Conroy. I loved the way he portrayed the South and the Lowcountry, his honesty and frankness. He will certainly be missed."
Terry Espy's full profile ran in a recent WILMA Weekly email. To sign up for the WILMA Weekly newsletter, go to WILMAOnTheWeb.com.
To view more of photographer Erik Maasch's work, visit websta.me/n/emaasch.