July Spotlight
Area women making news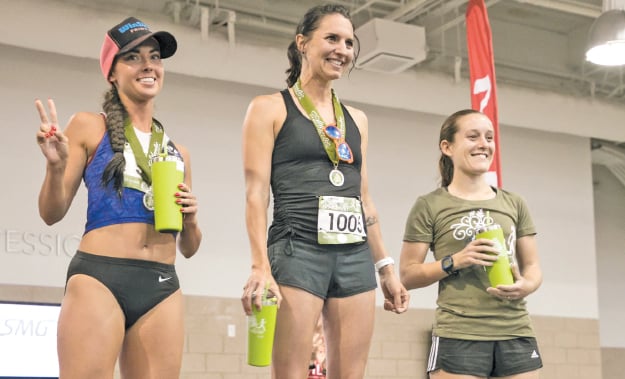 Sprinting to the Finish Line
With over 1,300 participants, this year's WILMA Dash on May 16 was the largest to date.
The first runners to sprint through the finish line at the all-female 5K this year were Natalie Turner, Holly Annas, and Hannah Lomas.
Turner, who received the first place overall, ran the race in 19 minutes and 47 seconds. Annas followed with 20 minutes and 10 seconds. And, Lomas got third place, coming in at 20 minutes and 18 seconds.
Awards were also given for the most-spirited team, which was Compass Pointer Sister Dashers. The group received a $500 gift certificate to Front Street Brewery.
New Hanover Regional Medical Center had the largest team with 159 runners. The group received tickets and a catered picnic to the Wilmington Sharks' opening baseball game.
Find the full list of results as well as teams at its-go-time.com/wilma-dash.
Stoute Named Assistant County Manager
Kathy Stoute has been selected to lead New Hanover County's health and human services departments as the new assistant county manager.
In her role that started this month, Stoute, who has worked with the county for twelve years, is the Public Health and Social Services director and oversees the county's Senior Resource Center, Community Justice Services, and Veterans Services. She also serves as a liaison with the court system and Trillium, which both receive county funding.
"I am extremely honored to have this opportunity to serve New Hanover County in a new, innovative, and meaningful way," Stoute says.
Stoute was previously the director of the county's Community Justice Services for seven years and has thirty years of experience in military, educational, and mental health fields.
In the position, she helps lead the county's partnership with Trillium for plans to build the Healing Place of New Hanover County, a treatment center for men suffering from substance use disorder.
UNCW Appoints Mingé​ for Community Engagement Role
Through a national search, UNCW has selected Jeanine Mingé as associate vice chancellor for community engagement.
In her role that starts July 15, Mingé will oversee programs, offices, and partnerships that connect the talent and resources of the university to the academic, creative, service interests, and needs of the broader community, according to the university.
She will also promote cultural arts and work with partners to broaden the university's community engagement.
Previously, Mingé was director of community engagement at California State University, Northbridge and succeeds Kristen Brogdon, who served as interim and recently moved for a position at the University of Minnesota's performing arts venue.
"I am excited," Mingé says, "to champion the incredible 'outside of the walls' programming both already happening and in development at UNCW."
CFCC Students Receive Gilbert Scholarship
Two Cape Fear Community College students were selected in June to receive The Gilbert Scholarship, which provides college funding for youth raised in foster care.
The two women are the first to receive the scholarship in Wilmington.
One student will be majoring in emergency medical science. The other will be majoring in medical health, with plans to go to a four-year school.
Officials did not release their names for privacy reasons.
(Photo by Danielle Riley Photo)
The Gilbert Scholarship was founded by Darlena Moore (above), who was orphaned at the age of eleven.
Moore started funding the scholarship through sales from her company Mountain Girl Granola, in part inspired by her foster family Dick and Mary Gilbert.
"When the Gilberts dropped me off at Meredith College in Raleigh, a private girls school, I'll admit I was nervous. Dick Gilbert smiled at me and said, 'Just be yourself kid, you have a right to be here.' Those words and that moment have stuck with me through the years," Moore says. "Only 3 percent of youth who age out of foster get a college degree. I created The Gilbert Scholarship for them. I want them to know they are worthy of love and an education, and they have a right to be here."
Want more WILMA? Click here to sign up for our WILMA newsletters and announcements