July Check Out
Go-Getter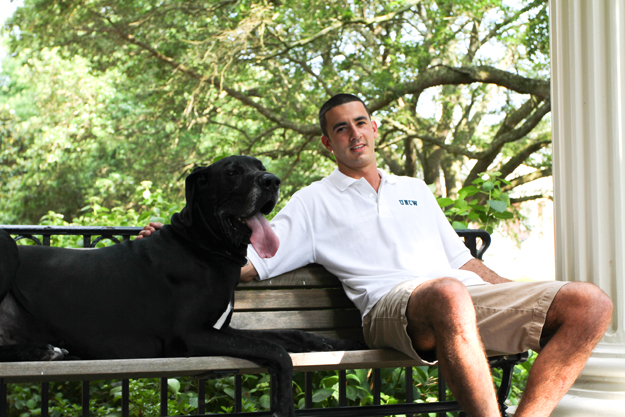 Mingling. Meeting and greeting. Rubbing elbows. Whatever name you put on it, networking is an invaluable tool in the business world.
For JJ SCHOONOVER, who studied entrepreneurial and business development at University of North Carolina Wilmington, making and maintaining working relationships not only provide important insight but also can lead to future collaboration.
Perhaps, that is why he's not only started an advisory board for young professionals in Wilmington but also gives back to the program that helped show him the way.
"I like to network. They say I'm a good networker. I guess if I find you interesting, I'll ask what you do and really probe at you. I've met some really cool contacts in Wilmington so far."
W: You've only just graduated. So what are you doing these days?
JS: Currently, I am a managing partner at SeaHawk Landscaping and Ocean View Advertising. Full time, I do business brokerage for a local company called Cornerstone.
W: While you were at Cornerstone as an intern, you started an Entrepreneurial Advisory Board, which you are still part of … tell us about that.
JS: Yes, I got an unpaid internship with them and the owner, who did a board on a larger scale, thought I should start a younger board. It's a mentorship, everyone collaborates, you bounce ideas off each other and hold each other accountable for goals. These people are younger, successful go-getters with lots of energy. It gives you the perspective of other younger business owners and the experiences they've had so you don't make the same mistakes. There are seven people total, from non-competing businesses, and we meet once a month for four hours.
W: You said that the Cameron Executive Network at UNCW was really important to you as a student, why was that?
JS: I have been in for three years and my mentor, Bill Shield, was a huge help. He is a retired exec from Exxon, and he has given me the best advice I've ever had. I wanted to give back to that network where I found that mentor, so I started the Cornerstone Executive Scholarship. It awards $1,000 to a student in the network, and I hope to increase the amount over the years.
W: So what would you say was the most valuable advice you got from your mentor?
JS: Probably 'lead by example.' The most important part of business is leadership. Also, how to be an effective leader and earn the will of your team. That's huge, and I'm getting more effective, but I still have some growing up to do.
W: Last but not least, we have to recognize your dog who has been sitting here so patiently with us in this heat.
JS: His name is Molson, and he's 4½ years old and 175 pounds. He's very social, he likes to nap and he's a lap dog.
To view more of photographer Amy Conry Davis' work, go to www.gypsypye.com.