Julia's Florist Nonprofit Grant Returns
Applications due August 29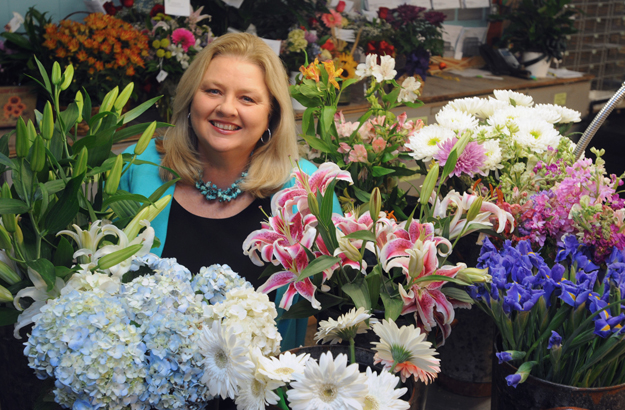 A local florist is giving nonprofits throughout the area a chance to bloom with her fourth annual flower grant.
DANA COOK, owner of JULIA'S FLORIST, began The Flower Grant Program in 2010 after she recognized a growing need in the nonprofit community to have affordable flowers for their events.
"After I bought the shop, I discovered within the first year I owned it that everyone was calling me asking for dead or free flowers for their different hosted events," Cook says. "I know that every penny they have is precious, but I received so many calls that I had to say no. It didn't settle well with me saying no."
As an active volunteer in the Wilmington community, Cook wanted to find a way to help. And while working with a local grant committee on another project, she realized a grant model would be the most effective way for her to give out flowers.
Cook's grant now provides up to $15,000 annually to various nonprofits throughout New Hanover County and northern Brunswick County.
The application process runs from July 1 to August 29, and grantees are selected the first week of September. Recipients are then invited to a banquet to not only celebrate the grant program, but also to select their arrangements.
Each group is allowed to choose from four different styles of arrangements: tropical, European garden, traditional and edgy. Then they work with Cook and her team to select sizes and quantities so each event is tailor-made.
"We like to give to organizations that have a general need, but we aren't exclusive," Cook says.
Last year, Julia's Florist received thirty-five applications for its flower grant. The recipients included Domestic Violence Shelter and Services, Cape Fear Habitat for Humanity, Good Shepherd Center and Life Line Pregnancy Center. Each year, between ten and fifteen grantees are chosen.
Cook's grant has not just been a success in Wilmington. Multiple florists throughout the country are now implementing the program.
"I willingly share this program with every florist I meet," Cook said in a statement. "My hope is that agencies everywhere will have access to this type of grant. It is the perfect fit for florists and nonprofit fundraising organizations – a real example of what we can do together."