January Spotlight
Spotlights on area women making news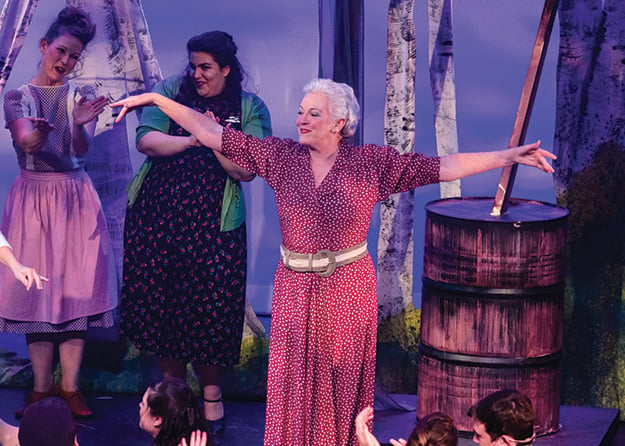 McDonnell To Win Theater Award
DENYSE MCDONNELL (above) will be honored for her work in local theater at an awards event next month.
McDonnell will pick up the Lela Thompson Award for Enduring Contribution to Wilmington Theater at the sixth annual StarNews Media Wilmington Theater Awards.
"I was totally blown away," she says about finding out she would receive this year's award. "My first thought was that it just couldn't be. There are so many deserving people in the theater community. I was very humbled, and I still can't believe it."
The award is named for Lela Thompson, the first recipient in 2012, which was followed by Donn Ansell, Tony Rivenbark, Lou Crisucuolo, and Judy Greenhut. McDonnell, who currently plays a nun in Cape Fear Theatre Arts' Sister Act, has performed in thirty-six local productions since 2003 including City of Angels and Carousel (above).
The awards, starting at 7:30 p.m. February 2 at Thalian Hall, also will include winners in about twenty categories highlighting local theater.
De Laurentiis Is Featured Chef For GLOW Fundraiser
GIADA DE LAURENTIIS is slated to be the featured guest at Girls Leadership Academy of Wilmington's second annual Celebrity Chef fundraiser.
De Laurentiis, a staple on the Food Network, currently hosts Giada at Home as well as other specials and show appearances. Her longest-running program, Everyday Italian, won her a Daytime Emmy Award in 2008.
Her appearances in Wilmington on January 26 and 27 include a dinner at a private home as well as ticketed breakfast and lunch events at the Country Club of Landfall. For ticket information, go to glowacademy.net.
GLOW, the state's first single-gender charter school, opened in August with an inaugural class of one hundred sixth-graders.
Soccer Team Earns Top Spot In Major Tourney
An area girls soccer team swept its division, taking home first place in a prestigious tournament.
The WILMINGTON HAMMERHEADS GIRLS WHITE TEAM of players age twelve and under won its grouping's Championship bracket at the Disney Junior Soccer Showcase in Florida.The junior showcase for younger players gives them similar exposure to national competition as the renowned Disney Soccer Showcase.
"Craig Johnson who has been involved with soccer in this community for fifteen-plus years coaches this team, and he does an amazing job," says Carson Porter, executive director of the Wilmington Hammerheads Youth organization. "Winning games is never the top priority at our club. Our job is to teach the game, be positive role models, and help these kids develop as players and as people."
The Wilmington Hammerheads Youth's 2003 Girls team also competed in the tournament, and its 2003 Boys team won third place in its bracket.
Carter Is NHC Bar Association President
VIRGINIA CARTER, an attorney with the Ward and Smith law firm in Wilmington, was elected president of the New Hanover County Bar Association's Board of Directors.
Carter, who practices in the area of estate planning and estate administration, has been a member of the association since 2012. The New Hanover County Bar Association has about 340 members.
"The bar association seeks to build relationships and encourage networking among our members," Carter says. "Our board also has worked to provide more professional education opportunities and inform members about opportunities to serve in the community. I look forward to continuing this over the next year."
Also recently elected to officer positions were Greg Katzman as vice president/ treasurer and Emily Jones as secretary.
To view more of photographer Erik Maasch's work, visit ejmphotography.org.