Insider: Madison Davis
Funny girl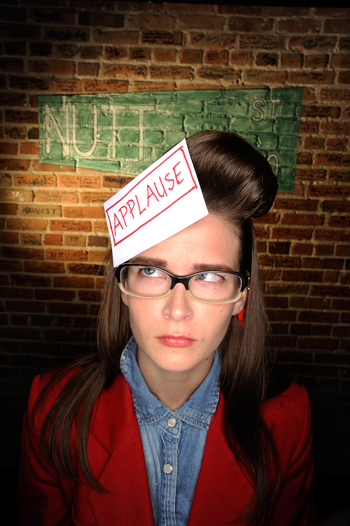 Lives in:
Downtown Wilmington, in the area since 2009
Came here for: UNCW – it was the farthest geographically from my hometown of Waxhaw, North Carolina.

Works as: I'm a waitress at Mellow Mushroom. I serve pizza with a side of smiles. (Also a stand-up comic.)

Favorite things to do in the area: Driving fast in the left lane, laying on top of things that I remove from the dryer, reading articles, listening to the sound track of Grease, and World Peace #bouncy balls.

I like to go to Thalian Hall or City Stage to watch plays. I recently attended the local productions of Spamalot, The Great American Trailer Park Musical, and The Lieutenant of Inishmore. The performers were impressive and so are the venues.

And duh, I like to go to see shows at the Nutt Street Comedy Room. I've seen Todd Glass, Neal Brennan, Kyle Grooms, and so many other nationally touring comedians with big credits under their names.

Most recent local place you ate out at? Nikki's, but I didn't like it. Don't get the salad wrap.

What's missing from the area? Sobriety and good bars.

First joke you remember telling: I would say, "What do you have to do to make a tissue dance? Put a little boogie in it!" And then I would laugh and laugh with my little toothless smile. I love that joke.

Female role model in comedy? Estelle Getty as Sophia Petrillo, the oldest grandma on The Golden Girls. She was a sarcastic raisin with quick one-liners.

Pick two celebrities to be your parents. Why them? Easy. Kanye West and Tracy Morgan. Hope they don't mind being hypothetically gay to raise a tiny white girl (Tracy Morgan minds since he is notoriously homophobic). The fights would be hilarious.

When it came time for the birds and the bees talk, Kanye could just put one of his albums in and leave the room. Plus, Kanye could teach me how to be awesome at Twitter with hits like: "I hate when I'm on a flight and I wake up with a water bottle next to me like oh great now I gotta be responsible for this water bottle."
Tracy Morgan would be the best because he can totally get on the same mental level as a child, and we could learn new things together all day. Plus, I would have gotten to be backstage at SNL for those eight seasons he did.

Besides timing and delivery, what do you feel is the most critical aspect of stand-up comedy? Writing was always what lured me into going on stage. You can have timing and delivery all day long, but if the jokes aren't there, what is the point?