Inside The Start Ups
Meet some of the women playing a part in the area's growing tech scene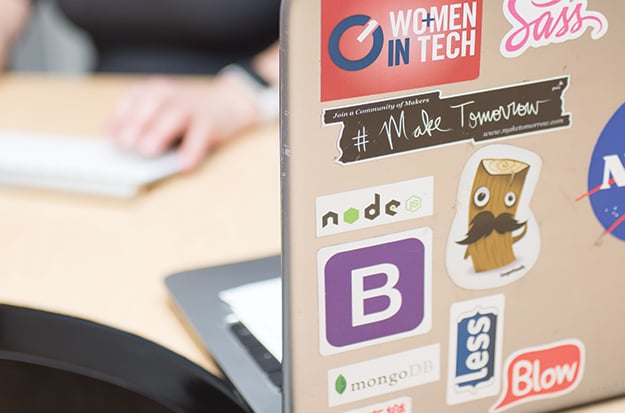 Wilmington's technology scene has been upwardly trending for some time now, and women have been a big part of that.
Whether at the beginning of their career, more settled in their place, or in the midst of managing a newly merged company, area women are making tech happen.
SARAH RITTER (left) is a graduate student at University of North Carolina Wilmington studying mobile development. After graduating from the University of Maryland, Baltimore County, she spent a decade consulting in the D.C. area and working on longer-term projects before deciding to return to school.
"I really wanted to learn to program and be a software developer. It was the one role I had not been on a software team, and I felt like I needed to understand that role in order to be a great technical manager," Ritter says.
She recognizes how important teamwork is when working in the tech field.
"I might not be the best driver, but I am an excellent parallel parker. You don't have to be good at everything," she says. "You should learn how to do as much as possible to work well on a team, but you don't have to be the best at everything to be a great asset on a technical team."
With the rapid pace at many tech startups, adapting to team environments is key – something MANDY CURTIN (below right ) has learned since joining Next Glass in its early days, when she worked tirelessly with others on the company's app launch in 2014.
Curtin and the rest of the recently merged Next Glass/Untappd team recently moved to a new headquarters office in downtown Wilmington. The company is a merger of two apps for alcohol connoisseurs that helps people discover new wines and beers and then locate the nearest place serving the beer.
Curtin, who started with Next Glass as its director of social media, is now success manager for the new company. Her job involves connecting with users, learning what they enjoy about the company's products, and delivering experiences that make people want to come back for more.
Like Ritter points out, being well rounded also is advice Curtin would give to any woman hoping to pursue a career in the STEM fields.
"(Young women should) create a wide foundation of marketable skills and connect with a mentor and be a 'vent'or – a term introduced to me by Laurie Patterson, UNCW chair (of the) Department of Computer Science," Cutin says. "Connecting with people who can inspire you and hold you accountable is priceless. A mentor can be anyone who you look up to, are inspired by, or understands where you are in your career. A 'vent'or, is designed to prevent potentially volatile ideas from poisoning your work-life integration. Be that person for someone else, it's a great exercise for empathy."
JULIE THOMAS also is enthusiastic about young women joining the technology field.
"Decide what you are passionate about, contemplate how it best applies to the workforce, and then pursue it relentlessly," says Julie Thomas.
Thomas is co-founder and CEO of locally based DocsInk, which formed in 2011. DocsInk enables health providers to share medical data across platforms while keeping accurate billing records and ensuring patients are receiving the best care from their various doctors.
"Technology continues to spill into most major industries, generating more employment opportunities than ever before," she says. "Young women should be encouraged by the continued dialogue between many industry and academic leaders, regarding finding ways to close the long-standing gender gaps in those fields."
Curtin feels that women are a vital resource and bring new, useful, qualities into the tech scene.
"Having women in the tech scene creates a valuable balance. Women are better at considering a long-term view and more calculated risk taking," she says. "We need more women solving problems and starting companies to power Wilmington's growing tech industry, drive our economy, and help shape Wilmington's growth."
The city's technology scene has been expanding at a rate more typical of a larger city. Curtin attributes this to a few factors. "I grew up in snowy Boston; went to college in humid Florida. I call North Carolina the Goldilocks state. It's just right," she says. "Work-life integration is a priority for much of the tech workforce. I also think that having UNCW, in a town full of retired entrepreneurs is a recipe for growth, right here at the beach."
Thomas (left) agrees the ocean has something to do with it, but she credits other factors, as well. "Over the last couple of years, the Wilmington community has increased their support of local entrepreneurs, with encouragement and tangible assistance being offered from several local incubators, accelerators, and investors," Thomas says.
That growth and success is part of what attracted Ritter, who is working on her Turnip Learning education tool at UNCW's Center for Innovation and Entrepreneurship.
"Another reason I was coming down to UNCW was the entrepreneurship activity," she says. "I was really attracted to the idea of spending time off from my career to create and launch a business. I am really excited about the team that has begun to form at Turnip Learning. I am really getting to work with some amazingly creative and talented individuals."
To view more of photographer Katherine Clark's work, go to www.katherineclarkphotography.com