Inner Space
Home staging versus interior design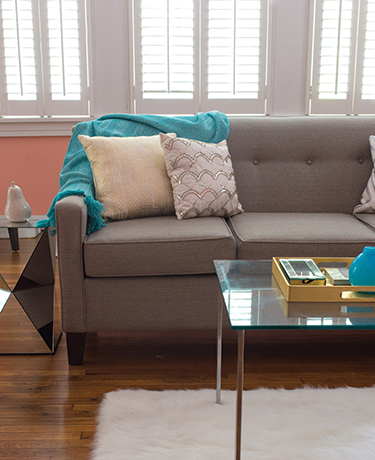 A home's look can be very different depending on its future. Staging it to put its best foot forward on the housing market draws a different strategy than creating a comfortable, yet stylish living space.
If channels like HGTV teach us anything, it's that interior design can make or break a home. It can be the deciding factor on whether a home feels warm and inviting or cold and empty. The design of a space can also be the linchpin in a buyer's decision to purchase a house.
Design definitely matters. But there's a stark difference between staging your home to sell and designing the interior of your home for your family.
To help navigate those differences, home stager JENNA DODD MCKNIGHT (above left) of AQUA HOMES and interior designer AYLA SCHARES​ (above right) of BIG SKY DESIGNS offer a few tips to help you tackle your home's design.
Getting Your House Ready to Sell

​
Declutter
McKnight cannot stress enough the importance of minimizing the clutter in a space. When appealing to buyers, the last thing you want to do is deflect from the home's features.
Houses filled with knickknacks run a higher risk of sitting on the market longer, McKnight says.
"It's my job to be the buffer and help depersonalize your space. I suggest taking down all of the personal photographs," says Jenna Dodd McKnight.
"You don't need to see who lives there. You want to make it more generalized," she says, adding that the same applies for closets and bathrooms.
Paint Those Walls
Sometimes the most distracting component in a home is the paint colors. Oftentimes, McKnight will encourage her clients to repaint the home in neutral, palatable hues. One particular homeowner, however, had bright pink and blue paint throughout their living space, and they were unwilling to repaint.
"If we're not going to repaint, we're going to use what's here," she says.
In instances of bold wall colors, keep the furniture palette neutral. By tying in a few accent pieces in a color from the paint, it ties the space together and gives it tons of personality.
Mix a Variety of Textures with Accessories
A house doesn't need to be boring and plain to sell. On the contrary, McKnight says rooms filled with textures and prints interest buyers more and can make the space feel approachable. You can incorporate textures by using throws, curtains, and especially throw pillows, she says.
"Throw pillows are an easy update, are not that expensive, and it adds a lot of personality," she says.
"I've just found that mixing textures tends to cozy up a space a lot," McKnight says.
Moving in with Style
So, after you're sold the house and moved into a new one, it's time to make it your home again. "A stager's job is to appeal to the masses, to create a neutral backdrop that allows potential buyers to imagine themselves and their personality being added to the space," Schares says. "Whereas (in interior design), we are much more personalized and are designing for one person or family."

Cover up Sore Spots
A kitchen backsplash can say a lot about your personal style, which explains why this feature is often the first to be ripped out in a home renovation. Yet, many homeowners don't realize that you can cover existing tiles with new ones.
"It saves a lot of time and expense, because there isn't the labor and repair of removing an old backsplash," Schares says.
Reconsider Wallpaper
Gone are the days of horrific, floral wallpapers. The dated designs of yesteryear are a relic of the past, compared to the fresh new prints of today's wall coverings. "Don't be afraid of wall coverings; it's back," Schares says. "It can be used in limited amounts. If you're worried about a busy scale, you can bring it in as an accent.
Update Your Furnishings
Sure, a couch and end tables are important pieces to your décor puzzle, but what about your permanent fixtures?
Schares suggests rethinking cabinetry and even kitchen islands. One client had a sizeable collection of vintage bottles.
"We did custom concrete tops (in the island) and were able to incorporate the glass bottles," she says. "So they cut them in half, and then we sprinkled in the fragments of broken glass that we were able to select the colors of and do this river pattern and waterfall on the side. It's so specific and something they love, and it's really a showpiece in their home."
To view more of photographer Katherine Clark's work, go to www.katherineclarkphotography.com.