Indigo Bungalow
A curated mix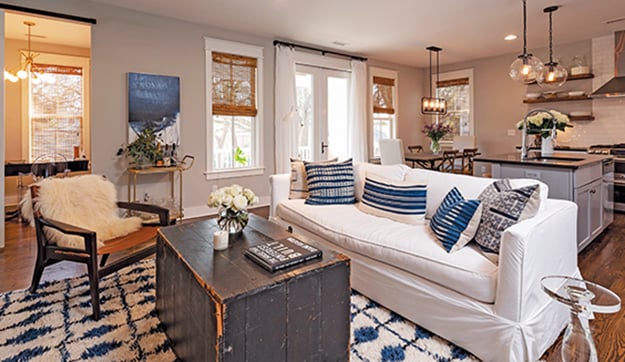 Perhaps downtown passersby may not characterize this white, two-story, new-construction, with its thoughtfully casual design, as one full of surprises, but for real estate investor ROBIN GRATHWOL, this home offered an unexpected adventure.
Grathwol originally invested in the property for her film director daughter, although, like many movie and TV industry folks, she found herself transplanting to Atlanta instead. Grathwol is no stranger to Wilmington – before becoming a land developer, she also worked in film, locally and in California, as a stuntwoman – but after her daughter's plans changed, she didn't intend to keep the property in the family.
Yet, while continuing work on the house, she acclimated to the up-and-coming Brooklyn Arts District– adjacent neighborhood, fell in love with the home's private yet lively atmosphere, and decided to call it home.
"Just wait until you see the upstairs," she says. "It's like a treehouse."
She and her interior designer confidant JULIE ROBINSON have decorated at least fourteen homes together, and their synergy is present both on the walls and in their laughs. Grathwol was one of Robinson's first customers at Airlie Moon gift shop, which Robinson has owned for twenty-five years.
"This is a long-term collaboration," the shop owner says as Grathwol hands her a nail to hang a woven wall décor.
Because her professional work is very technical, Grathwol pursues interior design as a creative outlet, another reason why she and Robinson have worked on so many homes together.
"I used to do all it – land development, housing development, I had a utility contract company. Some folks would call it vertical integration, and others might say it's just being a control freak," Grathwol says as a joke. "But now, I just do the land development, and designing is sort of my hobby."
The two designers-turned-friends share memories of décor they've collected over the years, many reminding them not just of their creative collaboration, but of their friendly companionship, too.
"That piece," Robinson says, pointing to an oval chalkboard framed by dark wood accents, "is from a project we did in Colorado."
Although the house features decorations from former designs, the tone for this home, they say, is unlike any of their other projects. They also challenged themselves to stay within a lower budget. Although the home includes a few highend pieces like an Aerin Lauder lamp, many great features came from a simple trip to Target.
"Being downtown, we tried to go for a more casual design," Grathwol explains. Robinson uses words such as "modern," "edgy," and "relaxed."
Featuring furniture with unique textile patterns, the house feels down-to-earth and inviting. The woven details on dressers and cabinets, the faux fur blankets and pillows, and bamboo blinds add all kinds of dimension to every room. Yet, gold-trimmed mirrors and modern gold light fixtures add an elegant, clean finish to the aesthetic.
Much of the creative inspiration came from the living room rug, a shag-style carpet with a grid-like navy pattern.
"Julie texted me a swatch of the rug, and I was like, 'Okay, done, sold!'" Grathwol says.
Against foundations of bright white, the blue colors of the rug carry throughout the inside, and the out.
Large floor-to-ceiling glass doors welcome guests onto the porch, perhaps the favorite room of the house. Underneath the shadows of two large oak trees, an elegant white futon with blue Aztec-style throw pillows lures you outside. On the nearby coffee table, sits a design book titled Indigo, a celebrated color on many walls.
Although the house has become a personal sanctuary for Grathwol, the move-in process was not without setbacks. As a result of Hurricane Florence, her backyard neighbor – sandwich shop Detour Deli – lost a tree, part of which landed, literally, into one of her guest bedrooms. After the September storm, Grathwol didn't move back in until February.
Now, with summer on the horizon and the design finally finished, when she's not visiting her daughter in Atlanta, Grathwol hopes to enjoy downtown living by frequenting more nearby businesses like Detour Deli and enjoying sunny days in her "treehouse."
To view more of photographer Michael Cline Spencer's work, go to michaelclinephoto.com.
Want more WILMA? Click here to sign up for our WILMA newsletters and announcements.