Hospital Head
Laurie Whalin settles into new Brunswick role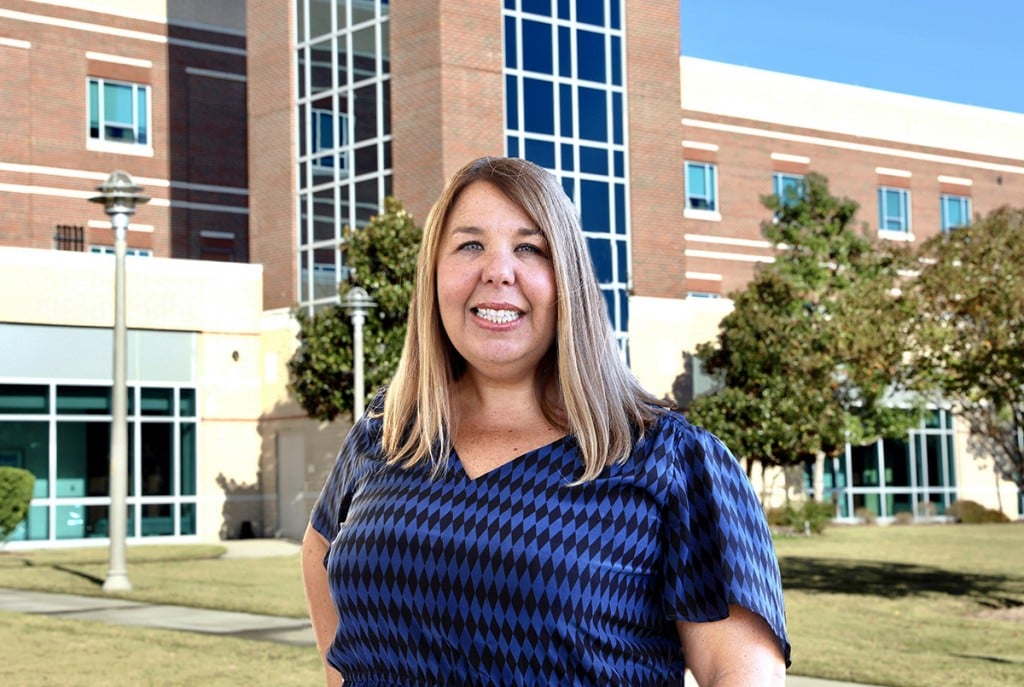 After the sale earlier this year of New Hanover Regional Medical Center to Novant Health, LAURIE WHALIN was named president and chief operating officer of Novant Health Brunswick Medical Center.
In just the few months that she has been in the role, she already under­stands the challenges. Brunswick Coun­ty is the second-fastest-growing county in North Carolina. "Staying ahead of that growth curve to ensure we have the services needed for our community is our challenge," Whalin says. "COVID has escalated the growth rate as more individuals now work from anywhere. We have learned so much about the pace of change that can happen within health care. We must become nimble and adaptive to keep up with the pace."
Whalin oversees more than 2,500 physicians and medical professionals across the region including in imaging, laboratory, respiratory therapy, phar­macy, neurosciences, and cancer.
"I have an absolutely amazing team of leaders who are outstanding at run­ning the day-to-day operations of their departments," she says. "This allows me to focus on higher-level needs."
In Whalin's prior role – vice presi­dent of clinical services at NHRMC – she oversaw pharmacy, radiology, lab, respiratory care, oncology, neuro­sciences, case management, rehabilita­tion services, centralized nursing, and patient flow operations for the Wilm­ington health system. She found sim­ilarities among all of the services and created ways that improved operations through strong interdependent teams. She brought that experience to her new role.
Whalin received her bachelor's de­gree in marine biology from the Uni­versity of North Carolina Wilmington. Realizing she wanted a more peo­ple-oriented career, she worked as a real estate office manager for several years.
"Here I learned about the impor­tance of organizational skills," she says.
Then, a meeting with a pharma­cy school student opened her eyes to pharmaceutical-related career possibil­ities like working in a retail or a hospi­tal pharmacy, research and academics, or even working directly with patients.
Whalin attended Campbell Univer­sity for her doctorate in pharmacy. She completed her residency at NHRMC, where she then became the clinical manager and eventually the vice presi­dent of clinical services. Whalin learned all aspects of hospital operations.
"I had strategic oversight," she says. "I was collaborating with physicians to bring new ideas to reality with the over­arching goal of improving patient care."
Whalin is grateful for the many mentors, starting with her parents, who influenced her career. "My parents were staunch believers that education was the key to a successful future and were relentless in instilling this in me," she says. "And I have been absolutely blessed throughout my career to have supportive mentors and leaders who have helped me through each phase of my career and pushed me out of my comfort zone by giving me stretch opportunities." 
JOHN GIZDIC, recently named executive vice president and chief business development officer for Novant Health, is one of those mentors. He approached Whalin about taking on the leadership role for Brunswick Medical Center as he was stepping into his new role during the integration of Novant Health. 
"John has always been a mentor and a leader I look up to. I knew if he was recommending this opportunity, I certainly should consider it," she says. 
After getting to know the previous Brunswick hospital president and chief operating officer SHELBOURN STEVENS and knowing she would enjoy working with him in his new role as president of NHRMC and Novant Health's Coastal market, Whalin accepted the position. 
"The opportunity to lead a medical center and also have regional responsibilities to expand access to much-needed services across Southeastern North Carolina is a very exciting prospect," Whalin says. 
Within her first year, Whalin will integrate and develop the structure and the leadership team. "My leadership brand is to develop high-performing teams who change the world," she says. 
Longer-term, Whalin desires to help bring specialty services such as cardiology, oncology, neurosciences, and ambulatory services across the region. Her ultimate goal is to integrate and grow those services across the coastal market. There are already several projects in progress including two medical office buildings to expand services in Brunswick County. 
"I have no doubt that our strong team has the ability to improve the health and wellness of our community," Whalin says, "and we will not stop until we do."
---
To view more of photographer Aris Harding's work, go to arisharding.com.
Want more WILMA? Click here to sign up for our WILMA newsletters and announcements.