Home Sweets Home
Love, Lydia Bakery gives new life to Third Street house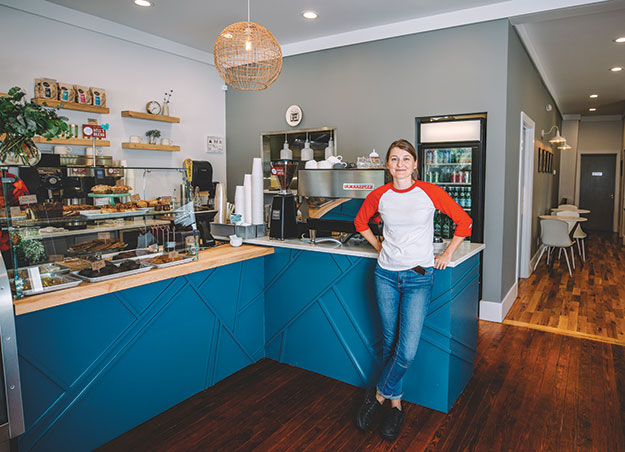 Walking into LOVE, LYDIA BAKERY and Café you will find traditional, staple baked goods such as rich coffee cake and big, salted chocolate chip cookies along with intriguing new twists such as tahini cookies and lavender-infused shortbread cookies dipped in chocolate.
The bakery was dreamed up by LYDIA CLOPTON, pastry chef at Pin-Point Restaurant.
"It is just something that I've always loved doing, and I've been looking for several years for somewhere to open one, but this property came up and just felt right," says Clopton (above).
She opened Love, Lydia in July at 1502 South Third Street. The location was previously a home that was remodeled into the bakery.
There is an inside seating area as well as an outside porch with tables and rocking chairs.
Clopton decided to open the bakery at South Front Street because she sensed it could fill a void.
"I just felt like this area really needed a coffee shop and breakfast and lunch spot," Clopton says. "I knew that there was going to be a lot of growth in this area, and I was excited to be part of that."
Clopton grew up in Athens, Georgia, where she figured out she wanted to be a pastry chef soon after college.
"I graduated from college, and I was baking a lot as a hobby and I got a job at a restaurant baking and decided that's what I wanted to do," Clopton says. "I have always loved doing it."
Clopton has an extensive background in restaurants. She worked at Five & Ten restaurant in Athens where she learned to use high-quality ingredients.
She then perfected her cake-making skills at Ike & Jane Café and Bakery, also in Georgia.
Clopton moved to Asheville where she helped open Nightbell, a restaurant with modern American cuisine. She also made pies for The Thunderbird, a popup restaurant.
Clopton moved to Wilmington in 2015 when she became the pastry chef at PinPoint Restaurant, which is co-owned by her fiancé and executive chef, Dean Neff, and manager Jeff Duckworth.
The knowledge Clopton garnered all those years can be seen in the new bakery, where everything is made from scratch, and the options include a mix of traditional American pastries along with daily selections like French canelés and Italian focaccia.
"I've worked in restaurants for a really long time as a pastry chef, so I'm kind of maybe a little bit more adventurous
with flavors and things like that," Clopton says.
At the bakery, patrons can expect a dynamic selection of sweets – what goes in the pastry case is based on what Clopton feels like making that day.
"There's a lot of things in the case that I've just been making for a long time and also some new things," Clopton says. "We try out seasonal things. We're constantly going to be adding and changing what's in the case."
With the bakery opening, Clopton has had changes in her daily working routine.
"I haven't really been at PinPoint a whole lot. I haven't really had much time unfortunately," she says. "My fiancé is the chef and co-owner, so we used to work together twenty-four hours a day, and so now we don't see each other as much, so that has been a big change."
Clopton has been busy at the bakery, spending most of her time working.
"I mostly just work all the time. I haven't figured that out yet, but I'm working on it," she says.
All her hard work has been paying off, and she says the bakery has been well received by customers.
"It's been really fun meeting with people that live around here. They kind of slowly stop by saying hi. It's been good," Clopton says. "It's mostly been pretty, pretty busy."
Clopton is currently working on getting more items on the breakfast and lunch menu and wants customers to enjoy visiting the bakery.
"I hope that they kind of feel at home here and comfortable and want to hang out for long periods of time and come back," she says.
That sentiment can be seen in the bakery's name, which is emblematic of the type of detailed care Clopton displays for both her pastries and the people she serves them to.
"Someone posted an Instagram post of me serving food, and the only caption was Love, Lydia and I just thought it was really sweet. It's kind of like when you're giving people pastries, it's like you are giving them a gift," Clopton says about the origin of the bakery's name.
"It's a sign off to enjoy."­­­­
---
To view more of photographer Megan Dietz's work, go to megandeitz.com.
Want more WILMA? Click here to sign up for our WILMA newsletters and announcements.