Hit the Road
Where to go for a weekend respite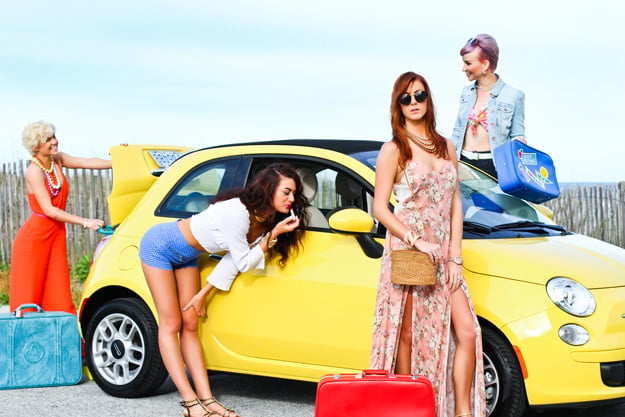 Bound for a beach cottage in Topsail Beach, seven women packed their cars with beach towels, sunscreen, paperbacks, and hats. As women, they each wear many hats – mom, wife, daughter, sister, business owner, employee – but on this girls weekend, they sported only one. Friend.
Crammed calendars and overbooked agendas leave little time to connect with friends, and taking the moment to be quiet gets tossed aside for the juggling act of balancing trips to lacrosse practice, business meetings, and laundry. But for a few days, these girlfriends cast aside those responsibilities and were just themselves.
After a meal of meatballs, which led to many eyebrow-raising jokes, the women took a stroll along the beach. Stopping, each signed their names in the sand. It wasn't a "Ya-Ya ­Sisterhood" blood oath, but it was a bonding moment for the women.
"These are the folks you count on," says Joy Wade of her fellow beach bums. "They are the ones you get through the good and the bad with."
No matter the excuse – bachelorette party, class reunion, camping trip, or beach weekend – a road trip with girlfriends can be the cheapest and most rewarding therapy. A few hours outside of Wilmington are a number of venues to host an all-girls getaway – just keep those stresses in the rearview mirror and wave "bye" as you leave them behind.
That was idea for Wade and her friends on their trip away.
Though not all of the women knew each other before the trip, they got to know each other by swapping stories on the porch and sipping a few cocktails.
But beyond the girl talk, the weekend also was a celebration, says Wade, who is program director for Wilmington's Pretty in Pink Foundation that helps area breast cancer patients.
One woman on the trip had recently completed her breast cancer treatments. Diagnosed a year ago, the weekend in Topsail Beach was the first time she had basked in the sun since beginning her treatment.
With a room to herself, Ann Suttles was able to enjoy the breeze off the ocean and a first look at the morning sun every day.
The out-of-town break was just what the women needed.
"It's rare that seven or eight women can get together without drama," Wade says. "Nobody got dressed up. It was like, 'This is who we are.' "
WHERE TO GO
Call up friends, pack the car, and take a break with some of these
nearby destinations. From shopping to camping, there's plenty of options for a road trip:
Charleston
Whether shopping in Charleston's CITY MARKET, taking a walk around the BATTERY, or exploring HISTORIC PLANTATIONS, this South Carolina city has plenty to offer women looking to slow down for a relaxing getaway. For the ultimate indulgence, book the Girlfriends Getaway spa package at CHARLESTON PLACE (205 Meeting Street, www.charlestonplace.com). Enjoy three hours of pampering with a signature facial, massage, and peach pedicure accompanied by a Firefly Sweet Tea Vodka cocktail. Lunch is served poolside. This splurge runs $345.
Durham
If you're looking to chip a nail instead of having them painted, look no further than Durham-based FROGGY HOLLOW OUTDOORS (614 Trent Drive, www.froghollowoutdoors.com). The canoe and kayak outfitter offers overnight trips, day trips, and night paddles under the stars. Your group can explore the Neuse River, the Three Rivers area, or the French Broad River, among other locations. For a beginner paddler, be sure to pack sunscreen, bug repellant, and a good sense of humor.
Savannah
For a gastronomical-inspired weekend, Savannah is in order. Make a pilgrimage to Paula Deen's THE LADY & SONS restaurant (102 West Congress Street, www.theladyandsons.com) – assuming you've booked reservations well in advance. Get a taste of the arts in CITY MARKET before embarking on SAVANNAH RIVERBOAT CRUISES (9 East RiverStreet, www.SavannahRiverboat.com). The unique dining experience provides a two-hour tour of the Savannah River while sinking a tooth into everything from pork loin to some fresh catch. Enjoy the views of the historic city set to the sounds of the Riverboat entertainers.
Myrtle Beach
Try your luck on the links with a golf-themed weekend to Myrtle Beach. Whether you choose to stay and play at a golf resort like PAWLEYS PLANTATION (70 Tanglewood Drive, www.pawleysplantation.com) or just want to schedule a round of golf at Little River's
GLEN DORNOCH (4840 Glen Dornoch Way, www.glensgolfgroup.com), the Myrtle Beach area has something for the beginner and the seasoned duffer.
About the cover:
For June's shoot on girls' getaways, we asked our models to tell us their favorite road trip destinations:
Lindsey Carrier, social worker – South of the Border (the one in South Carolina); Rachael Hart, student and bartender – Asheville; Michelle Glauber, career service – "anywhere there's a beach!"; and Sterling Morris, stylist – Memphis. To see what's in their luggage, click here!
Models' clothing courtesy of The Wonder Shop, Lure, Return Passage, and Planet. Special thanks to Wilmington Fiat and Holiday Inn Resort at Wrightsville Beach. The cover was styled by Kelsey Gibbs of The Wonder Shop with hair and makeup by Groove Jet Salon and photographed by Keith Ketchum. To view more of Ketchum's work, go to www.keithketchum.com.