Head of the Class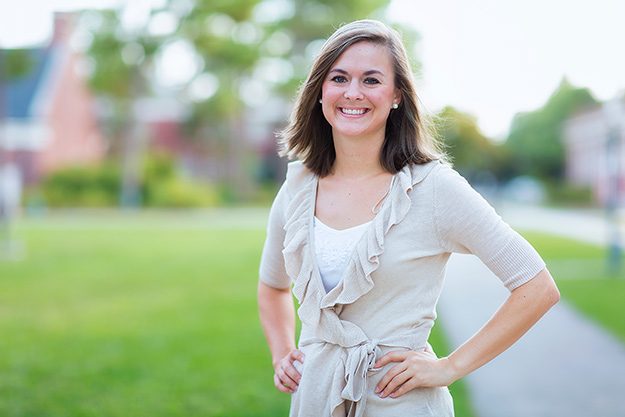 Write children's books on world history and donate them to students in South Africa and Belize. Conduct original research and present it. Study a current problem, such as HIV, then support the solution through community service or fundraising.
These are just a few of the innovative lessons Katie Snyder develops to get her students excited about learning.
Snyder, who is New Hanover County's 2015-16 Educator of the Year, is known for her devotion to her students; her powerful, creative lessons; and her ability to get her students to like the subjects she teaches – even when they start out hating them.
Snyder is equally committed to new teachers. The Hoggard High School teacher works tirelessly to ensure their first years in the classroom are successful and they gain the confidence and skills to make teaching a life-long career.
Though surprised and humbled to be named New Hanover's Educator of the Year, Snyder says the award allows her to give back.
"It gives me an opportunity to mentor more beginning teachers," Snyder says. "More of them can watch my class, and those of other veteran teachers, and get ideas."
Snyder always wanted to be a teacher. She started early, teaching her stuffed animals, and never looked back. Even her first, difficult teaching assignment didn't derail her: Snyder was offered a job teaching U.S. history, a class she hadn't taken since her own high school days, the night before school began. With no time to prepare and no classroom, she faced sixty restless teenagers the next day.
"I cried every day on the way home for months," she says.
But that rocky start was the beginning of a passionate career. Snyder, who is in her eighth year as an educator, teaches world history and honors and advanced placement psychology at Hoggard High.
The classroom dynamo doesn't spend much time lecturing. Her students are up and about, debating, doing projects, getting involved in community – and world – problems. She presents content so it is accessible to visual, auditory, and kinesthetic learners and differentiates instruction so students who struggle as well as those who are academically gifted achieve.
"Teachers get into a routine, but not Katie," says Hoggard High School Assistant Principal Margaret Rollison. "She creates a welcoming environment, has strong lessons, and consistently innovates to get to her students."
Exciting lessons is one way Snyder engages students. Her second is to connect with each one.
"I build a relationship so they feel comfortable learning in my room," Snyder says.
But that doesn't really tell the story. Snyder mentors students, gives up her lunch so they can drop in, and advocates on their behalf.
Ensuring students succeed extends beyond those in Snyder's classroom. After seeing freshmen struggle with the transition to high school, Snyder, with three other teachers, developed the Freshmen Academy. The 100 freshmen in the academy will stay with these four teachers all year for their basic subjects: math, English, science and world history.
The teachers will also teach them good study habits, organizational skills, and goal setting; they will tutor them; and they will help them get involved in extracurricular activities. The goal is to set the students up for success, not just in freshman year, but throughout high school and beyond.
"I want every freshman to be involved in the school, to graduate, and be college and career ready," she says.
Snyder's passion for helping others also applies to new teachers, not surprising given her own experience that first year. She helped create and is the lead mentor on the school's Support on Site program for new teachers.
As such, Snyder coaches new teachers to help them overcome weaknesses, and she advocates for them, asking administrators to adjust untenable schedules. Snyder also brings in experts to help beginning teachers gain critical skills such as behavior management, using instructional technology, and effective instructional techniques.
As a result, Hoggard High's new teachers increasingly report on surveys that they are supported and have improved their instruction.
"Katie's legacy will carry on long after she leaves the classroom," Rollison says. "She has had such an impact on so many teachers."
To view more of photographer Chris Brehmer's work, go to www.chrisbrehmerphotography.com.