Going for the Win
The collective philanthropy group is focusing on health and wellness needs this year for its annual grants process.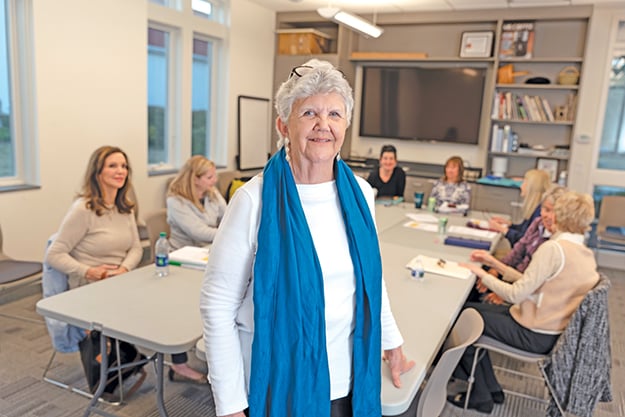 "Yes, there's an opioid crisis. Yes, there's a diabetes & obesity criss. Yes, there are a range of the symptoms that we see in our community. But, how do we get out in front of that?"
WOMEN'S IMPACT NETWORK (WIN) of New Hanover County leaders say their goal is to work with like-minded, bright, and energetic women who leverage their philanthropic funds and resources to address local issues.
Since the group began in 2011, members have awarded $259,000 in grants to help serve the needs of people in the county.
WIN pools annual $600 donations from individual members. With membership currently around 125, the group can provide a large impact, particularly to mid-sized and small organizations. This year, they'll grant a total of $58,000, split into two large grants of $24,000 each and up to $10,000 each for two or three small grants. Decisions will be announced this month at a lunch event (see box below).
Each year, the membership selects a focus area to fund. The 2019 focus area is health and wellness. There's also education (last year's focus), the environment, and arts and culture. Potential recipients submit a letter of intent, and once those are reviewed by WIN's large and small grant committee members, some are invited to submit a full application for the funding. Membership is kept apprised of the process throughout. Those applications are further reviewed, and the results are summarized for the WIN's membership, who vote on the recipients.
ISABELLA HINDS, chair of WIN's large grants committee, says WIN is part of a phenomenon called a collective giving circle, a unique way of thinking about how you make donations.
Members' work with the network allows them to participate in identifying the kinds of issues they want to see addressed in the community.
KRISTINE MOORE, WIN board chair, has been visiting the Wilmington area for forty-five years, vacationing in Topsail. She decided to make Wilmington her permanent, albeit part time (seven months a year) residence in 2016.
She was invited to attend a large grants committee meeting; prospective members are often invited to get a sense of what the group does.
Moore was impressed with the women and how WIN provides an opportunity to learn about the needs of the community from experts, often resulting in further donations to those organizations.
"What's interesting about the women in WIN is almost everybody is involved somehow in philanthropy in Wilmington beyond WIN," Moore says.
For instance, Hinds was involved in the guardian ad litem program, and Moore is on the board of WHQR. Moore says it's been interesting to learn more about the members' broader network of involvement.
"It's a giving collective, and we pool our funds for greater impact and leverage. It's also collective of women who are otherwise involved, and we learn from each other," Moore says. "It provides a network of philanthropists and people who will do more than, quote, just give money."
They may donate their time or other resources, for example.
Organizationally, the full WIN membership elects a board of seven, and the board elects its officers (chair, vice-chair, secretary, and treasurer). Some board members serve as liaisons to a WIN committee, where most of the work is done. Committees are large and small grants; education; communications; events and membership.
For this year's focus, WIN organized a panel of seven "highly placed" speakers in the area of health and wellness who allowed members the opportunity to see the community through their eyes.
It was striking to Hinds and Moore that these seven professionals were already partnering and collaborating to tackle some of the issues discussed. This is particularly gratifying, Hinds says, in health and wellness, where problems are often large and long term.
The key thing they heard was the importance of looking not only at the problem but also at the underlying causes.
There was discussion about social determinants and adverse childhood experiences, which are becoming important to all conversations about public health.
Resilience, or the ability to recover from such events, was also discussed.
"I think that got our minds going toward 'How do we address the early stages of a cycle and get ahead of these causes of disease and negative health implications by addressing things earlier in the cycle?'" Moore says. "And, that could be not only addressing children specifically, but helping parents so their children actually don't experience such negativity.
"I think that opened our eyes to a broader sense of possibilities in addressing health and wellness other than, 'Yes, there's an opioid crisis,' 'Yes, there's a diabetes and obesity crisis,' 'Yes there are a range of the symptoms that we see in our community.' But, how do we get out in front of that?"
Giving the money isn't the end of WIN's story.
This year, they started a process whereby they meet with large grant recipients six months-post award, at the midpoint, to see how they're progressing toward goals and to see if they need support.
At WIN's annual meeting in November, funded recipients will present their successes to the membership.
"The desire to do quality work," Hinds says, "is every bit as strong as the sense of mission at these organizations."
To view more of photographer Michael Cline Spencer's work, go to michaelclinephoto.com.
Want more WILMA? Click here to sign up for our WILMA newsletters and announcements.