Gifts From Home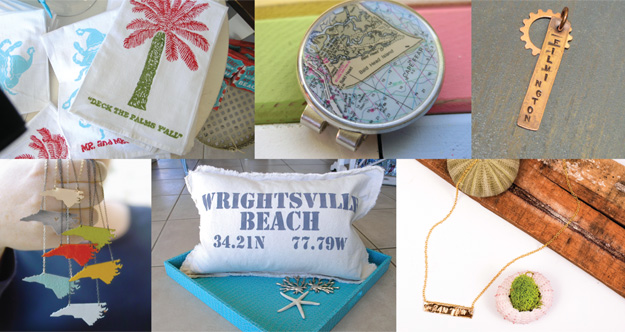 Looking for the perfect gift to give this year?
Here's plenty of ideas that will please your loved ones and help boost the local economy, too. Use this guide to shop local for your presents and give your friends and family a little slice of Wilmington, one present at a time.
PIECE OF ILM 
If your loved ones can't stop raving about their last visit to the Port City, give them a clever memento that will remind them of their coastal travels.
(Above, clockwise from top left) Santa Claws Kitchen TOWELS by Low Country Linens ($18.50), available at Crabby Chic. Ideal for that special chef in your life, these campy kitchen towels will get you in the holiday spirit and remind you of coastal living.
Cartographer MONEY CLIP by Chart Metalworks ($42), available at Dragonflies. Perfect for the gentleman who prefers to keep his money close and an endearing reminder of the area even closer. This clip can hold everything from cash to credit cards with ease.
Filmington PENDANTS by Red Canary Designs ($5), available at Urban Revival. For many, Wilmington will always be Wilmywood. For those pals who work in television and film, these tiny pendants are the perfect gift that they'll wear with pride.
Coordinate NECKLACE by Shelton Metals, available at Lula Balou and Tickled Pink. Whether you're shopping for a Wilmington resident or one who has moved away, this coordinate necklace is a wonderful reminder of where they've been. Necklaces are available in sterling silver ($60) and in golden brass ($48).
PILLOWS with local coordinates ($78), available at Crabby Chic. The cozy, hand-painted pillows each have the local latitude and longitude coordinates, so you'll never forget where to find it.
Petite North Carolina NECKLACE with Wilmington heart by Vespertine ($42), available at Edge of Urge. Keeping Wilmington close to your loved one's heart is as easy as donning this beautiful state necklace with a cutout heart over the city.
LOCAL MATERIALS 
The region is filled with resources that have become a source of inspiration for many artisans within the area. From sand from the beaches to old wood recovered from local docks, the most unlikely of materials can make for beautiful creations and stunning gifts.
Christmas SIGN by Dockside Cottage ($39.99), available online at DocksideCottage.Etsy.com or at Blue Moon Gift Shops. Give the gift of greeting with a Southern sign that says it all. Made from the wood of damaged North Carolina docks, this sign is a fun and resourceful way to welcome guests.
Beach Sand Snowflake ORNAMENTS ($18.95), available at Dragonflies. Collecting ornaments is a time-honored tradition for many households, and this handmade snowflake may be the perfect addition for any Christmas tree.
LAMP by Shorely Worth it ($90), available at Urban Revival. Made with repurposed materials found from scrap yards to yard sales, custom-made furniture can be a great gift for someone with a unique eye for design. This industrial, handmade lamp is a one-of-a-kind piece that you won't find anywhere else.
HANDCRAFTED 
Sometimes the best gift is the one you make yourself. There are plenty of classes available to help you craft the perfect present. However, if arts and crafts aren't your shtick, consider a handmade gift from a local artisan.
Lovely Lady and Man PLANTERS by Susan's Garden ($55), available at Urban Revival. Flowerpots for gardeners? That's been done before. But these funky dual head flower planters will add a touch of whimsy to any garden.
Metallic freshwater pearl ladder BRACELET by Tallulah Jewelry ($55), available at TallulahJewelry.Etsy.com. When in doubt, you can't go wrong with a beautifully, handmade bracelet made with classic, freshwater pearls. The fashionista on your gift list will not be disappointed with its simplicity and quality.
Sip and paint CLASSES ($35 per class), available at Wine and Design. Why purchase a piece of artwork, when you can make your own and have fun while doing it? The Wine and Design program allows you to sip wine with friends and paint your very own work of art. Gift the class to a pal or give your finished masterpiece to the art lover in your life.
THE UNFORGETTABLE SET by local artisan Susie Hartness (earrings $40, bracelet $70, and necklace $170), available at Tickled Pink. Pay it forward by giving a present with a cause. This necklace and earring set is a part of the Ruthie Trammel Champion For Compassion Signature Line. The collection is named after Trammel, who passed away from ovarian cancer but was known for her efforts to help those suffering from substance abuse. Not only will wearing these black Swarovski cubed-adornments raise awareness, but also a portion of the proceeds will go back to Trammel's Memorial Fund to make substance abuse recovery services available to those in need.
Kumihimo tassel NECKLACE by Compliments By Design ($425), available at ComplimentsByDesign.Etsy.com or at Tickled Pink. Give the gift of beauty, craftsmanship, and history with this breathtaking tassel necklace. Created by using a Japanese kumihimo braiding technique that dates back as far as 800 A.D., this piece made by Leland jewelry designer Linda Neustadt will be perfect for any jewelry enthusiast.
Sewing CLASSES (starting at $20 per hour), available at Just Sew at 616 Castle Street. From infinity scarves to fabric earrings or even aprons, you can sew just about anything for that special somebody. But if sewing doesn't come naturally, you can take a one-on-one course or have a product made for you instead.
To view more of Jessica De Vault's work, go to www.jessicadevault.com