Getting Off the Ground
An aerial view with Jessica Ward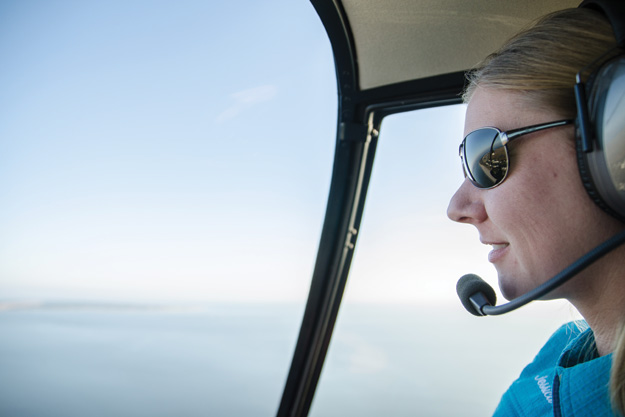 While many people enjoy swimming or sailing in the sparking water along the Cape Fear coast, JESSICA WARD finds it far more thrilling to take in the beauty from the pilot's seat of her helicopter.
"It's almost like being in a flying chair and just amazing visibility. I fly down the beaches, and I can see dolphins playing and jumping in the surf. In the summertime, I can see sea turtles, rays, and all kinds of fish down in the water. It's just stunning and gorgeous," says Ward, who last year opened a flight school, HIGH TIDE HELICOPTERS, at the Cape Fear Regional Jetport in Oak Island.
Flying has captivated the thirty-one-year-old since she was a little girl. Her parents gave Ward her first taste of flying when they forked over $20 for a helicopter ride for their young daughter over two decades ago. She loved the perspective she got from inside a helicopter, which flies a lot slower and lower to the ground than an airplane. A short ride sparked Ward's lifelong passion.
"When I was six years old, I took my first flight in a helicopter at the North Carolina State Fair. I couldn't shake it," she recalls. "They say aviation is a bug, and I definitely got bit early."
While Ward decided she wanted to learn to fly helicopters when she was young, she did not think a career in aviation would be possible. Instead, Ward graduated from University of North Carolina Wilmington with a degree in film and began working in the motion picture industry. Still, learning how fly a helicopter was never far from her mind.
"I didn't know anything about it, much less the possibilities of making a living doing it. But I had this fascination, and I couldn't get it out of my head. So finally, I was like I have to explore this," Ward says.
Ward was working as a camera technician on a television show in Oregon in 2009 when she noticed there were helicopter flight schools in the area. Over the next year, Ward saved up about $15,000 for the training she needed to get a private helicopter license. After returning to Oregon in 2010, Ward was able to attend flight school while simultaneously working in the film industry.
When she returned home to Wilmington, Ward needed to log hours in the sky to keep her license current. But she was disappointed to discover the closest place to even rent a helicopter was in Charlotte. The long commute was a problem considering Ward wanted an easily accessible helicopter so she could enjoy her favorite pastime. Ward realized there was a need for a helicopter flight school and tour business in the area.
"I decided that was my dream job, and it didn't exist, so I was just going to have to create it," she says.
Ward set her sites on opening her own flight school. She worked with an advisor from the U.S. Small Business Administration who helped her develop a business plan. After gaining more aviation experience through countless hours in the sky, Ward became a commercial helicopter pilot in 2012 and a certified flight instructor in 2013.
In January of last year, she leased a helicopter and opened High Tide Helicopters.
Along with flight training, Ward offers scenic tours, aerial photography, and custom flights for occasions like marriage proposals. Ward's proud to have molded five of her students into pilots by the end of her first year in business.
"I've been very busy this year, much busier than I thought I would be, which is fantastic. Even my awareness of the need for helicopter flight training in this area was a little bit under-estimated of the reality of it," she says.
Now, just entering her second year of business, Ward plans to add a second helicopter in May that will be larger than her first and able to accommodate three passengers and handle more scenic tours of the area.
Many of Ward's customers have never experienced the marvels of flying above their favorite coastal destinations.
"Every person who gets in the helicopter leaves with a big smile on their face. I have had people who lived in this area their whole lives who have never seen it that way before," Ward says.
While Ward has now made countless flights around the region, she remains in awe every time. Ward's childhood dream has now become reality.
"It doesn't matter how many times I fly over the same beach or the same waterway or area, because every day it's different, because every day the light is different," she says. "The sun, all of the plants and trees, and everything changing colors and high tide and low tide – it's always unique and beautiful."
To view more of photographer Katherine Clark's work, go to www.katherineclarkphotography.com.