Game Time
Conditioning program gives an athletic edge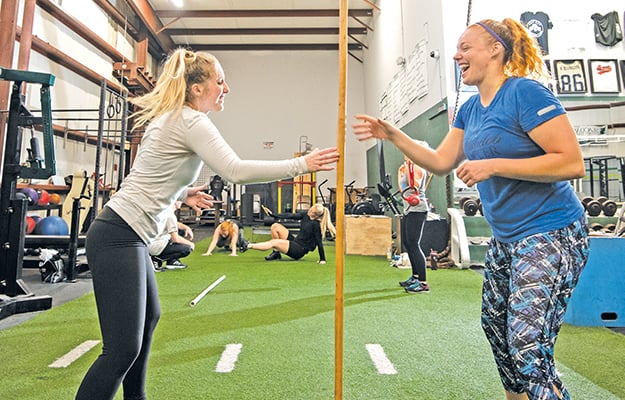 If you're a competitive athlete, or just want to look like one, Port City Sports Performance has you in mind. It's the gym that people who are serious about their athletic performance and fitness train at.
"Whether it's an athlete or a mom looking to get lean and toned, our members are working hard to achieve their goals," says Jeremy Lewis, co-owner of PORT CITY SPORTS PERFORMANCE (PCSP). "We're goal-oriented and goal-driven."
PCSP's list of athletes who have excelled as a result of its training programs is long and includes quite a few women: a professional softball player, a winner of the "World's Strongest Woman" competition, a female elementary school state champion wrestler, and female physique and powerlifting champions, to name just a few.
The gym, at 6500 E-1 Windmill Way, has also helped swimmers, tennis players, golfers, basketball players, Brazilian jiu-jitsu competitors, mixed martial artists, and other athletes from middle school on up, as well as local middle, high school, and college sports teams, get in top form.
And, working right alongside these elite athletes are teens, moms, seniors, and others who simply want to get fitter or become a little leaner.
It's PCSP's personalized, sports-specific conditioning programs that attract serious athletes and give them the edge. After an initial assessment, coach Jake Pence, who holds a master's degree in sports sciences and is a certified strength and training specialist, creates an individualized training regime for each athlete.
The program takes into account the athlete's goals, sport, activity level, fitness, and any areas that need special attention. It includes strengthening, speed, cardio, and flexibility.
Every three or four weeks, the athlete is re-evaluated, and a new program is developed for her. Each program is intense, and the intensity increases with every single workout.
To ensure an athlete uses correct form, she may work with a trainer one-on-one initially, then in a semi-private capacity or on her own.
"Within two months, I saw major improvements on the field," says SARAH TOMPKINS, who first trained at the gym as a high school student to improve her softball game. "I would not have gotten to the college level if not for the training PCSP designed for my needs as an athlete."
HADLIE WINSLOW, a New Hanover High School varsity soccer player who tore her ACL, is also benefitting from her PCSP program.
"This was the best fit to get my knee better," she says. "With the results of this program, I'll have a good season, and that's my goal."
In addition to personalized training programs, PCPS's staff can provide dietary advice. After measuring body composition and daily calorie usage, they'll determine the macronutrients (proteins, carbs, and fats) and caloric intake the athlete needs to meet weight goals.
PCPS's commitment to its members even extends beyond the gym. It maintains a network of health professionals, including physical therapists, chiropractors, and nutritionists, to whom they can refer clients.
General fitness buffs find plenty to like at PCSP, too. Depending on their enrollment package, they can get a personalized training program, work out on their own, or take the gym's fitness classes.
These exercisers, as well as the athletes, also appreciate PCSP's watchful, and helpful, trainers. They keep an eagle eye on all those working out and correct form or suggest an alternative exercise if someone is having difficulty with a lift or movement, according to BECKY HAMILTON, a powerlifting champion who trains at PCSP.
Also, because they're exercising alongside dedicated athletes, fitness enthusiasts work harder than they might otherwise. JACKIE CRUSE says at PCSP, though she has different goals, she trains as hard as the athletes do. She also finds it motivating to see the weights others can lift or that she can keep up with a twenty-year-old.
And, Cruse can't argue with the results.
"I have strengthened my body and kept it mobile," says Cruse, who is in her fifties. "I don't have any limitations that other people my age do. I run, lift, and play tennis, sometimes all on the same day. I'm in the best shape I've ever been."
And, regulars say, it's the place where people work hard and reach their goals.
"It's like no other gym I've been to," Hamilton says. "It's a good place to go if you're serious about fitness and bettering yourself."
To view more of photographer River Bondurant's work, go to riverbondurant.myportfolio.com.
Want more WILMA? Click here to sign up for our WILMA newsletters and announcements.