Follow Your Taste for Adventure
Local dining club blazes foodie trail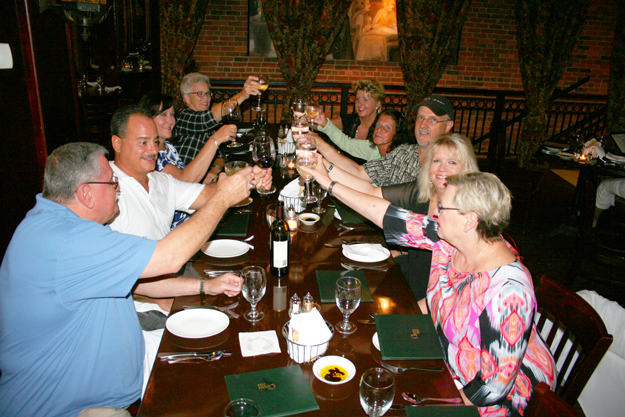 If you're interested in paddle boarding, scrapbooking or Chihuahuas, there's a Meetup.com group for you. The social networking service boasts more than 7 million members who plan and join outings where locals can connect.
That's also true for local foodies. Wilmington Dining Adventurists and Dine Wilmington Foodies are two of the groups that use Meetup as a launching pad for forays into new local hotspots and ethnic eateries.
The Adventurists, for example, started about a year ago and they've already hosted 46 meetups at local restaurants. They recently went to Marc's on Market to try the fare of Wilmington's Top Chef. And they often pair downtown entertainment with a meal out – for example, dinner at Circa 1922 and then a play. The meetups offer anyone who's interested in food a chance to try more local restaurants. Those who may be new to town, or recently single, can do so with a group.
We asked a couple of the organizers about their favorite picks.
"I don't often think about whether the taste of a Pinot Noir will be enhanced with a piece of milk chocolate," said Melinda Rosenberg. But she learned to appreciate the pairing at The Fortunate Glass in downtown Wilmington, when the wine bar brought in a certified chocolatier.
"Several wines were paired with samples of chocolate. The chocolate covered strawberry paired with a delightful sparkling wine was my personal favorite," she said. It was such a hit that Rosenberg's been going back to The Fortunate Glass ever since.
For Deena Craig, it was the seafood at 22 North in Wrightsville Beach that she remembers. "I wanted to try some of the various beach restaurants during the off-season, partly to encourage locals to support and frequent these restaurants during their slower seasons," she said.
The meal started with a rich and creamy she crab soup and ended with a Grand Marnier-and-ginger lava cake. If that weren't enough, the andouille-encrusted rockfish was what Craig called the best fish she's ever eaten.
"Awesome," she said, "22 North is a bit of a hidden gem. Try it, if you've not already done so."