Fire in the Sky
July Men's Room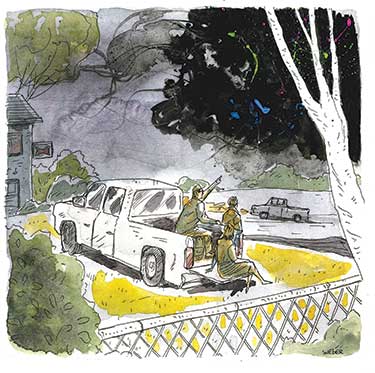 If we pay attention to the clock, we'll leave by 8:45 p.m. on the Fourth of July and drive to the other side of my little hometown, Clinton. If we're on time, we'll snag a choice parking spot behind the tractor-supply store, and I'll back in close to the chain-link fence where they keep the drainage pipe. If I'm careful, I'll park at an angle that avoids the buzzing night light hanging from the corner of the building and emitting a blinding day-glow beam. If we're lucky, we'll sit in darkness.
Plenty of folks will be out there already, some settled into lawn chairs while their children kick around soccer balls or chase Frisbees as they burn off the day's sugar rush of ice cream and lemonade. Some of the parents will have coolers packed with sandwiches and soft drinks, and maybe beer for the party uncles who showed up unannounced and have stuck around all day.
Other vehicles will arrive, and soon we'll have a fleet of white pickup trucks – my hometown loves a white pickup – most with the tailgates down, some with blankets piled onto the beds so the little ones will have a soft place to watch.
Someone will have a radio blasting Lee Greenwood's "God Bless the U.S.A," and right away I'll know that song will bang around my brain for days to come.
My family doesn't observe many traditions. Watching the Fourth fireworks here together is as close as we come. We started years ago, my parents and me, and when my dad died in 2012, my mother and I kept coming. She'll be with me again this year, along with Rick, one of my best buddies since forever, in his ball cap, knit shirt, and shorts. I'll probably bring the dog, too. He loves a party.
We'll pass the anticipation time swatting mosquitoes while the dads and fun uncles toss firecrackers and ignite whistling chasers. We'll check our watches time and again, until finally the recreation department sends a barrage of fire and light high above the soybean field and woods separating us from the athletic diamonds that serve as the launch pad for the show. For half an hour, a stream of rockets and sparks will burn across the star-spangled sky, tearing through the darkness with the brilliant blues, lush lavenders, and glaring reds of advanced pyrotechnics, an explosive blend of art and danger.
At some point, I'll notice that the radio has moved from Lee Greenwood to the "1812 Overture," and we'll sit transfixed while the symphony strings go crazy and the town gives us a show that feels too extravagant for the municipal budget.
Then, the grand finale will come in a glorious rush, and when the noise ends and the smoke clears the crowd will applaud, and we'll all be grateful that our independence means we have one night to turn the skies red, white, blue, yellow, green, and on and on.
Then we'll crank the engines and rush toward home in an amber wave of headlights.
If we hurry, we'll beat the traffic. And, as much as anything, that makes us proud to be Americans.
Tim Bass is the coordinator of UNCW's bachelor of fine arts program in creative writing.
To view more of illustrator Mark Weber's work, go to markweberart.blogspot.com.
Want more WILMA? Click here to sign up for our WILMA newsletters and announcements.