Financial Finesse
Donis Smith has built a career in the financial industry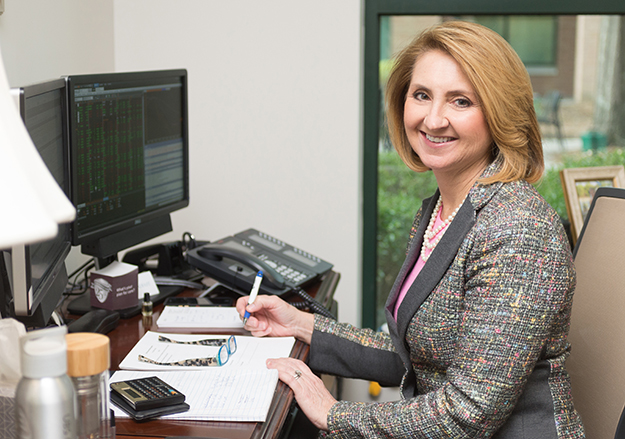 Glass ceiling? Not for Donis Smith, but she credits her mother's tenacity for helping to break that ceiling in the financial services industry in Wilmington.
Smith and her mother followed her grandparents to Wilmington from Philadelphia. They retired here in 1975. Her mom came in 1980, and Smith followed in 1984, earning a degree from University of North Carolina Wilmington in 1986, then an MBA in 1994.
"My mother took a job as a secretary with EF Hutton when she moved here. After she learned and understood more about the stock market, she said 'I can do this,'" Smith recalls.
Her mother's manager didn't try to stop her but didn't support her either. She studied and took the exam on her own, got her license, and her career took off. She was one of the first female stock brokers in the county.
"I have an old StarNews special feature of women in business from about 1982, and she is on the front cover," Smith says proudly.
Years later, after a few other jobs, Smith followed her mother, who has since passed away, into the financial services industry. Currently a vice president of wealth management for UBS Financial Services, Smith says she's never felt the bias earlier pioneers, such as her mother, felt.
"I've been very fortunate all my life; The men I've worked for and the people I've worked for believed in women's abilities," she says. "I was very much welcomed in financial services because twenty-one years ago women were starting to break in, and they found women were better at listening and were more empathetic."
Smith earned the certified financial planner designation in 2003.
She works as part of a team of three with two administrative assistants. Much of their work is face-to-face "talking with people, helping them to make financial decisions. The financial planning is done in the office, but you have to meet with them and understand them before you can ever help them."
She says the supportive team environment is especially good for women.
She finds the approach of UBS to be interesting. While the U.S. division is based in New Jersey, the parent company is in Switzerland. She says the corporate culture is different from American companies.
"They are much more globally focused from a volunteer perspective," she says. "We have employees all over the world. The employee website is focused on what people are doing all over the world from a charitable standpoint. It's people helping people.
"Philanthropy is important to most companies, helping to build houses and raise food for food banks. There's more focus on sustainability, more of a green focus. Europe is so close and tight; they can't afford to be wasteful. Energy is more expensive."
To that end, Smith and others created Women's Impact Network of New Hanover County (WIN) in 2011 through the North Carolina Community Foundation.
"We like the idea of collective giving," she says. "It's the pooling of your resources in one big grant for more impact. It's also a way of being part of a group to learn more about the needs of the community."
That organization now has eighty members and annually grants $35,000 to organizations such as Guardian ad Litem, WHAT, Dreams, and SkyWatch Bird Rescue. To read more about WIN, check out Smith's Take 5 feature in the February issue of WILMA.
To view more of photographer Katherine Clark's work, go to www.katherineclarkphotography.com