February's Take 5
Flower girl Kristy Holt on romance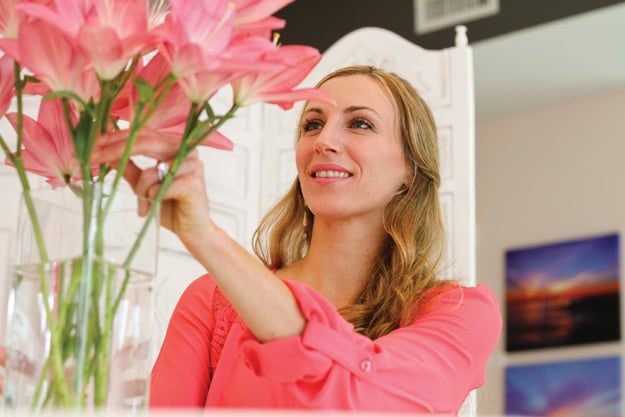 KRISTY HOLT, owner of ECO CHIC BLOSSOMS in the Brooklyn Arts District, is in the business of romance, and her tools: flowers. She builds upon floral design with her background in event planning to produce an entire atmosphere and mood that evokes the specialness of the day. In honor of Valentine's Day, we asked for her list of favorite romantic movies that accomplish this on-screen and manage to set our hearts all aflutter:
"Valentine's Day – The movie is based on a story about a florist so of course I love it, but it is a great romantic comedy with a complex storyline that keeps you intrigued from beginning to end.
The Notebook – I don't think an explanation is needed for this one. It is probably on every woman's top five romantic movie list.
P.S. I Love You – Gerard Butler and Hilary Swank are two of my favorite actors, and their chemistry in this movie is dynamic. This movie has such a great storyline. I really enjoyed all the scenes shot in Ireland.
Crazy, Stupid, Love. – With a cast that involves Ryan Gosling, Emma Stone, and Steve Carell, what's not to love? The scene where Ryan Gosling and Emma Stone do the lift from Dirty Dancing won me over.
Dirty Dancing – The first time my husband and I met eight years ago we attempted the lift. When we got engaged we took lessons for ten months and learned it for our first dance at our wedding reception. Needless to say it is hands down my all-time favorite movie."