February Spotlight
Spotlights on area women making news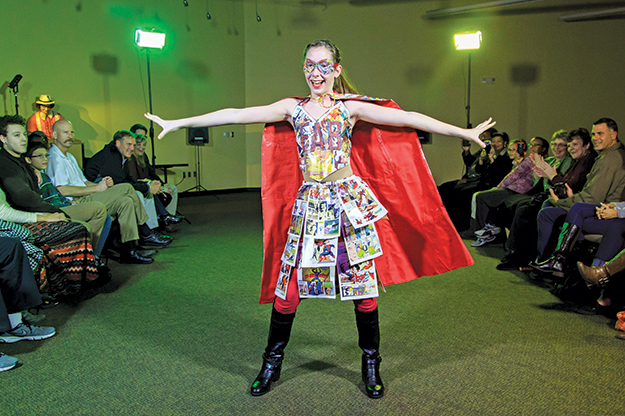 Ready-To-Wear (And Read)
The printed word takes center stage this month for the third annual FICTION TO FASHION runway show.
The show, a project organized by New Hanover County Public Library, is a fashion design contest for teens age thirteen to eighteen. They applied to participate and got creative with unconventional materials to make the outfits.
Discarded library books, cassette tapes, CDs, and more were transformed into wearable art.
The teens also took part in a fashion forum early this month to help shape their vision. The end results will be on display 7-8 p.m. February 23 for the runway show at Expo 216. Prizes will be given out in areas such as Crowd Favorite, Most Avant-Garde, and Best Runway Swagger. Info: expo216.com/events
South State Bank Appoints Broach As Area Office VP
South State Bank named SHAMEENA BROACH as vice president for its Wilmington office.
A Wilmington native, Broach started working for Columbia, South Carolina-based South State Bank in 2007 in areas including as an assistant branch manager, retail sales leader, and retail area manager.
Broach earned a bachelor's degree in history from Meredith College.
A board member for the nonprofits WARM and Friends of Muni, Broach also serves as treasurer of the Bob Boyd Foundation, vice president of the Wilmington Central Rotary, cabinet member for Cape Fear Area United Way, and a PaSS tutor. A member of Good Friends of Wilmington, she also is a graduate of Leadership Wilmington.
Baringer Joins Festival Association Board
North Carolina Azalea Festival Executive Director ALISON BARINGER recently joined the board of directors for the International Festivals & Events Association (IFEA) Foundation.
She started the term last month. The board works with the association, which represents members from the event and festival industry.
"I am so honored to be given this opportunity to serve Wilmington on the national and international level," Baringer says. "Among those I will be serving with include representatives from the Kentucky Derby Festival, Memphis in May, the City of Ottawa Events Central Branch, and the National Cherry Blossom Festival.
"The wealth of knowledge brought back to Wilmington and the Azalea Festival from these amazing events, as well as the national attention the Azalea Festival will be receiving," she adds, "is a direct testament of growth in our mission of becoming nationally-recognized."
The seventieth North Carolina Azalea Festival takes place April 5-9 and will be Baringer's twelfth year with the organization.
Slater Joins Food Network
Wilmington-based cookbook author and food writer FANNY SLATER joined a Food Network show last month as a co-host on Kitchen Sink.
The new season of Kitchen Sink started January 15. Slater joins Food Network Star winner Tregaye Fraser and chef Spike Mendelsohn as new co-hosts for the thirteen, half-hour episodes, which Slater traveled back-andforth to New York to film.
In 2014, Slater won The Rachael Ray Show's Great American Cookbook Competition, resulting in the release of her Orange, Lavender & Figs cookbook last spring.
"Tregaye, Spike, and Fanny are a perfect addition to Food Network's weekend lineup, and along with the special guests, they will be serving up a fast-order of food, fun, and inspiration," says Didi O'Hearn, senior vice president programming for the Food Network and Cooking Channel. Kitchen Sink airs Sundays 11 a.m.