February Checking Out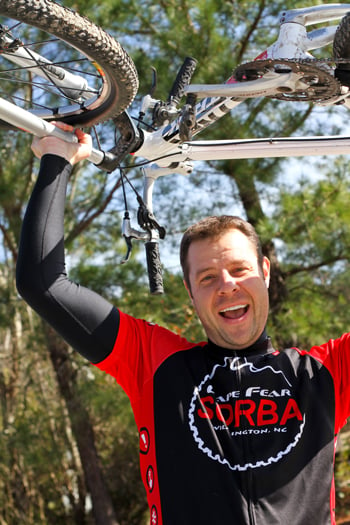 TRAIL MIX
When a neighbor first suggested BRAD GARDNER try mountain biking, he thought it seemed an unusual sport for a coastal town with no actual mountains.
But fast forward a year and a half later, and now he's hooked. Though he spends most of his time managing the virtual world running his business, QWODTECH, he'll take any chance he can to get on the trails and enjoy the natural world.
"I finally gave in and made my way out here to Blue Clay (Bike Park) trail. I was really shocked about how fun it was, how good the trail was – it's very challenging – and I guess the rest is history."
W: How often do you bike, and where do you like to ride?
BG: I usually bike three times a week now. Blue Clay park and Brunswick Nature Park – those are my two.
W: Do you belong to a biking group?
BG: Yes, a really great group called Cape Fear SORBA. I'm training for a series of six races that they're in charge of. They have been a huge part of the whole thing and keeping me interested. Everyone's really supportive. And of course, we kind of rag on each other to keep the motivation there.
W: Tell us about QWODTECH.
BG: It stands for Quality, Worldwide, Online, Development. I like to deal with small businesses, developing their online presence, and that online world is something they'd rather have a whole lot of help on.
W: So, how does a small business succeed in such a web-driven marketplace?
BG: You have to use a combination of tactics such as site ranking, search engine optimization (SEO), and social media, etc. In other words, you can't just build a website and throw it up there – the competition is too great.
If you're in e-commerce, and you sell worldwide, that's a lot different than being a local pizza joint. The strategies, in my opinion, are quite a bit different.
W: What other interests do you have?
BG: I just hooked up my record player again, so I'm into vinyl. I've been breaking out my Johnny Cash. That stuff is just meant to be listened to on vinyl – the scratches and pops – it just sounds better. I love technology, but I'm kind of nostalgic for the old stuff, too. Maybe, there are just some old-fashioned parts of me.
To view more of photographer Amy Conry Davis' work, go to www.gypsypye.com.