Farm to Table
Homestead dinners showcase Greenlands Farm's ingredients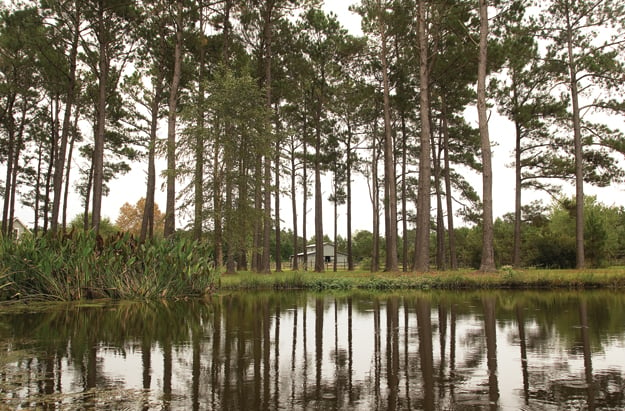 Guests dine beneath twinkle lights at a large, rustic farm table adorned with burlap, jelly jar glasses, and tea-light-filled green Mason jars at a homestead dinner hosted by Greenlands Farm. The evening's main course of roasted filet mignon fills the air with the scent of garlic and rosemary, and folk guitarist Herb Harton serenades the group as they sample foods that were sourced directly from the farm.
The twenty-acre expanse of Greenlands Farm is nestled in the pine forest off Midway Road in Bolivia. The farm is home to a bevy of farm animals including chickens, rabbits, goats, pigs, and ponies, as well as the Burkert and Kelley families. The owners of Greenlands Farm, Heather and Henry Burkert, live on the farm as well as the couple's daughter, Maud Kelley, her husband, Ryan, and their two children, with the family practicing something called homestead farming.
Homesteading is a lifestyle that advocates self-sufficiency. Homesteaders make efforts to grow their own food, raise their own livestock, and, in the case of the Burkerts and Kelleys, even make their own cleaning products and personal care items.
"We aren't hippies," Maud Kelley jokes. "We just enjoy living off the Earth."
The family utilizes sustainable farming practices, and all of the farm's fruits and vegetables are non-GMO and grown without synthetic pesticides or herbicides.
Inside the Greenlands farm store, the bright space is dominated by large bins of green vegetables, coolers of organic, hormone-free eggs and milk, and a bakery display case filled to capacity with fresh-baked pies, cookies, and cakes. A large chalkboard hangs on the side wall and lists the farm's daily goods and prices, while a separate room off to the side has small cafe tables next to a large coffee and ice cream bar.
This building was once the Burkert family's landscape architecture office. They bought the land for Greenlands in 2002 to build their home as well as the office, not imagining that one day their hobby farm would become a thriving homestead farming business.
In 2007, when the economy took a downturn and finding clients became more difficult, the Burkerts had to reinvent themselves and decided to open a store and sell goat milk soap, eggs from their chickens, and vegetables that they grew on their land.
The business grew steadily, and the Burkerts expanded their offerings, enlisting the help of Maud Kelley and her husband, who moved from their home in Charlotte to live on the property.
Maud Kelley, an animal-lover, came up with the idea to start a petting farm with animals procured mostly from rescue organizations.
"We want to advocate for adoption and rescue and spread awareness about rescue animals in need to adults and children," she says. "You wouldn't think it, but a lot of farm animals end up in rescue situations."
She helped her parents develop more agritourism aspects of the farm, implementing farm tours for schools and small groups and homestead summer camps as well as this summer's new offering of monthly homestead dinners.
The idea for the homestead dinners grew out of Maud Kelley's desire to share her family's way of eating with others.
"I started taking pictures of what we ate for dinner and posting them on Facebook," she says. Their food is fresh from the farm, and their meals highlight what is growing that season.
The menu for the homestead dinners is created in much the same way.
For each dinner, a different local chef is selected to take seasonal ingredients from the farm and turn them into a gourmet, five-course meal. A rep from Silver Coast Winery then selects two wines to pair with both the hors d'oeuvres and the main course.
This evening's meal is prepared by chef J.T. Benazzi of Allora Catering in Wilmington and showcases Greenlands Farm's fresh ingredients.
The recent fall dinner incorporates pumpkins from the farm for a pumpkin tortellini with local sweet goat cheese cream. Greenlands sunchoke roots, also known as Jerusalem artichokes, are puréed for the main dish, while the plant's flowers are used to decorate the dining table, so nothing goes to waste.
"What comes to the farm, stays on the farm," Henry Burkert says. "Everything here gets used for something."
Gail Bartlett, who recently moved to the area from Maryland, and other diners savor dessert – a sweet and savory fig and prosciutto cheesecake featuring figs from the farm – and talk with other guests around the porch table.
Bartlett had been to the farm store a few times before attending the dinner.
"The appetizers and dessert were fabulous," she says. "Everything is very fresh, and the ambiance is really spectacular. You can tell a lot of love and planning went into the evening."
Supper Time
Greenlands Farm
668 Midway Road Southeast, Bolivia
253-7934 | greenlandsfarmstore.info for Homestead Farm Dinners schedule, store hours, and tour info
To view more of photographer Terah Wilson's work, go to www.timelessfotographie.com/blog/about/