Extra Credit
Louise Hicks leads CIS' efforts to help area students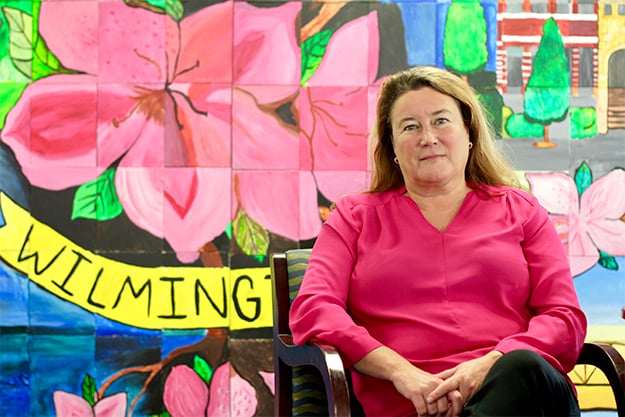 During her time at Communities in Schools of Cape Fear, LOUISE HICKS has seen the nonprofit grow from a small, three-person team to a team of forty, which has helped the organization continue to serve students in the community.
Hicks, the director of the Cape Fear chapter of Communities in Schools, has spent fourteen years at the nonprofit that works with at-risk students in New Hanover and Pender County schools by connecting them with resources in the community that can help them stay on track for graduation.
Hicks says she wanted to be in the nonprofit sector because she wanted her work to be impactful.
"I spent several years in the private sector before realizing that I wanted my work to be about more than just bringing home a paycheck at the end of the week," Hicks says. "Working for CIS, with the team we have assembled is a joy."
Hicks initial role at the organization was to help implement the organization's programs, raise money, and develop its board of directors.
"My role has evolved since I joined fourteen years ago," she says. "At that time, I was part time and had one part-time staff member and a contracted program coordinator."
The organization currently has forty staff members with programs at thirteen New Hanover County schools and last year's addition of its youth center, Wilmington Youth Center for Inspiration, Recreation and Education (WIRE), at Orange and South 11 streets.
WIRE offers a free afterschool program with STEM-based activities and targeted tutoring, with the goal of improving students' math and literacy skills.
The nonprofit has also has student support specialists who provide case-managed services and can connect students to mental health counseling, tutoring, and attendance mentoring, as well as youth parent support and literacy support programs.
Hicks started working as the nonprofit's director in 2005. She previously worked at Wilmington Children's Museum where she was the marketing director.
Her experience has helped her in her current director role in which she oversees the organization's fundraising, grant writing, board development, human resources, and marketing.
Because Communities in Schools is a nonprofit, running and promoting fundraising events is an important source of revenue that allows it to continue to help at-risk students.
A large portion of the nonprofit's annual budget is raised locally through fundraising events, as well as corporate and individual gifts, Hicks says.
"Local support is critical to the success of our programs," she says. "We are proof that for organizations to be successful and sustainable, deep local relationships are vital."
The nonprofit holds fundraising events every year including the Blue and White Bash and Stuff the Bus, during which it collected $100,000 in supplies in 2018.
One project the nonprofit is working on is its Resiliency Task Force, Hicks says.
"Last spring, we joined forces with New Hanover Regional Medical Center and in June were awarded a six-month planning grant from The Duke Endowment to create and facilitate the Resiliency Task Force," she says.
The task force will work to help students who experience Adverse Childhood Events (ACEs), which affect their ability to perform in schools and thrive in society. It will also help adults who work with students to develop resiliency that would buffer the impact of ACEs.
Hicks says she is proud of the relationships and trust the nonprofit has developed over the years that enabled its growth.
With the organization's growth in the community, Hicks says she has been able to work in a role that inspires her every day.
"I knew I wanted to be in the nonprofit sector, and that I wanted my work to be impactful," Hicks says. "CIS offered me the unique chance to do just that – have a daily impact youth from all walks of life, while providing opportunities for professional challenges and personal growth."
To view more of photographer Amy Conry Davis work, go to gypsypye.com.
Want more WILMA? Sign up for our WILMA Weekly email and announcements at WILMAOnTheWeb.com.