Elevator Operator Still Heart of Building
'Going up?'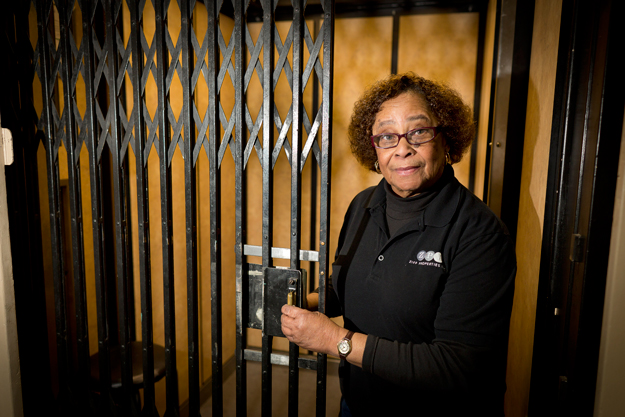 "Going up?" is a phrase known all too well by elevator attendant Lila Boyd.
Inside the Murchison Building in downtown Wilmington, Boyd greets everyone with a smile and a wave into her elevator shaft when they walk through the door.
Standing there wrapped up in a decorative sweater, she leads two passengers inside and speaks to them as though she has known them for years.
She shuts the iron gate and pulls the lever that makes the shaft ascend to the next floor.
"I really enjoy my job," says Boyd, one of the few – if only – remaining elevator attendant with the job in the state, according to building officials.
Last month was Boyd's nineteenth anniversary working as an elevator attendant in the eleven-story building – one of the tallest in downtown Wilmington, second to the PPD building.
"There certainly are not many elevator attendants left. I believe we were once told there was only one other in the state of North Carolina," says Ashley Tate,
marketing associate for Ziff Properties Inc., which owns the building. "Lila has an amazing fan base."
Every morning, Boyd goes to the Murchison Building, an historic landmark at 201 North Front Street built in 1914 for the Murchison National Bank.
Years ago, Boyd had no idea she would end up in the elevator business.
"I heard about this job through a friend," Boyd says. "I worked as a housekeeper beforehand at the Creek Apartments, but they sold the business, and I was laid off. "But, I really enjoy my job now. At first it was a little hard to get used to, but now I love it."
Boyd was born in South Carolina, but grew up in Wilmington. When she was younger, she dreamed of becoming a nurse, so she went to Cape Fear Community College to pursue of a nursing degree.
"I went to school for a while, and I took a few courses, but I decided it wasn't the career for me," Boyd says.
Despite the unexpected route to where she is now, Boyd is dedicated to her job and wouldn't trade it for anything else.
"It makes me feel special when people come in and say they've never seen an elevator attendant before," she says. "Sometimes when my elevator is full, I'll push the button on the other elevator for them."
She often waves to passersby, and people frequently stop to say hello to her.
"People in the building are very nice," she says.
One year during Christmastime, Access III, a tenant in the building, rang her elevator, and when she opened the door about fifty people rushed out into the hallway singing carols, giving her gifts, and heaping generous amount of praise.
"I was shocked," Boyd recalls.
Boyd's job has given her the chance to create close relationships with other people in the building.
As far as retirement goes, she says it's not in sight.
"I'm very fortunate to have a job at my age," Boyd says. "And I don't plan on retiring unless my health depends on it."
With that, she walks to the door and disappears into her elevator shaft with yet another happy traveler.
To view more of photographer Mark Steelman's work, go to www.marksteelmanphoto.com.