Dumpling Dish
Pierogies open in Oak Island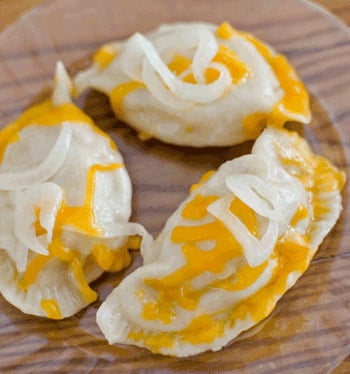 There's a secret ingredient in the pierogi DEBBIE WADDINGHAM serves up at her Oak Island eatery, and it's not just the love and attention she gives to each batch.
Waddingham learned the art of pierogi making from her grandmother, an immigrant whose ancestors were from Poland and Czechoslovakia.
From the time she was about four years old, Waddingham helped her grandmother with the family meals.
"Growing up, that was a meatless meal that Polish people could eat every Friday when we didn't eat meat because of our (Catholic) religion," she says.
As an adult, she volunteered at the church where her daughter was in school, making pierogi for meatless Fridays and holidays.
Pierogi might be considered the Polish version of ravioli, but the fillings are very different. In the United States, potato and cheese or potato and a meat are popular. In some countries, vegetables are popular as are spiced meats.
After moving from Pennsylvania to Southport to be near her daughter, Waddingham noticed a void in the variety of food offerings.
"My husband, Merle, and I were sitting on the beach last August. I was hungry. I told him we should open a pierogi place. He rolled his eyes," she recalls.
That didn't deter her, and soon she found a storefront for the couple's new take-out business, Pierogies.
"With so many people moving from the North, I wanted to bring a tradition from the North to this area," she says. "I researched and didn't see anyone making pierogi. I craved it and thought other people would as well."
Pierogi is plural, while pierog is singular, but who would ever eat just one? Pierogies is an Americanization of the term, thus the name of the new business. (Should you ever be in Poland, by the way, look for pierogarnia, restaurants that feature the specialty.)
The couple did not have restaurant experience – she's a retired real estate broker, and he's a retired chemist – but they had Debbie Waddingham's lifetime of experience cooking her grandmother's secret recipe.
They decided to build a take-out business where customers could pick up freshly made precooked and frozen pierogi to take home, boil, and serve with their favorite dishes for a traditional family meal. They'll also cook them for you and finish them off with hot butter and onion sauce.
In addition to several varieties of pierogi made daily on-site, such as potato and cheddar, potato and sauerkraut, and potato and hot sausage, the Waddinghams have added several Eastern European specialties flown in weekly from Pittsburgh including kielbasa and hot sausage.
"We added hot sausage sandwiches and all-beef wieners," Debbie Waddingham says.
They're counting on tourists finding the spot this summer, ordering hot to-go sandwiches for the beach. They've also added cheesecake, cupcakes, whole-nut, poppy seed, and pineapple strudels.
"We're making our own horseradish – white or beet horseradish. It's super hot," Debbie Waddingham says.
The community has responded positively, keeping the couple busy. There's even one woman who waits for them to open after she gets off the night shift, and customers have given Debbie Waddingham the highest complement.
"They call me studa bubba, which is Polish for grandmother," she says.
Pierogies is open 11 a.m.-5 p.m. Tuesday through Saturday. The Waddinghams plan to expand the hours this summer to include Sunday and to stay open until 8 or 9 p.m.
Pierogi Recipe (adapted from TastingPoland.com)
3 cups all-purpose flour
½ teaspoon salt
¾ cup boiling water
¼ cup cold water
½ teaspoon vegetable oil
Makes about 30 pierogi
Sift flour into bowl and add salt. Pour boiling water into the bowl, while vigorously stirring mixture with a fork or wooden spoon. Work until smooth. Cover bowl with a cotton cloth and set aside for about 5 minutes.
Add cold water. Stir until smooth. Cover the pierogi dough with a cotton cloth. Set aside for 15 minutes.
Add vegetable oil (canola, sunflower, or olive oil will also work). Knead dough until it becomes a smooth and uniform mass, 5-10 minutes. When finished, the dough should be homogeneous, stretchy, and a bit adhesive.
Roll out dough on a floured pastry board or table to about 1⁄10 of an inch thickness.
Cut circles with a cup. Place desired filling in the middle of circles and fold in half it to form pierogi. Using tines of a fork, press edges together to seal.
To cook: Boil pierogi in salted water, pulling out when they float to surface, about 8-10 minutes. Can pan fry cooked pierogi in melted butter until sides brown.
To view more of Katherine Clark's work, go to http://www.katherineclarkphotography.com.