Drinks from the top
Four ways to enjoy cocktails and sky-high views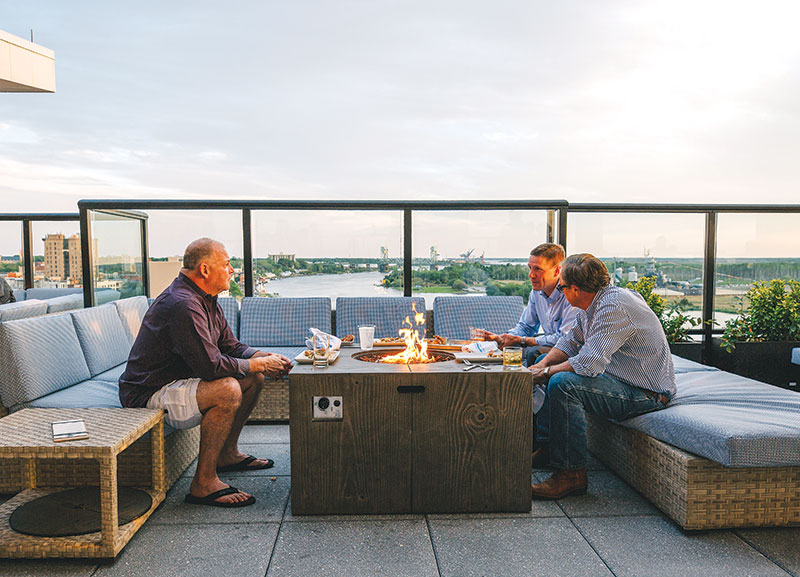 Whether you're looking to enjoy the sunset with a glass of rosé or dance the night away, the Port City's rooftop bars are the place to be. Some are casual, some upscale, but all provide a chance to enjoy the fresh air and some pretty spectacular views.
CLOUD 9 ROOFTOP BAR
Located at the top of the new Embassy Suites hotel at 9 Estelle Lee Place, Cloud 9 Rooftop Bar provides downtown's most sweeping views of the Cape Fear River and Riverwalk and has upped the bar – so to speak for Port City rooftop hangouts.
When the doors open at 4 p.m., professionals and hotel guests gather among the cushioned lounge areas to put their feet up and relax with a pre-dinner drink. The lounge areas provide fantastic views of the Cape Fear Bridge and Battleship, and each grouping surrounds a fire pit that can be lit on cooler evenings.
Cloud 9 offers 22 beers on tap, with a focus on local and North Carolina breweries. There are also several wines on tap, a large selection of sparkling and non-sparking "Rooftop Rosés," six types of Mules, and eight craft cocktails, all cleverly named after iconic songs such as Wild Horses, London Calling and Here Comes the Sun.
Cloud 9 also offers small plates, from local oysters on the half shell to a charred rapini and ricotta flat bread and barbecue shrimp nachos. Brunch is served on Sundays, weather permitting, and guests can enjoy live music on the weekends from 6 to 9 p.m. The bar closes promptly at 11 p.m. nightly, in accordance with a hotel noise ordinance.
THE ROOFTOP BAR AT NORTH FRONT THEATRE
A mainstay on the rooftop bar scene for a while now, The Rooftop Bar at North Front Theatre, formerly known as Level 5 for its location on the 5th floor of 21 N. Front St., draws a wide range of customers, from those looking to catch a great view of the sunset to the late night dance crowd on weekends. There's even a church service held on Sunday afternoons.
Owners Joshua Parrish, Branden Riggan and Richard Campbell purchased the bar and adjoining theater, formerly known as City Stage at Level 5, early last year and spent nearly six months renovating the theater, which is fully booked with performances through the rest of the year. The owners now plan to focus their efforts on updating the lounge area between the theater and rooftop bar, as well as the outdoor space.
The Rooftop Bar at North Front The­­atre offers a full bar, domestic and imported bottled beer, and ten beers on tap. Doors open at 5 p.m. Sunday through Friday, and at 2 p.m. on Saturday. DJ Battle cranks out dance music from 10 p.m. to 2 a.m. every Friday and Saturday night.
THE REEL CAFE  
For over 15 years the Reel Café has offered views of the Cape Fear River from its rooftop bar at 100 S. Front St. The café hosts a weekly Rooftop Concert Series throughout the spring and summer with live music every Saturday from 7 to 10 p.m. for a $5 cover charge. In addition to the concert series, the café hosts live music throughout the week on both the courtyard oyster bar and on the rooftop. Artists performing everything from southern rock to reggae fill this season's lineup.
While food cannot be ordered from the rooftop, guests can order on the main dining level and bring their food up to the rooftop, where a full bar is available. Daily drink specials are offered and menu items include a steamer menu with peel 'n' eat shrimp, clams, crab legs and oysters, and classic coastal pub food such as burgers, salads, fish & chips and crab cakes.
To view more of photographer Megan Dietz's work, visit megandeitz.com/home
Want more WILMA? Sign up for our WILMA Weekly email and announcements at WILMAOnTheWeb.com.