Dr. Feel Good
Trainer by day, bartender by night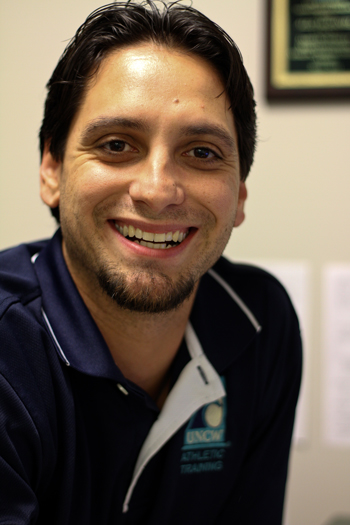 Alex McDaniel googled "east coast cities" in 2005 when he knew he wanted to make a change in his life and go back to school. And, he picked Wilmington mostly because the surf report looked good. He was accepted into the Athletic Training program at UNCW and was hired shortly after graduation to work in UNCW's Sports Medicine facility next to Trask Coliseum.
"I got really lucky. It's so hard to get a job in this field, especially at a Division I university. I take care of Track and Field and Cross Country – a little over 100 athletes," he said.
W: Tell us about a typical day as a trainer at UNCW.
AM: My day starts with the initial rehabs that I have scheduled – post-op knee surgery, hamstring strain, shoulders. Then it's getting the team ready for practice with pre-practice treatments – heating, stretching, hot whirlpool. During practice, I check and see how they're doing. I'm first response at that point so I'm on the field just in case anyone gets injured. Also, I take a walk in the weight room and see how they're doing, I communicate with the strength trainers about who's injured and what I'd like to see for those athletes.
W: Do you have a background in athletics?
AM: Yes. I played beach volleyball for years. I played on the Bud Light Tour throughout the southeastern U.S. and for the California Beach Volleyball Association. Crazy lifestyle, but it was fun.
W: What's something you really enjoy about this job?
AM: It's completely different from my other job. I'm actually helping people, making them better. For example, I had an athlete last semester who had a season-ending back injury. To see him now, running, pretty much 100 percent back and scheduled to run a marathon soon, it's amazing. It's probably the most rewarding thing about this job.
W: Tell me about your "other job."
AM: Since I moved here, I've been bartending downtown at Blue Post and Level 5. I was also a bartender in Miami (South Beach) for five years and in the Bahamas. I figure on a Friday and Saturday night I'd be out anyway, so why not make money because it's so much fun? It's a good break because over there I can let loose and have fun.
W: Do you have a favorite drink to make?
AM: Lately, I've been on this kick with a drink called the White Tic-Tac. It's a shot of Rumplemintz and whipped cream vodka.
W: When you're not working, what do you like to do?
AM: I love surfing and traveling. Central America is awesome, especially Panama. Other than that, I'm a downtown guy. Yosaké is probably one of my favorite restaurants.