Down & Out, All Gone
November's Men's Room column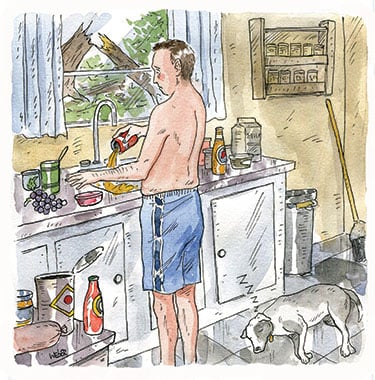 First, the salad dressing – a bottle of thousand island followed by apple cider vinaigrette. Then the ketchup and brown mustard. Then the white cheddar popcorn seasoning.
Into the sink and down the disposal.
A jar of salsa, a jar of grape jelly, a jar of strawberry jam. Jars of minced garlic, pepper rings, dill pickles, and pesto. Bottles of lemon juice, diet soda, fruit punch. A bag of white corn.
All together, all down.
Hurricane Florence left me with nothing to complain about, but I complained anyway – about the circuitous route back home from evacuation, about the endless swirls of confusing information on social media, about a scarcity of skim milk. My dog and I returned to the sight of tree stumps and the whine of chainsaws, felled logs mounding along the shoulders of our tame and once-tidy suburban streets.
I had not so much as a shingle missing. The house's cedar planks were dirty but undamaged. The windows held firm. My next-door neighbor's giant pine stood its ground instead of toppling and crushing both our houses.
Across the street, though, a tornado rumbled in during the hurricane and blew out windows, ripped off siding, and blasted insulation into the trees. One neighbor had a pine poking through the roof. Another had ten hours of rainfall wash in through a hole the size of a plywood sheet. I counted my blessings in silence.
The dog and I found only one problem – our refrigerator had conked out, its compressor cooked by a power surge after the utility crews miraculously got the electricity going in just four days. Now, I stood by the kitchen sink at midnight, throwing out the spoiled everything from the shelves, cubbies, and freezer compartments. I played the stereo as a distraction so I wouldn't add up the dollar value of the waste.
A pint of sour cream. A quart of broth. Vegetable lasagna. Parmesan cheese. Tomato-basil pasta sauce. Marinara sauce. Barbecue sauce. Soy sauce. Stir-fry sauce. Beijing sweet-and-tangy sauce. Chocolate syrup. That stuff that's not butter.
Romaine lettuce. Red grapes. Once-frozen broccoli cuts and carrots. Strawberries, bananas, and yogurt for my smoothie fixation. Whipped cream. Tahini from when I decided to make my own hummus. Storebought hummus from when I failed at making my own.
I went on like this for two hours, filling the garbage can and pressing so much down the disposal that I expected it to gag. I rinsed the containers for recycling, a small effort to salvage something. I thought about the people out in the country, those with no lights and floodwaters rising in the dark. I thought about my neighbors waiting nervously for insurance adjusters. I thought about a certain special someone and wondered where she was, if she was safe, and how so much of such value between us went so needlessly down the drain. And, as if the metaphor needed emphasis, George Harrison came on the stereo singing "All Things Must Pass."
After I dumped the grape juice, the half-and-half, and the blocks of cream cheese that I use to slip the dog his medicine, I had the broken fridge emptied, clean for the first time since the day I got it. I would have it fixed. I would fill it again.
And, at Thanksgiving, I would remember the things that passed and hold hope for those to come.
Tim Bass is coordinator of UNCW's bachelor of fine arts program in creative writing.
To view more of illustrator Mark Weber's work, go to markweberart.blogspot.com.
Want more WILMA? Click here to sign up for our WILMA newsletters and announcements.