Down Home Fine Dining
Checking out City Club at de Rosset chef Matt Beckelhimer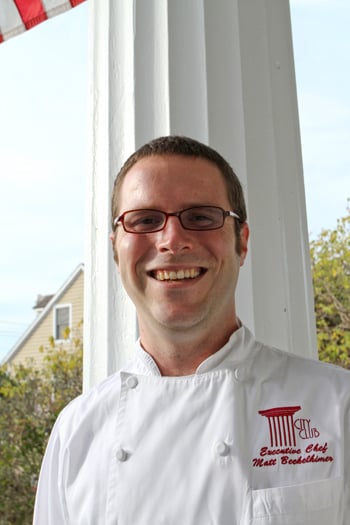 MATT BECKELHIMER doesn't consider himself a trendy chef. Originally from Richlands, NC, he cooks what he grew up eating – things that would make his grandparents happy. That reverence for healthy, simple food is evident in his menu as executive chef and club director at the City Club at de Rosett, where he has been working since 2001.
"I was always into cooking. We grew up on a farm, so the food came from the backyard in through the backdoor – that was 'organic' to me growing up. This whole farmer to table movement – that's what I lived," he said.
W: Tell us more about your early days cooking with your family.
MB: My grandmother was one of my biggest influences. I always saw her [cooking] start to finish, from scratch. She'd be in the kitchen, staging things out and it was always so interesting to me. Everyone else was off doing something else and I was in there helping her. It never changed – I really fell in love with cooking early.
W: Did your grandmother have a signature dish?
MB: She was all about the biscuits.
W: If I were a first-timer at the City Club, what would you recommend off the menu?
MB: The veal tomahawk chop. Basically, it comes with the rib bone intact, about 12 to 14 inches long. We put it on a huge plate with the bone sticking up. It's really presentable and it's called a tomahawk, because it looks exactly like that. People trip out on it because you don't see that- you'll see a chop, but not cut that way.
W: You almost didn't pursue cooking as a career. What was your other passion?
MB: Back in Richlands, I was huge into [soccer and baseball] and that was supposedly my direction. I was supposed to play sports in college, but I got burned out because I was playing year-round. It was a childhood dream to go professional and I got some scholarships, but I turned them down. I also mingled in racing dirt bikes for a little bit [and] everything that can get you really hurt. After I got hurt a couple times, I decided to call it quits on that stuff.
W: So now you're an adrenaline junkie in a different capacity?
MB: Right. I've always been someone who loves to work under high-pressure situations. That's the only way I can perform – last minute, high pressure. (laughing)
W: What do you eat at home?
MB: I love Saigon market. It's by far my favorite place to shop. My go-to meal is stir-fried rice or noodles. It's quick to whip up and not bad for you.
W: What are your future goals?
MB: I'd like to be here for quite a while, but after this, I'd like to have my own restaurant back where I grew up. The food would be a modern twist on the blue plate special – like an uptown soul kitchen.