Death Bed in 3-D
Play riffs off cult classic horror movie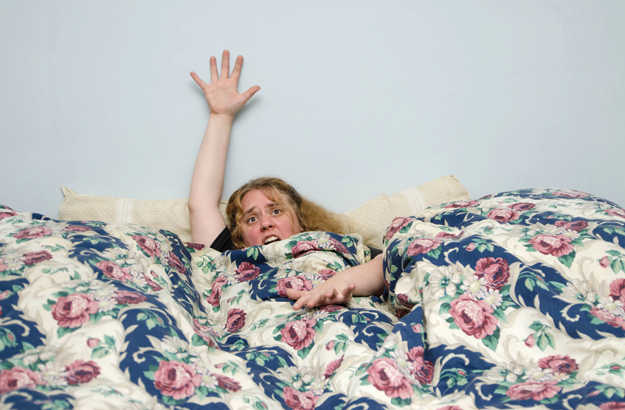 There are pivotal life moments that in retrospect we understand their importance, but at the time we are so busy living that they pass us by as insignificant.
I had a moment of great magnitude standing in our kitchen a few years ago. I remember clear as a bell calling Jock on the phone and breathlessly instructing him to pull over and turn on NPR because Bob Mondello was talking about Death Bed as the worst movie ever made!
At the time it was just an exciting moment to share with the man I love the most in the world – about a movie that he had worked on in 1973 and maybe seen three times since then.
Death Bed: The Bed That Eats was all but lost to the world until it got its first official release in 2003 on DVD.
Jock was overjoyed. As he put it he was never going to work on Citizen Kane, but now he had a superlative – albeit in the other direction – to his name: Death Bed.
Mondello's declaration would play a part in one of the more unexpected and unexplainable tangents in my life: adapting Death Bed to the stage as part of Big Dawg Productions' Halloween Horror Theatre Festival.
Death Bed is the brainchild of George Barry, a university student who dreamed of making a feature length film. But he ran out of money and couldn't even afford get the opening and closing credits shot.
It failed to get a distribution deal and languished in Barry's attic for almost thirty years before he discovered it had been pirated and released in the UK where it was a cult hit.
I took a meeting with Steve Vernon, artistic director of Big Dawg, to interview him about the upcoming Horror Theatre Festival, which would feature all local playwrights.
Somehow in that meeting it was suggested that Death Bed be adapted to the stage – and I was going to do it.
What can I say? There are times when events over take you.
The transcription of the film is less than forty minutes of stage time, and frankly that is not enough for a full-length play.
Barry granted me the rights for adaptation, and we both expressed our hope that it might introduce a new group of people to the film.
Casting around for a vehicle to tell this story we settled on "the making of the movie": Jock getting thrown out of a whorehouse trying to borrow a Bible, smuggling a skeleton and a film crew across an international boarder, and making the monster actually "eat" via Mr. Bubble and glycerin.
Standing in the kitchen again, I call Jock to tell him the NPR show Here & Now is doing a story on the stage adaptation of his favorite filmmaking experience.
The adventures of the crew on that worst movie ever made went on and on, and now with Death Bed: The Play That Bites, they can continue.
Death Bed: The Play That Bites
October 23-26 and October 30-November 2
Cape Fear Playhouse
613 Castle Street, 367-5237
To view more of photographer Katherine Clark's work, go to www.katherineclarkphotography.com