Décor Detour
Big Sky Design's new glamper, Bea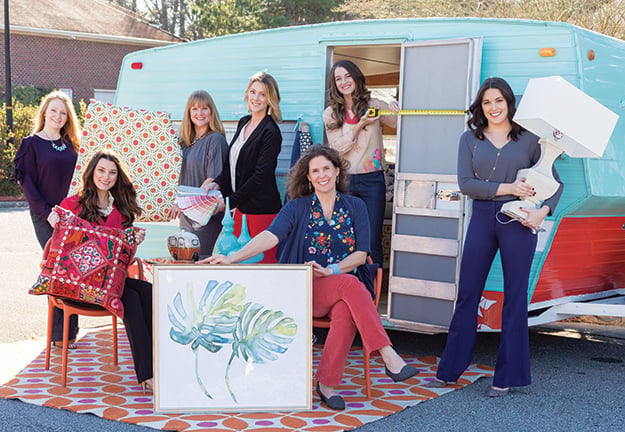 At first glance, Bea looks like it could be lots of things – a tricked-out ride for glamping, a mobile fashion boutique, a food truck. But inside this renovated 1969 Shasta Loflyte camper, home furnishings abound in a décor complementing the retro camper milieu, with carefully chosen glass tile, light fixtures, and wallpaper accents to amplify the space.
BIG SKY DESIGN's mobile boutique, named Bea, sells home furnishings and interior design services. A Wilmington-based residential and commercial interior design business, Big Sky Design launched Bea at a kickoff party in July.
After purchasing the camper in the spring of last year, the firm's seven designers collaboratively transformed the camper, including local touches such as reclaimed wood paneling from Cape Fear Riverwood.
"The Big Sky team had a lot of fun honing in on the small interior," says JENNIFER KRANER (above center, seated), Big Sky's president and principal interior designer. The end result is funky, retro, and inviting – a style Kraner describes as "vintage glamour."
Bea provides interior design services and home furnishings through design consultation packages, popup parties, and appearances at local businesses and special events. The mobile boutique stocks an inventory of custom and rare home furnishings, allowing customers to browse from wherever Bea is parked.
Kraner explains that the company created the boutique after recognizing a need to make interior design service more convenient.
"A lot of people within the community want really good design, but they may not want to hire a designer for six months to complete a job; that could be a little bit daunting," says Big Sky Design president Jennifer Kraner.
Part of Big Sky's philosophy is to think of design as "food for your soul," Kraner adds. "Everyone can have great design in your environment, and that can make all the difference to being inspired day-to-day."
One of the mobile boutique's most popular services is design brought right to a person's doorstep. Customers can get design service tailored to their needs, whether they are looking to redecorate one particular space or redesign their whole home.
Kraner says the clients for doorstep design are often individuals or couples who work full time and don't have time to shop during business hours while retail shops are open, or their weekends are dedicated to their kids' activities.
After selecting a plan, clients complete a questionnaire about their style, design needs, and budget.
On the day of the consultation, Bea rolls into the client's driveway with two members of the design team and a truckload of samples. The designers discuss their design ideas with the client, offering inventory for purchase directly off the truck or options to order specialty items.
"The meeting can be a jumping-off point, and we are able to utilize the two to three hours we are there more efficiently," says Rileigh Wilkins, client relations and special projects manager.
Bea also makes the rounds on the party circuit.
Particularly for engagement parties, housewarming parties, or wedding showers – but open to any type of event – at a pop-up party, guests can browse the mobile boutique's selection of home furnishings while asking advice of the design team.
Similar to a doorstep design service, Big Sky's designers send a questionnaire to the party's host in advance, which enables them to get a sense of the guests' design taste and budgets.
Additionally, hosts can opt for a Design Dilemma presentation such as "Style Your Bedroom Like a Pro." Kraner says the staff recently presented a Design Dilemma on how to "Artfully Arrange Your Bookshelf " at a pop-up party. "Everyone came away with a lot of great ideas," she adds.
Bea can often be seen around town, from homeowner's association events to Satellite Bar and Lounge's parking lot on a Friday night.
Beyond Bea's aesthetic appeal, the boutique doubles as a working camper with electricity, a stove, air conditioning, heat, a bunk bed, and a full-size bed. As an added incentive for the Big Sky team, employees can take turns camping in Bea. Kraner partly attributes the popularity of mobile design services to the interior design buzz created by HGTV shows.
"HGTV has been around for a long time," she says, "but there is still that excitement of seeing a project done quickly or significant turnaround in one space."
To view more of photographer Katherine Clark's work, go to www.katherineclarkphotography.com.