Dance Revolution
Karola Lüettringhaus is the creator of the annual SARUS Festival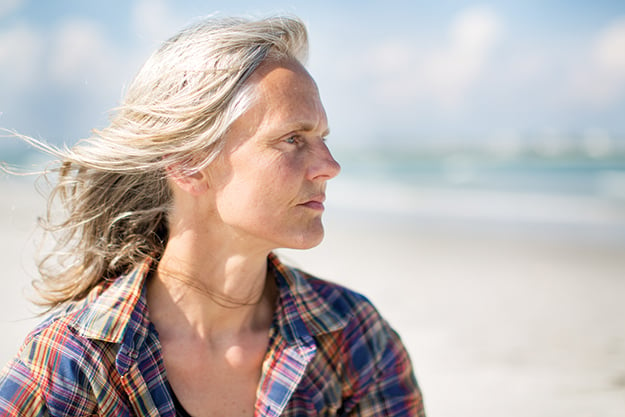 KAROLA LÜETTRINGHAUS pushes against boundaries – the boundaries of the body, dance as an art form, and cultural and social norms.
Her interdisciplinary dance-theater works range from thrilling aerial feats to sensual earthiness. She often uses dialogue, poetry, or silence to accompany her work instead of music. Her pieces delve into the dark side of the soul or cultural and societal norms. She may even ask audiences to participate in her work or share their thoughts and opinions about a piece or its meaning.
"Art is not entertainment," Karola Lüettringhaus says. "Art should be about the future, who we are developing into."
Though Lüettringhaus' audiences may not be "entertained" per se, they don't leave her performances unmoved.
For example, Lüettringhaus' "A Midsummer Night's Dream-Dissected" explores the female characters' struggle to attain autonomy in a patriarchal society. Her "adam-mah" delves into man's relationship to the earth and possessiveness.
"Karola has this ability to create magic," says Rachel Goolsby, a dancer and board member of Lüettringhaus' company. "She takes you into a world that is not created from the outside, though her costumes, lighting, and aesthetics are wonderful, to a mental world. It's very subtle, the magical moment evolves out of the ordinary … Her work lasts beyond the ephemeral time of seeing the performance. It's brilliant."
Lüettringhaus started dancing as a child in Berlin. Even so, she planned to study journalism, but her creative side won. She has a bachelor's degree in dance/ choreography from the University of North Carolina School of the Arts and a master of fine arts degree in scene and costume design and scenography from the Technische Universität Berlin.
Lüettringhaus founded the Alban Elved Dance Company in 1994, and she has been performing and choreographing for illustrious venues throughout Europe and the U.S. ever since. Her credits include: Prague Quadrennial; T-Werk Potsdam; Moving Poets Berlin; Landesbuehnen Sachsen, Dance New Amsterdam; Snowy Range, International Aerial, and American dance festivals; and University of Nevada-Las Vegas, Auburn University, and Wake Forest University.
Lüettringhaus has received numerous accolades for her work. In addition to being acclaimed by critics in the United States and overseas, Lüettringhaus received the North Carolina Arts Council fellowship in choreography and a Verein Deutscher Ingenieure award for outstanding achievements in scene design.
Today Lüettringhaus leads a nomadic life. Though Lüettringhaus lives in Wilmington, which she made her home in 2007, Lüettringhaus often travels to Europe and throughout the States for her work. She also teaches at Salem College.
But Lüettringhaus has a special fondness for Wilmington. She has served as choreographer in residence at the University of North Carolina Wilmington and is currently working on a project with Cape Fear Community College art instructor Ben Billingsley.
The annual SARUS Festival, Wilmington's site-specific experimental arts festival, is another of Lüettringhaus' creations. The SARUS Festival, which takes place this month, attracts artists of all disciplines: dance, theater, film, music, installation art (on-site, three-dimensional art that people interact with), and visual art.
"I wanted SARUS to be something uniquely for Wilmington," Lüettringhaus says. "I encourage artists to use the sites to create works based on the history, atmosphere, or circumstances of that particular site, because I think there's a lot here that ties into what matters to people in Wilmington, and that reflects on current political or social issues … I'm trying to bring in 21st-century art, people who have something to say about today."
The festival has gained such an impressive reputation that noted artists from Europe and Canada as well as local artists, apply to be in it. While many SARUS participants present works they develop on their own, others take advantage of SARUS to team with an artist from another discipline to create something totally new. Of course, Lüettringhaus and her company are an integral part of SARUS, and audiences can expect compelling works from them at the festival.
The theme for the 2016 SARUS Festival, which is July 6-10, is Vibrations, Visions, and Voices. Performances will be held at several area sites, including the Cameron Art Museum, CFCC Studio Theater, UNCW Kenan Auditorium and campus, Wrightsville Beach, and others.
This year Lüettringhaus is adding a children's component, SARLETS, to the festival. Workshops were offered to area children, and the SAR-LETS will perform at the Peace Rose Montessori School, along with other family activities, on July 2.
Lüettringhaus' many followers eagerly anticipate her work and hope for much more in the future.
"Karola is an incredible artist," says Tara Noland, technical director for Kenan Auditorium at UNCW. "I wish more people could see her results, because they are breathtaking."
For more information about the fifth-annual SARUS Festival, go to sarusfestival.org.
To view more of photographer Megan Deitz's work, go to www.megandeitz.com.