Cultured Cuts
Barbershop showcases art and music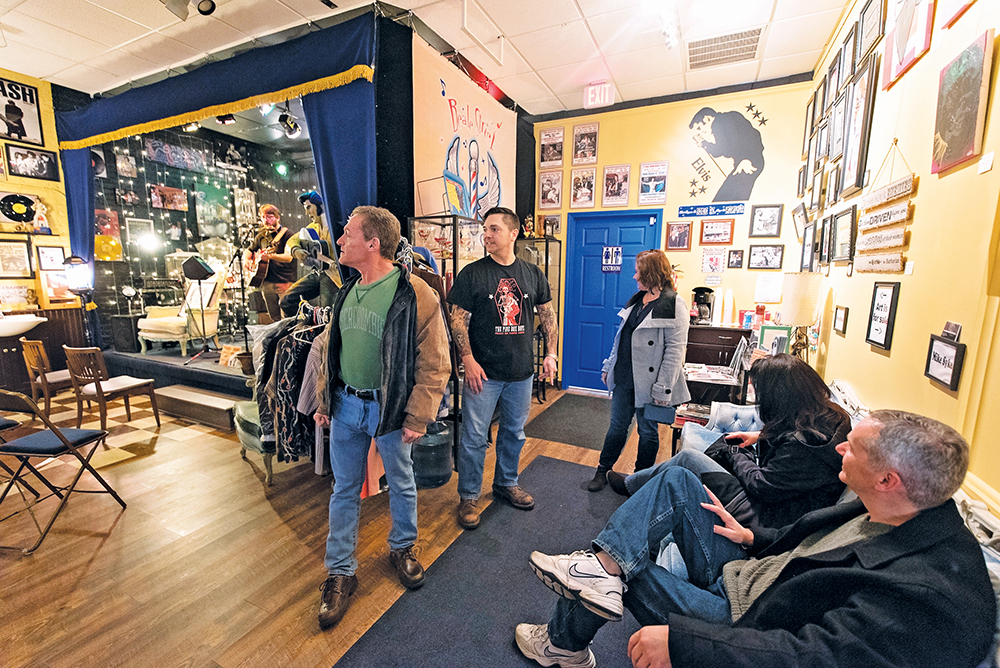 In the heart of South 17th Street, there's a collage of rock music and art that's centered in the midst of a vintage-style barbershop, complete with a life-sized Elvis statue.
This fusion of music, art, and superb barbering is a new concept that BEALE STREET BARBER SHOP imported to Wilmington by way of upstate New York.
"We have one wall that's devoted to the art gallery. We also have a music stage in the barbershop to accompany that," says Beale Street owner MARK SINNIS.
Last month, several events were held at the barbershop, including an art opening that featured local act Kyle Lindley as well as artists Mike Syke and Bryan Pinkey. It was important to Sinnis to feature acts that created their own music. The venue was not meant to be a cover band or karaoke spot. He also preferred to feature his customers as often as possible.
"I try to keep it in the family," he says.
"Usually that's where I start, just through meeting people and someone approaches me. Not everyone who plays here and shows here is customers, but I start there."
The idea for this quirky business model was years in the making. Sinnis is a music veteran in his own right. He joined a punk band in the late '80s and simultaneously pursued his interest in photography. For Sinnis, art and music always went hand in hand.
But, after some soul-searching, he decided to change course and pursue a career in barbering.
"I wanted to make something that's really unique. I had moved to upstate New York by then, but I wanted something you'd find in the East Village in New York – something funky, different, and unique. I wanted to combine the things I love with the music on the stage and an area for artists to show their work. When I told the landlord about this, he looked at me like I had two heads," Sinnis says with a chuckle.
But, Sinnis made his dreams a reality. Beale Street was born in 2012 and thrived in New York for four years. As much as he loved New York, however, he was soon yearning for a change of pace. Moving south seemed like the most reasonable step.
"Where I lived in New York had a small-town feel and had a very diverse group of people there – lots of artists, musicians, good food, and breweries. That's the environment I was looking for," he says.
After visiting several cities in North Carolina, he set his sights on Wilmington. "I grew up on Long Island, and it reminded me of living on the coast," Sinnis says. "When I went down to Front Street, I was like, 'Yea, this is awesome.' And, it's an added bonus that I'm close to my parents. Wilmington had all of those things I was looking for."
Sinnis eventually settled on a 1,000-square-foot space at 710 South 17th Street. There, he created an art gallery wall, set up a performance stage, and, of course, equipped the space for barbering. There are more events scheduled at Beale Street, including a music showcase on March 24 and the business's six-year anniversary event on May 5.
"Wilmington has been very receptive," Sinnis says. "I'm slowly building the business and creating my own cool little scene here."
To view more of photographer Michael Cline's work, go to www.michaelclinephoto.com.