Cultural Shifts
Edelmira Segovia works with UNCW's diversity centers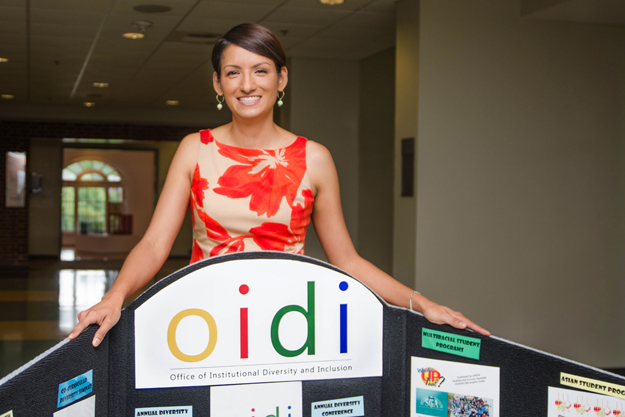 "Peru was in a lot of turmoil," remembers Edelmira Segovia, interim associate provost for the Office of Institutional Diversity and Inclusion at University of North Carolina Wilmington. "There was a guerrilla movement, and since my dad was in the military, his (and our) safety was at risk."
Segovia was only thirteen years old when she and her family fled to Wilmington to begin a new life. Being thousands of miles away from home, Segovia recalls the small changes to their Peruvian traditions and customs to better adapt to American life.
"The (youngest child) was born here – Bruno. Our lives did change when he was born. We made sure we weren't just doing things from Peruvian cultures," Segovia says. "For example, he started asking about Thanksgiving and asking for a turkey during Thanksgiving. So, we got a turkey just for him. We had to blend both cultures."
Despite cultural changes, Segovia's appetite for education was unchanged.
"In Peru, the educational system is very rigorous," Segovia says.
"When I moved, I was an honor student as I was already trained to perform and study at a higher level. I was the only one learning algebra at St. Mary (Catholic School), but I don't consider myself to be an extraordinary student."
Even after graduating UNCW in 1998 with a B.A. in Spanish with a teaching licensure, Segovia's quest for education continued. In 2003, she attended Appalachian State University and received a M.A. in romance languages. In 2008, she went back to UNCW and obtained her doctorate in educational leadership in 2012.
"I always liked being a student. I never stopped studying. Every opportunity the school had to send a teacher to a workshop, I always raised my hand first," Segovia says. "I think why I wanted to obtain a doctorate was because I always had the motivation to move forward from my mentors and peers."
In 2009, Segovia was named the director of UNCW's Centro Hispano, a diversity center that promotes Hispanic cultures and aids in the degree completion of Hispanic students. In June 2013, Jose Hernandez, the previous associate provost for the Office of Institutional Diversity and Inclusion, accepted the role of chief diversity officer at the University of South Florida. Segovia was then named the interim associate provost while the university searches for a chief diversity officer.
As the interim associate provost, Segovia oversees UNCW's diversity centers, which include Centro Hispano, the Women's Studies and Resource Center, the Upperman African American Cultural Center and the LGBTQIA Resource Office.
About 80 percent of UNCW's student population classified as white and only 5 percent black, 6 percent Hispanic, and 2 percent Asian, according to figures UNCW supplies to the online tool College Portrait. Segovia says she and UNCW still have a ways to go in diversifying the community.
"We need to continue in the direction of becoming more multicultural. On campus, we're a predominately white, heterogynous population," Segovia says. "However, when we speak of diversity, we don't realize that women continue to be a minority. Though, we're in 2014, we still see discrepancies in salaries and the number of leadership positions women held by women."
Segovia uses her family as the perfect example of cultural blending. She met her husband, a Wilmington native, in high school, and the two now have two daughters who attend public schools in Pender County.
"Paul's family loves my dad's cooking," Segovia says. "We always have the same request before our family gatherings: 'Make sure they bring ceviche.'"
To view more of photographer Katherine Clark's work, go to www.katherineclarkphotography.com.