Comfort Food
The local culinary industry stepped up after Hurricane Florence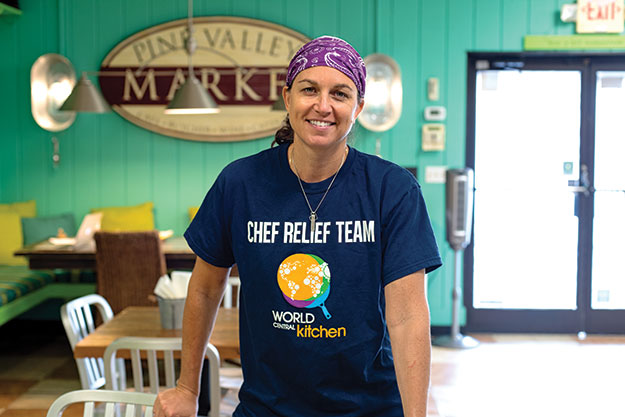 When Hurricane Florence hit in mid-September, an outpouring of volunteers and chefs played pivotal roles in helping World Central Kitchen prepare thousands of meals for local residents and first responders during and after the storm.
One was chef CHRISTI FERRETTI of PINE VALLEY MARKET, who after deciding to ride out the hurricane in Wilmington wanted to help serve the community.
"Cooking is what I know how to do when I'm in any state of chaos or emotional distress," says Ferretti (above).
On the Wednesday night before the storm made landfall September 14, Ferretti was at home alone after helping evacuate her wife, Kathy Webb-Ferretti, and their ten-year-old son, Alex.
"I had reached out to WORLD CENTRAL KITCHEN and submitted my availability," Ferretti says. "It seemed like ages before I finally heard back from them the next night. Everyone was in this strange place of just waiting for the storm to hit. I told them I'd be there Friday morning, and my chef, Paul Smith, and I were ready to hit the ground running."
Noted chef José Andrés founded World Central Kitchen (WCK) following the destructive 2010 earthquake in Haiti.
The organization has since expanded globally, and its mission is to bring together chefs to create new solutions to fight hunger and poverty. It also operates as a relief organization, serving communities affected by natural disasters, including in the wake of Hurricane Maria when the nonprofit dished up more than 3.6 million meals in Puerto Rico.
Andrés, a Spanish-American, James Beard Award-winning chef holds a number of culinary and humanitarian honors. He is often credited with bringing the small plates dining concept to the United States. He owns restaurants in Washington, D.C. – the location of his two-star Michelin restaurant Minibar – Philadelphia, Los Angeles, Las Vegas, Miami, and Puerto Rico.
At the height of the Hurricane Florence response effort, WCK was serving 20,000 meals a day.
In all, WCK served 300,000 meals during the twenty days it set up operations through activated kitchens from Raleigh, Lumberton, New Bern, and Wilmington.
Ferretti says some of the biggest challenges included a limited number of qualified volunteers at the start of the storm and the ability to sort through the vast amount of food that was packed into refrigerated trailers.
"Overall, I was very impressed with how the operation was run," Ferretti says. "It was satisfying to see a job through to completion and know it was going to make a difference."
Ferretti and Smith worked at the WCK hub at Diamond Food Enterprises on South College Road for a week before focus to Pine Valley Market. Though the market had power during the storm, and as eager as Ferretti was to get her employees back to work, she had concerns about whether they would be able to get deliveries from suppliers.
Also, given that so many people were still evacuated, there was the question of whether they would have any customers.
"The last thing we wanted at that point was for any food to go to waste," Ferretti says.
When Ferretti spoke to Andrés about her concerns, he came up with an immediate solution: activate Pine Valley Market as a satellite kitchen for the existing operation at Diamond Food Enterprises.
Ferretti says WCK was struggling a bit with handling the huge amounts of raw product necessary to serve thousands of meals a day. So, Ferretti took as much raw product as possible to Pine Valley Market – vegetables, pork loins, chicken – to be prepped and cooked.
"Initially, we felt we could handle preparing 200 to 300 servings per meal, but we quickly realized we could do more than that," Ferretti says. "Soon, we were making 2,000 servings per meal, a total of 4,000 meals per day."
Ferretti grew up in an Italian family in which her father started an Italian food festival, and she was making pizzas and calzones alongside him by the age of ten. From a very early age, she saw food as both a pleasure and a medicine.
She says she learned a lot about cooking for the masses and staging large events by helping her father with the festival. Despite the fact that she earned her degree in education, Ferretti soon found herself working as a private chef in her native Florida, as a result of the joy she found in cooking for friends. In 2003, she and Kathy moved to Wilmington to take over Pine Valley Market.
"I think my passion for food was just born in me," Ferretti says. "It's just part of the package."
Ferretti and her staff at Pine Valley Market are now working on continuing to serve the community through a new initiative called Port City Meals. Though still in the planning phases, Port City Meals aims to help those struggling to get back on solid ground, be it storm related or otherwise.
"The need for meals is going to continue for some time, and we want to continue to be a part providing food to those in need," Ferretti says. "If we can help out someone who is struggling to feed their family, we want to do that, regardless of the circumstances."
To view more of photographer Michael Cline Spencer's work, go to michaelclinephoto.com.
Want more WILMA? Click here to sign up for our WILMA newsletters and announcements.