Colors of the Coast
HGTV show host Meg Caswell sets down in Wilmington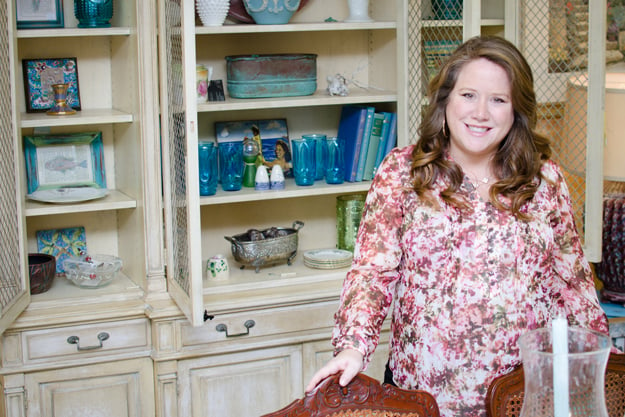 Sometimes an expert's touch is needed to turn a house into a home. Meg Caswell, HGTV's newest home design star has planted roots in Wilmington and is ready to paint the town Meg.
This spring Caswell chairs The Arts Council of Wilmington & NHC's first Designer Showhouse. In it, local designers compete for a chance to decorate posh living spaces of a home at 1909 Gillette under the guidance of an accomplished interior designer.
Caswell also will participate by redesigning the house's dining room, which will be on display along with the other transformations May 2-18.
The 2011 season six winner of HGTV's Design Star show describes her style as a preppy mix of modern and traditional "Palm Beach Chic." As part of winning the competition show, Caswell got her own HGTV show, Meg's Great Room, and filmed the first eighteen episodes.
Following her grandfather's advice, she is driven by the passions in her life. As grandfathers often do, he sat Caswell down and reminded her "you will be successful in life as long as you do what you love."
It was in this moment, that Caswell began to reflect on what her passions were.
"When I was 10 years old, I was designing floor plans. I was always the teen who would go to her friend's house and admire the wallpaper when the other girls were running to the TV room," she says.
As an unfulfilled law student, Caswell began to feed her artistic nature by exploring her hidden passion of home design.
"When I started working for Ralph Lauren (Home), it just came really natural," says Caswell, who was a sales associate for the company. "It is something that is in you and cannot be taught."
A year ago, Caswell, left her hometown of Chicago and moved to Wilmington with her husband, a native of Topsail Beach. The coastal scenery inspired new concepts for Caswell's portfolio.
"I think the beautiful water, the marshes, the green are some of things I look to," says Caswell, who has incorporated into her designs bright colors and specifically blues inspired by her home overlooking the water.
In Chicago, she drew from the urban elements, but her inner Wilmingtonian always included the use of vibrant colors.
"In Chicago, I was using a lot of clean lines, tailored fabrics, which is a contrast to the colors of the coast," she says. "However, I have always incorporated the bright colors."
The success from the fusion of those aesthetics and her competitive nature were what prompted Caswell to apply to be on Design Star, a reality show in which designers compete in challenges to win their own HGTV series.
According to Caswell, the other contestants vying for the coveted win were just as talented as she. Caswell attributes the win with being comfortable on the camera.
"It came down to, can you shine on camera? I am very comfortable. I didn't think that far ahead, but I believed in myself. You have to believe in yourself," she says.
Life post-Design Star has provided her with a new understanding of the magic of television.
"When I first came to Wilmington, I was immediately recognized at the airport," she says. "Denise, an employee of U.S. Airways called me out, and we have been friends ever since."
One of her biggest fans from the show, a hospitalized child, depended on Caswell's endearingly raspy voice and heartfelt laugh to get him through a really difficult time.
"Being on television is giving back to people you didn't realize you could touch," she says.
As an expectant mother herself, Caswell's nursery is being featured in an upcoming feature for HGTV Magazine.
"They are coming to Wilmington, and I am so excited. Home and Garden has featured many Wilmington homes in their previous issues," she says. "They seem to be really impressed with the style of the homes here."
As for reinventing living spaces, Caswell offers some handy suggestions:
"Throw pillows. That's always the easiest way," she says. "Also, pop art work can really bring a room to life. You don't realize what artwork can do for a living space."
Painting, however, seems to be the least expensive way to transform a room, Caswell says. Or even a new rug.
"Your sofa may be too expensive to replace," she says, "but there are more affordable rugs out there."
To view more of photographer Katherine Clark's work, go to www.katherineclarkphotography.com.