Cleaning Consciously
Lisa Isenhour finds life calling in unlikely niche: crime scene cleanup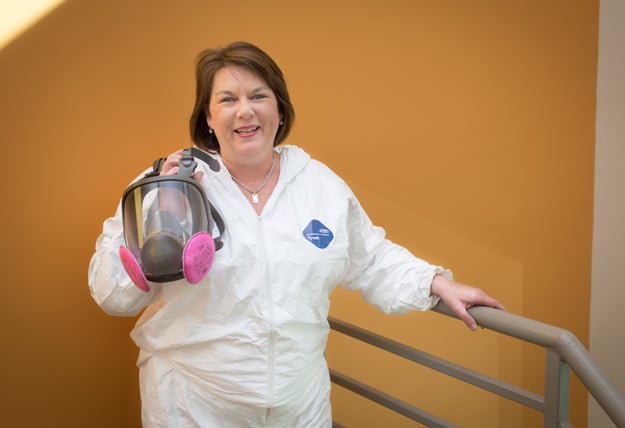 LISA ISENHOUR has been in the business of cleaning for a long time. She remembers her mother nudging her bedroom door open with an Electrolux vacuum cleaner on Saturday mornings – the growling of the machine a hint that it was time to rise and get to work.
A lot of people recall the same sort of chore routines from their childhood, even carrying them into their adult lives and passing them down to their children because well, there's always cleaning to be done. But what sets Isenhour apart in the arena of hygiene has to do with her keen entrepreneurial psyche.
In 1996, Isenhour became a pioneer in the industry of crime scene cleaning in North Carolina, her company, CRIME SCENE CLEANING SPECIALISTS (CSCS), being one of the first certified in crime scene cleaning.
It's not the average person who can take on a job most would find unbearable and end up with a successful business nearly twenty years running.
"What comes along with us is the expertise and knowledge," Isenhour says.
Indeed, this is a career that not many would be willing to entertain, yet a job in which expertise is key. Isenhour and her team are precise from beginning to end – before arriving at a scene she contacts the police or detectives to get a full report of what they'll be dealing with. What she learns from them indicates the tools they'll need to bring. They're compassionate, not flashy.
"We come through the back door in unmarked vehicles so as not to draw attention," Isenhour says.
They're in and out in hours, leaving the place far from the way they found it.
Before she catered to the niche industry of trauma cleanup, Isenhour began her career in cleaning in 1995 by taking on a couple of residential properties.
Not long after that she met her husband who was self-employed in the flooring trade (selling, installing, cleaning, and repairing any type of flooring). The two decided to combine forces, and a business was born.
They offered flooring services along with commercial property cleaning. It was here that they began to build a customer base that they continue to maintain.
A year later they heard of a man in Maryland who was doing crime scene clean up. This sparked their interest, and the Isenhours started doing research about the industry in North Carolina. They were surprised to find there wasn't much out there in terms of trauma cleaning services available to families or property owners who are left to deal with the literal mess among all of the other emotional mess in the wake of tragedy.
When a crime scene comes to mind, many think of the iconic yellow tape as seen on shows like CSI, accompanied by detectives bustling around bearing investigative tools. What these glorified crime shows leave out are the events that follow once the blue lights leave. This is where CSCS come in.
"Basically the yellow tape is still sitting there, and the families are left wondering what to do now," Isenhour says.
The next step? Consult law enforcement agents for direction.
"They recommended that we look at a ninety-mile radius and see how we could respond to them. We spent a year building our business in Pender, New Hanover, Brunswick, Columbus counties," Isenhour says.
Today CSCS has a statewide reach with satellite offices in Goldsboro and Greenville – the owners realized early on that it was important for them to have local phone numbers for the areas that they serve.
The company's tagline "Cleaning is our Profession!" is a broad way to describe what Isenhour, her husband and their team of nineteen do – an understatement really. Their services entail trauma cleaning for accidents, natural deaths, and crime scenes as well as floor installation and repair, full-service cleaning of commercial properties, and even mold removal. Much of their business comes from referrals and long-term clients. They have the same trend with employees – some of them have been with the company for over ten years.
CSCS works in cooperation with law enforcement agencies, funeral homes, EMS, coroners, property managers, hotels, apartments complexes, and homeowners.
Though household chores are a far cry from the gory scenes she tidies today in the industry of crime scene cleanup, Isenhour has always found reward in cleaning. When she was younger, she was compensated for her chores by a trip to the movies with her mother. In trauma cleaning she found a larger, less-tangible reward. In addition to handling the physical disarray after a tragedy, Isenhour builds relationships with the families and survivors of these tragedies, helping them cope in a time of loss.
"When we get a call we're walking into a strangers home. We don't know these people and they're facing the worst type of circumstance you can imagine," she says.
Having a strong faith, Isenhour and her husband start by offering to pray with the family or property owner. "You can almost feel the relief coming off of them when we do," she says.
She often offers her contact information to a client just so they know they have someone willing to lend an ear. She has built lifelong friendships with many of them.
"We're in the relationship business," Isenhour says. "I feel like we've built it into a ministry."
Though ministry is not a term that seemingly applies to the trauma cleaning business, Isenhour has countless stories that prove she considers the moral support aspect just part of her job.
She admits that the first few years of doing this work were tough for her and her family.
"We knew we needed outside help," she says. On especially difficult cases they bring in a counselor for individual debriefings.
What Isenhour has found the most startling in her research of crime statistics and years of work in the field is the number of suicide deaths and the need for more support for those affected by suicide. She feels a need to help fill that void of support.
"Dealing with suicide is a different kind of grief. Think about a driveway that's circular and someone gets on it and just can't get off," she says.
Isenhour works with suicide prevention and support groups such as Out of the Darkness and Touched by Suicide, sometimes accompanying clients to their first session. It's here that she finds her true passion.
"If I could do that full time, just making people aware of the support for survivors afterwards, I would," she says.
Isenhour believes it's important for people who have been affected by a traumatic situation to know there's support nearby.
"It takes local people to realize it has to be done," she says.
It's this notion that has spearheaded Isenhour's work with the North Carolina Crime Victims Compensation Program to help gain funding of cleaning services to those who wouldn't otherwise be able to afford it.
Giving back is what really motivates Isenhour. In addition to her work with suicide support groups she's served on the board of YWCA and was involved in the Strong Girls Club, a women's empowerment program. In 1998 she won the Women of Achievement award from YWCA.
So what's a day in the life of Isenhour? You can sum it up by considering her cell phone that is constantly buzzing with calls from the seven phone lines that piggyback to it. A call could mean a job to install carpeting or a job to clean what's left from a decomposing body.
So how does she do it? Isenhour attributes a lot of her strength to her personal support group. In addition to her husband and their team of dedicated employees, she has other family members willing to step up to the plate and help. Her father was a general contractor and has helped her grow in the Greenville area. Her mother and sister pitch in for anything that needs to be done.
"We've had assembly lines of stuffing envelopes," Isenhour says. "We joke that our roles are anywhere from a janitor to a CEO."
What started as a business has evolved into much more than that for Isenhour.
"It's life changing," she says.
To view more of photographer Katherine Clark's work, go to www.katherineclarkphotography.com